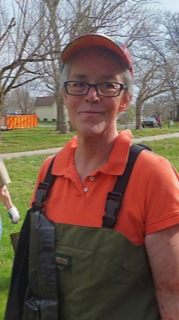 Beth Ann Handshy-Booker of Knoxville, TN. formerly of Springfield. IL died on Sunday January 23,2022.
Beth was born April 19,1958 in Springfield, Il the daughter of Marshall W and Anna Mae Freligh Handshy. She married David Booker January 1,1993. She graduated from Springfield High School and held Bachelor's and Master's degrees in Dietetics from U of T At Knoxville. She worked at Ft. Sanders Regional Medical Center for 24 years. She enjoyed family, visiting friends, gardening, cooking, baking & sharing and volunteering in her neighborhood. She is preceded in death by her sister Mary, her father, and father-in-law Kenneth Booker. She is survived by her husband David, daughter Lauren, mother Anna Mae Handshy, mother-in-law Karen Booker and a host of cousins, aunts and uncles.
A memorial gathering will be held Saturday March 19 in Old Knoxville Neighborhood Park.
Memorials may be given to. Old North Knoxville Neighborhood Assoc. (A501c 3) P O Box 3896. Knoxville, TN 37927-3868. Tri Valley Universalist Unitarian Church. 2931 Kingston Pike. Knoxville, TN 37919. Cancer Support Community, E. TN. 2230 Sutherland Ave. Knoxville, TN 37919-2350.