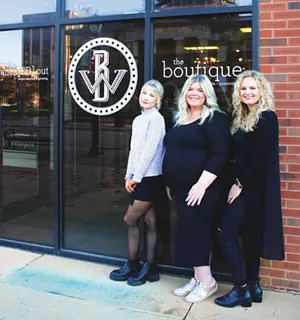 BEST SALON
BEST SPA
BEST BOUTIQUE
BEST ESTHETICIAN, STEVIE LIEVENS
BEST STYLIST, HANNAH HENDRICKSON
At Willow & Birch, the standard phone greeting is, "Every day is a good day to branch out." Owner and founder Jessica Kocurek, who started the business in May 2010, was inspired to "create a place where a team of people worked together toward a common goal." And that is what you'll find when you visit Willow & Birch in downtown Springfield.

What sets Willow & Birch apart, according to Kocurek, is that "our main goal is to make sure each customer is happy, and to do that we all work together as team." You're never just coming to see the one person you have an appointment with; you are also being greeted by the front desk team, and so on. All of the parts work together to make sure each customer has a good experience. "If you can't get an appointment with your stylist when needed, we make sure you're comfortable knowing you can schedule with someone else. That's teamwork," she said.
Hannah Hendrickson, stylist and education director at Willow & Birch, began her career in 2012. Hendrickson says she "loves taking care of people and helping them feel happy and comfortable with themselves." She also likes to teach clients about their hair.
Her natural ability to teach, coupled with her patient demeanor, made her a perfect fit to be the salon's education director. Hendrickson teaches the apprentice stylists how to be a successful member of the team. She also enjoys meeting new people, making connections and welcoming new clients. Hendrickson gives a heartfelt "thanks to everyone who visits us at Willow & Birch."
Stevie Lievens, esthetician since 2018, enjoys delivering traditional spa services to clients and has always been into makeup. She was the go-to among her high school friends who wanted their makeup done for prom. Now she gets to do what she loves each day at a spa where she's part of a team that feels more like family.
Lievens says, "I love to come to work. I love what I do. I love all things beauty." She especially loves it when her clients are happy because, "that makes it all worthwhile." Lievens says looks forward to meeting new clients and says she hopes her current clients think of her as a friend.
Twelve years later, Willow & Birch has become what Kocurek desired – the downtown destination that offers something different. She says, "Thank you to everyone who has been a loyal client. So much of our success is because of you."