Though it was achieved under tragic circumstances, Hollywood got its wish last year. The relationship between movie studios and those that exhibit their wares has always been contentious, a situation of dominance for the Tinsel Town titans who have the liberty to set the terms of how much of each ticket sold they take and who gets to show their films. Obviously, the terms were always couched in their favor, but taking up to 70% of the box office at times and demanding that movie chains show their films a minimum of times a day during the first week of their release was never enough for them. Never mind that the major theater chains – AMC, Regal, Cinemark – have been in financial trouble for years due to these Draconian terms. Warner Brothers, Disney, Paramount and their brethren have always been looking for a way to squeeze every last dime out of exhibitors and bypass them.
With huge numbers of theaters closing due to the COVID-19 pandemic, the studios finally had the justification to do just that. The unspoken agreement between them and exhibitors that a 90-day window be observed between the time a film is released in theaters until it's made available for home viewing was shattered in July. The announcement that Universal Studios and AMC had come to terms with a deal that would allow the studio to make their films available for home viewing 17 days after their theatrical release sent shockwaves through the industry. This was taken a step further in December when Warner Brothers made the announcement that in 2021, they would release their entire roster of films slated for that year in theaters and on HBO Max simultaneously on the same day.
With Universal and Warner Brothers taking these steps, it seems inevitable that the other major studios will follow suit. Disney already tested the waters by releasing Mulan on their Disney Plus streaming channel in September, charging subscribers an extra $30 for the privilege of seeing it during the first 60 days after its premiere. The latest Pixar feature, Soul, which was set for theatrical release over the summer, made its streaming debut on Disney Plus on Christmas Day, albeit without an extra fee. The studio has announced that other features originally intended for theatrical release will follow suit in 2021. Meanwhile Paramount Pictures is in the process of revamping their Paramount Network into the Paramount Movie Network, which is set to focus on in-house, made-for-TV movies. It's no great stretch to think that once this platform is up and running, Top Gun: Maverick may show up there on the same day it hits theaters.
The simple economics of the industry are stacked against the theater industry. Why should the studios go to the expense of making and shipping over 4,000 copies of movies to theaters for a wide release, when they can perhaps open on half that number of screens, save these distribution costs and pocket the profit of each "ticket" purchased by viewers who'd rather stay home and take in the newest releases? Hollywood is a company town and the almighty dollar rules. Faced with a failing distribution model, why wouldn't they embrace this new approach? While Warner Brothers claims this release plan is only temporary, it's hard to think that things will go back to the way they were, now that this genie is out of the bottle.
The ripple effects of this decision are far-reaching. While not every repercussion can be predicted, some things seem certain. Theater chains will initially get better terms from Warner Brothers to show their films, to avoid them being boycotted all together. The number of screens in North America, currently numbering 5,548, will fall dramatically. Look for 4,000 screens or less to be operational once the dust settles. And don't expect them to begin to rebound until late summer 2021, the estimated time when most Americans will be vaccinated and we will return to some sort of normal.
All of this will affect the kinds and number of movies being made as well as how you'll be able to see them. The studios will continue to make superhero movies and new entries in established franchises, such as the James Bond films. There is enough of an audience that will want to see these epics on a big screen to justify their costs. Big-budget features that might be deemed risky, like Warners' Dune, which sports a price tag of $200 million, will be a thing of the past. However, this may lead to the return of mid-budget movies – those costing $40-$80 million – which have all but disappeared from the multiplexes. Netflix has taken the lead with such fare and it makes sense that Warners might follow suit. Seeing small movies in a theater setting will be a thing of the past.
That's really what this is about, chasing Netflix. The streaming giants, for good or ill, have changed the way we watch movies as well as the way they are made. They have been tremendously successful doing it. The Hollywood studios have been wanting to follow in their footsteps and the pandemic has given them the excuse to take a more direct role in distributing their wares and cutting out the middleman. Making HBO Max a serious rival to Netflix is Warner Brothers' top priority now and it will take some time before they're on the same playing field. How many new subscribers it will take to offset the budget of Wonder Woman 1984, Dune and their ilk, numbers in the many millions. Whether the studio can reach this goal, while the movie theater system as we know it survives in some form, remains to be seen.
As for the movies of 2020, most releases were of a much smaller scale as the pivot to home-streaming exclusively caused the studios to hold back their big-budget releases, realizing there was no way they could turn a profit on a $200 million-plus film via this method. Independent studios took advantage of this with a flood of releases that went straight to Video-On-Demand services, while Netflix, Amazon Prime, Hulu and other streaming services stepped in to fill the gap with their expansive roster of product. As a result, this year's "Best of" list has a decidedly different look about it. There are probably quite a few films you have never heard of. So, what with the continued cold weather and limited mobility due to the pandemic, it's the perfect time to seek them out via the various in-home viewing services at your disposal.
Spontaneous – Is Brian Duffield's adaptation of Aaron Starmer's novel the best acted movie of the year? Nope. Is it the most beautifully shot film or contain the most pithy of screenplays? No, it does not. However, I contend this is the most vital, important movie to be released this year, one that demands and should be seen by Avengers-sized audiences, especially parents of today's teens. We follow the plucky, likable Mara (Katherine Langford) as she navigates her senior year at Covington High School, which becomes all the more stressful when her peers start randomly exploding. There's no explanation for this, it occurs without warning and, while parents are concerned, they are incapable of preventing it. The government? It proves ineffectual while feigning interest in the problem. Duffield's metaphor for the rash of school shootings that continue to potentially plague our nation begins as the darkest of comedies and evolves into a screed against the inanity of it all. And while Mara flirts with nihilism, ultimately she looks the world in the face and defiantly declares she will live her life to the fullest, despite its violent, unjust nature. Mara is uncowed in the face of annihilation, a symbol of rebellion this lost generation deserves. Spontaneous is a vital work as it provides Generation Z with a playbook as to how to live in a mad world it never asked for, and do it with sense of grace and purpose. Available through Video-on-Demand.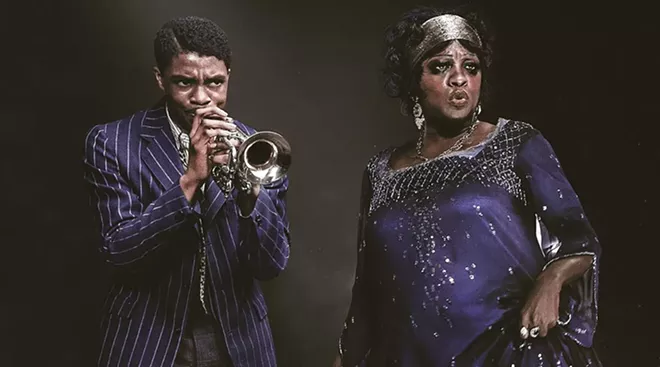 Ma Rainey's Black Bottom – This adaptation of the August Wilson play features titanic performances from Viola Davis and Chadwick Boseman in his final screen appearance. Written in 1982, the work still proves timely as it examines the effects of racism over the course of one hot Chicago day, as the title chanteuse and her band convene at an out-of-the-way recording studio to lay down some tracks. The dialogue is electric, the direction from George C. Wolfe is dynamic and the cast brings a fierce energy to the material that can't be denied. Ma Rainey's Black Bottom is a primal scream, a searing condemnation of a society that would allow the soul of a people or individual to be stamped out for having the temerity to demand independence and equality. That it retains its power over 35 years is a tribute to Wilson's writing and it proves a fitting final act for Boseman. Available on Netflix.
The Father – This adaptation of the play by Florian Zeller features a fine performance from Anthony Hopkins in the titular role as a man suffering from dementia. What separates this from the Julianne Moore feature Still Alice and other films that deal with this subject matter is that the story is told from the main character's point of view. What the viewer thinks is reality constantly shifts until we don't know what is real or figments of his fractured mind. It's a brilliant approach that allows the viewer to have some inkling as to the confusion, fear and anxiety that those suffering from Alzheimer's disease deal with on a daily basis. At times lucid, at others confrontational, and finally helpless, Hopkins drives home each of these feelings with a sincerity that proves heartbreaking. To be released on Feb. 26, 2021.
The Way Back – No film moved me or surprised me more than this drama from Gavin O'Connor that deals with one man's efforts to grapple with grief and his descent into substance abuse. That Ben Affleck, who's had his own public struggles with alcoholism, stars as troubled high school basketball coach Jack Cunningham adds a level of authenticity and poignancy that proves unexpectedly powerful. There's a sense of grace about The Way Back that makes it exceptional. In clumsier hands, this could have been a maudlin, melodramatic film. Instead, its focus is on small, intimate victories, those that go unnoticed by the masses, those that come one day at a time, with no guarantee that tomorrow will yield the same result. It and Affleck's honesty demand our attention. Available through Video-on-Demand.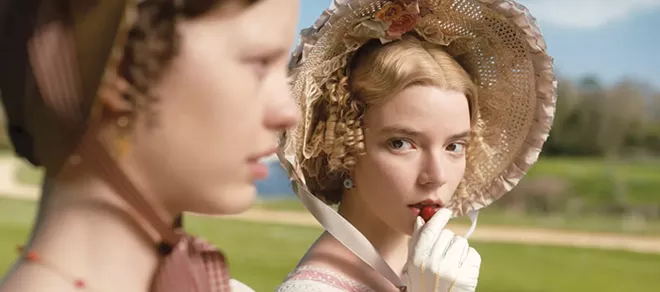 Emma – Autumn de Wilde's adaptation of the Jane Austen novel proved a welcome respite from all things COVID. It provided an escape into a more genteel society, albeit one with its share of social hypocrisy, class division and just plain meddling. In the title role, Anya Taylor-Joy brings a sense of knowing mischievousness that's charming, yet she's equally sympathetic when all of Emma's matchmaking plans blow up in her face. With great support from Bill Nighy as her father, this gorgeous sharp-edged film was a welcome delight, an unabashed romance that offered a piece of escapism at a most crucial time. Available through Video-on-Demand.
King of Staten Island – Judd Apatow's best film, this semi-autobiographical look at comedian Pete Davidson's life is a masterful job of balancing humorous moments with the poignant, as we see the title character struggle to come to terms with his father's death and find direction in his life. Veteran actors Marisa Tomei, Steve Buscemi and Bill Burr are able to thread the needle in keeping with this tone, while none of the comedic scenes feel forced and the more serious moments never veer into pathos or melodrama. There's a sincerity to each scene that benefits greatly from the lived-in quality each of the cast members bring to their characters, each of them tinged with a sense of realism that allows us to relate to their troubles, our emotional investment in them immediate and genuine. Davidson proves to be a performer with far more depth than anticipated. Available through Video-on-Demand.
The Trial of the Chicago 7 – Aaron Sorkin's examination of the infamous titular event is an ambitious, smart and challenging movie. It sports a cast of diverse characters who, on the surface, seem to have similar agendas regarding how to enact social change, yet find their methods for achieving it cause unexpected complications. Sorkin wastes little time as he masterfully combines archival footage with reenactments to explain the various factors that collided to form a perfect storm for disaster in Chicago. In the summer of 1968 a myriad of radical groups descended on the city during the Democratic National Convention to foment civil dissent over the government's approach to the Vietnam War. As Abbie Hoffman, Sacha Baron Cohen dominates each scene he's in, while the supporting cast – including Mark Rylance, Eddie Redmayne, Frank Langella and Joseph Gordon-Levitt – each find their own moments to shine. Available on Netflix.
Soul – The latest from director Pete Docter and Pixar Studios couldn't have arrived at a better time. It proves to be a moving, beautiful meditation on life and all that makes it worth living. Following recently deceased musician Joe Gardner (voice by Jamie Foxx) and his attempts to return to Earth to live out the rest of his life, the film provides us with a powerful reminder of the importance of finding your passion and how this affects those around you in positive ways. This is driven home in a powerful scene that rivals the opening of Docter's Up, in which Joe is shown a variety of things on Earth as well as events from his life that puts everything in perspective. Like the best Pixar films, this one tickles your funny bone but, more importantly, it touches your heart. Available on Disney Plus.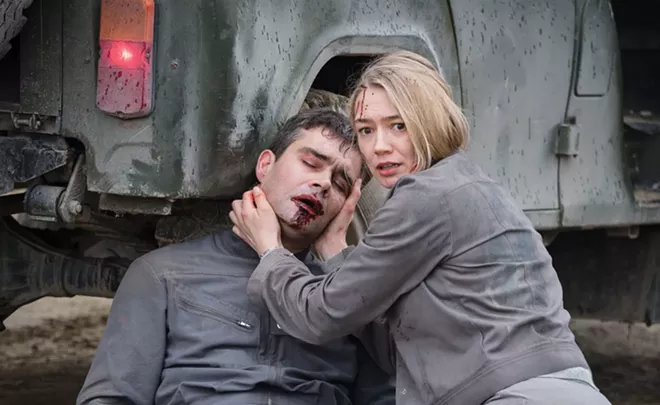 Sputnik – It was a great year for independent horror films, so many of them touching upon conflict that occurs from within. This Russian feature begins as a variation of Ridley Scott's Alien but becomes much more, as we witness a lone cosmonaut (Pyotr Fyodorov), having returned from a prolonged space mission, deal with a parasite he's unexpectedly brought home. A specialist (Oksana Akinshina) is brought in to examine him and the relationship she forms with her patient, as well as the alien he is carrying, proves shocking. Plot points, major and seemingly inconsequential, come together for an unexpectedly complete and satisfying conclusion that appeals to the viewer's intelligence and heart. The film has its share of visceral moments, but it's the quiet, human ones that prove haunting. It speaks to the self-inflicted damage done by the guilt we carry and the redemption that's possible through facing it. Available through Video-on-Demand.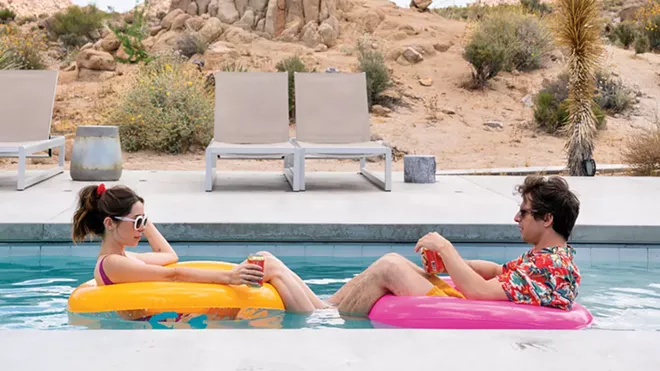 Palm Springs – Taking its cue from Groundhog Day and Edge of Tomorrow, director Max Barbakow and writer Andy Siara brought a new twist to the time loop premise. This quirky comedy with weighty undertones managed to find new angles to explore in a mini-genre that had seemingly exhausted all of its possibilities in record time. Andy Samberg and Cristin Milioti star as a young couple who meet at a wedding and find themselves repeating the same day again and again. They go through denial, anger, bargaining, depression and acceptance for their predicament. The conclusions they come to are distinctly more poignant than expected. While none of us may find ourselves repeating the same day again and again, we've all experienced phases in our lives where we've felt stuck. The current semi-quarantine conditions we're living in bring an added resonance to the film that greatly drives home its point. Springs posits that an appreciation for the small wonders life presents us is the key to happiness and that the trap so many of us fall into is that we take these for granted. Available on Hulu.
Tied for 11th Place
Darius Marder's moving look at one man's struggle with going deaf Sound of Metal...Eliza Hittman's sobering examination of the issue of abortion Never, Rarely, Sometimes, Often – Aaron Schneider's thrilling World War II submarine movie Greyhound – Carlo Mirabella Davis' look at self-destructive behavior and its causes Swallow – Lorcan Finnegan's haunting and timely stuck-in-one-place thriller Vivarium – Amy Seimetz's look at inescapable, impending doom She Dies Tomorrow – Brandon Cronenberg's shocking body-switch sci-fi thriller Possessor – David Fincher's deep dive into movie history Mank – Emerald Fennell's biting black comedy Promising Young Woman.