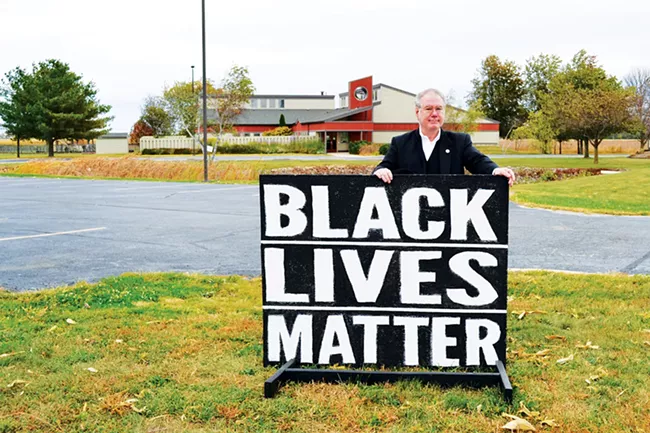 Rev. Martin Woulfe grew up as a Roman Catholic in South Holland, a suburb of Chicago. He followed a long and winding road before landing in Springfield, where he heads the Abraham Lincoln Unitarian Universalist Congregation (ALUUC).
In 1980-'81 he studied abroad in Ireland. "I got involved with Amnesty International and joined a protest against apartheid in South Africa." Woulfe said the period of "great civil unrest" he witnessed "changed my trajectory." Later, he and his wife, Angela Aznarte, lived and worked at a group home for vulnerable youth in Chicago, and he spent years volunteering at a homeless shelter in the city. His life has remained committed to social justice.
He found the Unitarian Universalist religion to be in line with his values and was ordained in 2003, the same year he moved to Springfield with his wife and daughter, Celeste, to become the first full-time minister for ALUUC. He attended seminary at Meadville-Lombard Theological School and served as a chaplain at Northwestern Memorial Hospital while working toward his Master's in Divinity.
ALUUC membership has more than doubled since he arrived, to a current roster of 288. Services remain streamed online, due to the pandemic, though if you've been to any of the Black Lives Matter protests in town this year, you've probably seen Woulfe. During his tenure in Springfield he's been to countless rallies and protests, speaking at many. He and other congregants were visible proponents of the state's LGBTQ marriage law, among other human rights issues. "The majority of the more recent members tend to be younger and more drawn by our social justice activities," he said.
UUs follow basic principles, versus a certain religious leader. There are seven principles which include being good stewards of the planet, treating others with dignity and seeking truth and meaning. ALUUC accepts members who follow myriad faith traditions, or none at all.
Woulfe is an active member of the Greater Springfield Interfaith Association and also serves on the board of the Faith Coalition for the Common Good, among other affiliations. Anti-racism is a part of the congregation's mission. In partnership with Rev. Silas Johnson of Calvary Missionary Baptist Church, Woulfe and congregants have collaborated on a series of "sacred conversations" on race.
The congregation at 745 Woodside Rd. includes a prairie restoration area, as members, under Woulfe's eye, work to live out their mission of being responsible stewards of the earth while helping the community's moral arc bend toward justice.