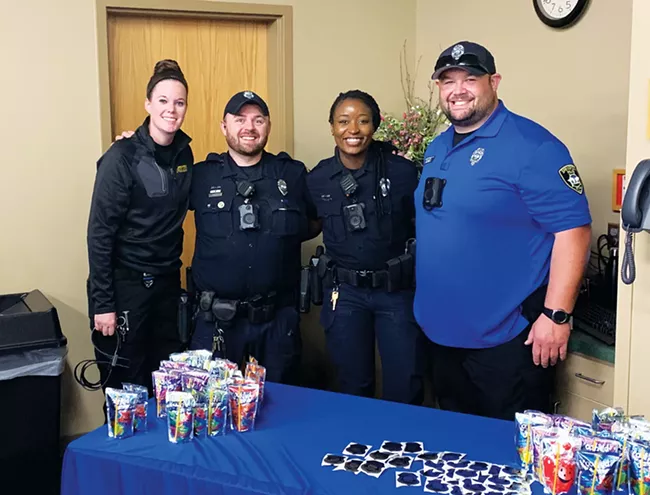 Garnering more votes than any of the area's high-profile elected officials are our Neighborhood Police Officers (NPOs), showing how much Springfield values this service of our police department.
Currently there are five NPOs: Officer Taylor Sullivan, Officer Timara Pflug, Officer Ryan Binkley, Officer Cody Musson and Officer Andy Watts. Officer Krystal Holdman was also an NPO until March of 2022, leaving to take a position with the Illinois State Police.
Sgt. Matt Doss, who has supervised the NPOs for two-and-a-half years, was previously an NPO himself for the Enos Park and Pillsbury neighborhoods. He insists that the current NPOs deserve the spotlight as they do the work, and his role is to make sure they have what they need.
NPOs are seen in neighborhood association meetings and events like Neighborhood Night Out and Coffee With a Cop. They show up at schools and community centers such as the Northside Children's Community Library in Enos Park, where they recently spent the afternoon reading books, playing games and painting with neighborhood children.
In their position as a liaison between neighborhoods and the Police Department, Doss says, "We try to address long-term problems in a neighborhood, whether it is disputes, traffic complaints or nuisance properties with loud music or suspicious activities." Doss says NPOs work with other agencies like the Illinois Department of Public Health or state or federal law enforcement agencies to resolve problems. This gives them the opportunity to address issues that are outside what a regular patrol officer has time to work on before being dispatched to another call.
There are eight beats in Springfield and currently only five officers working those beats. Doss says that police officers continued to retire during the pandemic, but no training academies were producing new officers, so their ranks have thinned. The Springfield Police Department is working to fill several positions, and then all eight beats will have a dedicated NPO.
In an era of somewhat frequent tension between police and citizens, Springfield is blessed to have a team of personable NPOs to help improve the quality of life in our neighborhoods and present to our children the face of a police force that is here to serve and protect.