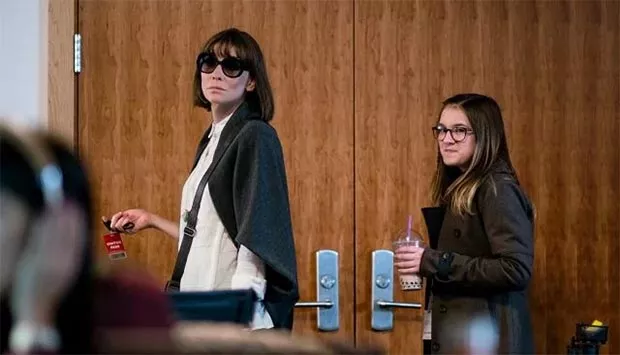 It's rare that I have the reaction to a movie that I had to Richard Linklater's Where'd You Go, Bernadette. Adapted from the novel by Maria Semple, this story of a woman who puts her career to the side in order to raise her daughter, only to find herself adrift and unstable years later as a result, gets off to an intriguing and entertaining start. However, like a tape recorder from Ethan Hunt's Impossible Missions Force, as the film progressed, it self-destructed before my very eyes. What was initially witty and insightful becomes silly and trite, while the film's mixed message proved far too much to stomach and a bit insulting.

Having taken the architectural world by storm as a young woman, Bernadette Fox (Cate Blanchett) dropped off the map to raise her young daughter, Bee (Emma Nelson). Truth be told, she suffered a professional setback and was looking for time out of the limelight. Over the course of 15 years, she's become a self-absorbed terror, acerbic towards everyone who crosses her path, characteristics that are starting to rub off on her daughter. Concerned by this and other erratic behavior, her husband, Elgie (Billy Crudup), attempts to intervene and get her help – the result being her fleeing to Antarctica on what was supposed to be a family trip. Soon after, Elgie and Bee are on her trail.
One of the film's major problems is that its main character is unappealing and not the sort of woman you'd want to spend 10 minutes with, let alone two hours. While I have no problem sitting through a character study of a flawed person in an effort to discover what makes them tick, the tone and approach of the film is all wrong. Linklater sets out to create a witty comedy around this woman's psychosis, and it just doesn't mesh. Bernadette does a great deal of damage to her family, her neighbors and other fools she doesn't suffer. It's supposed to play as humorously eccentric and a bit empowering. Instead, what results is an uncomfortable exercise in which we witness a selfish, sick woman run roughshod over everyone.
Even more troubling is the mixed message the film contains regarding work and family. Elgie works hard and puts in long hours at the tech firm that he founded. He provides an exceptional life for his wife and daughter and allows Bernadette the freedom to raise their child and hide from the world. However, he has been made to feel as though he's been a bad father and husband for devoting so much time to his work. Though I didn't feel as though this was firmly established in the movie, I'm willing to accept it.
However, by the end of the film, Bernadette is prepared to take on a project that will last at least two years in Antarctica, during Bee's crucial teenage years – and everyone is fine with this. Linklater and Semple don't condemn her actions as they do her husband's and instead, we are supposed to rejoice that she's finally found her way once more, at the expense of her family. This double standard simply doesn't fly and comes off as disingenuous and far too convenient.
In a madcap comedy, I wouldn't object to the ridiculous pursuit father and daughter undertake to go to Antarctica to find Bernadette or the titular character's boorish behavior if it were played for laughs. Unfortunately, that's not the case with Where'd You Go Bernadette, a portrait of psychosis masquerading as a tale of rejuvenation and empowerment.
Contact Chuck Koplinski at ckoplinski@usd116.org.