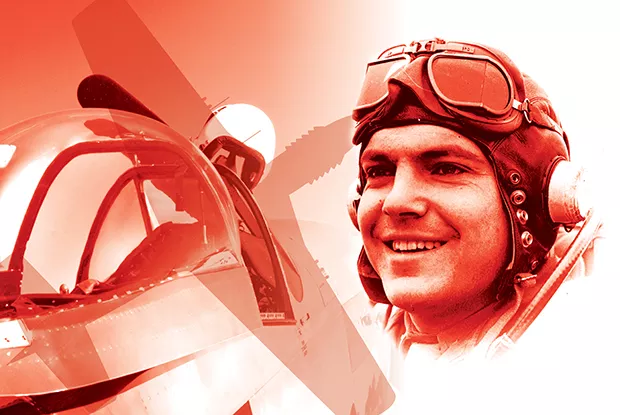 His picture is in a case along the back wall in the Abraham Lincoln Presidential Museum's new exhibition on World War II. He is handsome in his pilot's helmet and cheerful, confident smile, and so very, very young – only 21 when the photo was taken. A picture of his P-51 Mustang fighter plane is there, too – "My Bonnie," named after the beloved wife who waited for him over the ocean, back home. These pictures come out of his wartime scrapbook. The clippings and photos within are all that is left of him now; the only clues left behind with which to piece together his life.

What they tell us is this: Kenneth Hagan was a fighter pilot who survived behind enemy lines in France only to die too young under mysterious circumstances in Florida. Like so many members of his generation, he was an ordinary, all-American kid who found himself in extraordinary circumstances during the war.
Under those circumstances, Kenneth Hagan became a hero. Though history has forgotten him, he deserves to be remembered. This is his story.
Small town boy
Hagan was born in Lincoln, Illinois, in 1923. He was the fourth child and first son of Ernest, an electrician, and Anna, who kept their modest home on North Logan Street. He attended Lincoln High School, where he lettered in varsity football and was a member of National Honor Society before graduating in 1941.
Hagan was working as a draftsman at the utility company where his father worked when Pearl Harbor was attacked. The following spring, he was one of 10 Springfield-area young men chosen for training as an aviation cadet by the army air corps. In March of 1942, he kissed his sweetheart, Bonnie Edwards, goodbye and headed west for pilot training.
By March of 1943, Hagan's training was complete, and he was commissioned a second lieutenant. That summer, Bonnie took the train out to meet him in California, and the pair were married in San Francisco on June 14. They spent just five months together before Hagan was sent to England in November; Bonnie returned to Illinois to live with her parents in Broadwell.
Hagan was assigned to the 357th fighter group of the 362nd fighter squadron. Based first in Reydon, then in Leiston, England, the 357th flew P-51 Mustangs to escort bombers on raids over Germany. In the spring of 1944 they set a record for shooting down 59 German planes in 30 days, two of them by Hagan.
To encourage further success in combat, Hagan's squadron leader, Joseph Broadhead, sent letters to Hollywood studios asking their starlets to help boost his pilots' morale. He promised that his squadron would "perform the following in exchange for the following:
1. Destroy 1 German plane in the air for every pair of autographed step-ins.
2. Destroy 1 German plane on the ground for every autographed brassiere.
3. Destroy 1 German troop train for every autographed princess slip.
4. Destroy 1 bridge or 1 flak tower or 1 warehouse or 1 staff car for every autographed pair of hosiery.
Think we're kidding?" Broadhead concluded, "Try us."
Hollywood took them at their word, and soon undergarments started arriving from the stars. Rita Hayworth even sent an autographed slip in return for the promised destruction of a German troop train.
It wasn't all levity on the fighter base in England, however. Hagan and his fellow pilots knew all too well how dangerous their missions were; they had only to look at the empty chairs in their officers' club to be reminded that each mission they flew might be their last. Hagan's best friend in the squadron was Fletcher Adams of Louisiana. On May 30, 1944, he was escorting a crippled bomber back from a raid when he was shot down near Bernberg, Germany. He bailed out of his aircraft but was captured and murdered by German civilians on the ground, leaving a wife and infant son to mourn him.
Behind enemy lines
On June 17, 1944, less than two weeks after D-Day, Hagan, now a captain, was providing air support on a flying mission over Normandy when he suffered engine failure and crash-landed in a wheat field outside the tiny village of Beauchene. His plane turned over and split in half, though Hagan was fortunate to escape with only a scrape to his forehead. He made his way to a nearby farm, where he was given a change of clothing and put in contact with the French Underground. After receiving new clothing, he was taken to the country house of Yvette Dubocq.
Dubocq was a 39-year-old former French intelligence officer. She and her partner, Jeanne Cochin, now worked for the Resistance in Nazi-occupied France. When Hagan arrived, they were already sheltering two American pilots, Joseph Porter and Duffy Kalbfleisch, who had been shot down the previous April. They were operating in direct defiance of the occupying German forces, who posted an official notice: "It is forbidden to hide, lodge, or help in any manner any member of enemy forces (specifically air crew members or enemy parachutists). Noncompliance is punishable by DEATH."
When he arrived at Dubocq's house, Hagan was greeted warmly by his fellow American aviators. Dubocq hid his military uniform and gave him forged identity papers. She was amused to see that he had had a "V" for "victory" shaved into his hair during a recent haircut.
"I gave him formal orders never to remove his Basque beret," Dubocq later recalled.
Within days, the Underground determined that the three American pilots should be taken to nearby Caen to attempt to rejoin the Allied front. On June 20, the group had their photo taken with their French hosts and enjoyed a last meal before their departure at dawn the next day. "Will they get through? Will they make it?" Dubocq thought to herself as she watched their retreating figures the next morning.
Three weeks later, Dubocq was in her orchard when she saw a familiar silhouette appear. It was Kalbfleisch, who said that Porter, Hagan and a fourth American, Ed Nabozny, were hiding nearby. Dubocq ran to them and found them with blistered feet, dirty, exhausted and starving. As she dressed their wounds and fed them, the airmen filled her in on their travails.
After they left Dubocq's house they had made their way to Caen, where they sheltered in the evacuated, bombed-out house of one of the Resistance fighter's parents. They were told that it was impossible to get through the enemy line and that their best hope would be to hold on until the Allies liberated the town.
For three weeks they hid, short on food and clean water, as German forces occupied the city and Allied forces bombarded it. On July 14 they lost contact with the Resistance. Isolated and afraid, they decided to make their way back to Dubocq's house. They traveled for two days through intense heat with no food, tattered clothing and only a small, hand-drawn map to guide them.
Dubocq gave them shelter, but her house was far from safe; German soldiers had now requisitioned it and were occupying some of the bedrooms. For two weeks the American aviators hid in plain sight on Dubocq's estate, posing as French citizens in a deadly game of cat-and-mouse with the German soldiers who were constantly coming and going.
When two S.S. officers who were fluent in French joined the occupying soldiers in Dubocq's house on Aug. 2, 1944, Dubocq knew that she could no longer safely hide the Americans. With a heavy heart, she sent them to the town of Domfront with a resistance fighter named Andre Rougeyron.
Months later, she received a letter from Hagan, who filled her in on what happened after they left. They were taken to Rougeyron's chateau in Domfront, but fled the next morning when Rougeyron was arrested by the Gestapo. After hiding in a baking hut in the countryside for three days, the sound of the approaching Allied army grew closer. On Aug. 7, they were able to rejoin the American lines in the small town of Lonlay. Their odyssey behind enemy lines was over.
"Dearest, they can't keep a good man on the ground / probably see you soon / writing immediately/ you do the same / all my love Kenny," Hagan telegraphed to his wife.
Aftermath of the war
The day after he rejoined the American forces in France, Hagan was flown back to England. By Sept. 2, 1944, he was back in the United States. He spent three weeks on leave in Lincoln with his wife and parents before reporting for duty at his new assignment at Tyndall Field in Panama City, Florida.
This time, Bonnie was with him. They rented an apartment a block from the beach, where they spent lazy days in the sun, sometimes alone, sometimes with friends or visiting family. Letters came from France. One of the Resistance fighters who sheltered him spoke of the privations in his war-torn country and spoke nostalgically of the time they shared together, "an epoch where we lived for something that was worth living for and life had taste and pepper." Yvette Dubocq wrote to tell Hagan that Andre Rougeyron had been tortured by the Gestapo and taken to the concentration camp at Buchenwald before escaping to freedom during an Allied bombing raid. And she assured him that, despite the danger she and Jeanne faced in doing so, "it was a privilege for us to take the chance to help you out."
To Bonnie, Dubocq wrote, "Under the mild climate of Florida, near your dear Kenny, be very happy little Mistress, and believe there is nothing so gracious as a laugh in the sun, nothing is more restful than a beautiful union of the heart."
Postscript
From the Daily Illinois State Journal, Dec. 14, 1946:
"Panama City, Fla., Dec. 13. (AP) The body of Capt. Kenneth Hagan, 23-year-old army fighter pilot with an outstanding war record, today was found hanging in thick woods near a lonely road to the gulf…The provost marshal notified Panama City police early today that Hagan had been missing since 9:30 a.m. Thursday. Later an abandoned car was found on a little traveled road skirting the base. The car was identified as Hagan's and the body was located shortly afterwards."
Erika Holst is the Curator of Decorative Arts and History at the Illinois State Museum.