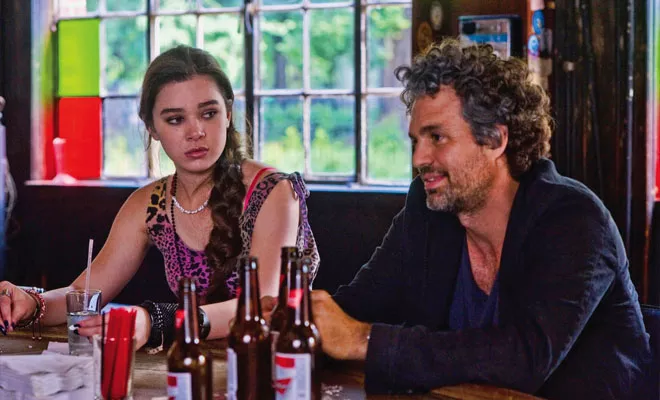 A tonic for the steady stream of vacuous movies Hollywood has foisted on us this summer, John Carney's Begin Again is a grounded, delightful, human tale buoyed by infectious yet meaningful pop music and dynamic performances from its strong cast. Unabashedly romantic, the film manages to give us a story that's manipulative to the core yet somehow presents it with such sincerity that I didn't mind being jerked about by its contrivances. Credit Carney (Once), who also wrote the screenplay, for knowing just when to lay off the sentiment and allow his characters to genuinely grapple with the affairs of the heart that plagues them.

Mark Ruffalo, never more disheveled, is Dan, a past-his-prime record producer whose tastes have not changed with the times. He finds himself out of step with the movers and shakers at the record label he co-founded and is soon ousted from it. This is just the latest indignity he's suffered. He left his wife (Catherine Keener) and daughter (Hailee Steinfeld) after finding his spouse had cheated on him and has lost all of his money as well. He's hit bottom and has nothing left to lose which makes him the perfect guy to make Greta (Keira Knightley) a star, something the singer/songwriter isn't sure she wants after having been dumped by her musician boyfriend, Dave (Adam Levine), who let his growing fame eclipse their relationship. Greta's music catches Dan's ear at an open mic session because she's doing something wholly unique – she's writing from the heart.
Carney starts with the scene in which they meet and then employs separate flashbacks to show us how Dan and Greta came to their respective places of despair, a strategy that helps energize what would otherwise be a rather rote story. Their relationship and the way it grows takes up the bulk of the film and it's to the filmmaker's credit that he manages to avoid the usual pitfalls films of this sort stumble through. He takes a more realistic look at their friendship and their response to it.
This relationship grows as they set out to make their magnum opus – an album in which they record Greta's songs live in various locations around New York City. In an alley, on a subway platform, on a rooftop, in Washington Square, while floating in a boat in the pond at Central Park – all of these locales are used to mirror the stripped-down nature of the music. There's a vibrancy to these songs, as if they've been played by people who have loved, lived and been hurt but are better because of it, eager to live life and not shrink from the pain that may come their way. That most of the songs contain infectious hooks doesn't hurt either.
Carney has a keen eye for casting, creating an ensemble that manages to bring out the best in each other. Ruffalo has charm to spare and he uses it to great effect here but when his character is forced to let his guard down and give vent to his feelings, is when he really shines. As for Knightley, even though an attempt is made to dress her down, there's no dimming her luminous quality. She's smart, sassy, vulnerable and strong, making Greta the sort of person you'd be lucky to call a friend. Levine proves to be the real surprise, at ease on screen in his film debut, going toe-to-toe with his more seasoned cast mates and able to generate sympathy for a character who ends up being his own worst enemy.
There is a bit of irony at play here as Dan's intent is to produce music free of artifice yet the story, at its core, is a manipulative construct. Be that as it may, I didn't care. Begin Again casts a spell that had me entranced from the beginning, as its appealing characters, brought to vibrant life by its cast, are front and center, people I could relate to and ultimately cared about. The bottom line is I was happy to spend time with them and Carney's film put a smile on my face, an experience that's been far too rare this summer.
Contact Chuck Koplinski at ckoplinski@usd116.org.
For an advance review of The Purge: Anarchy, go to the Cinemascoping blog.