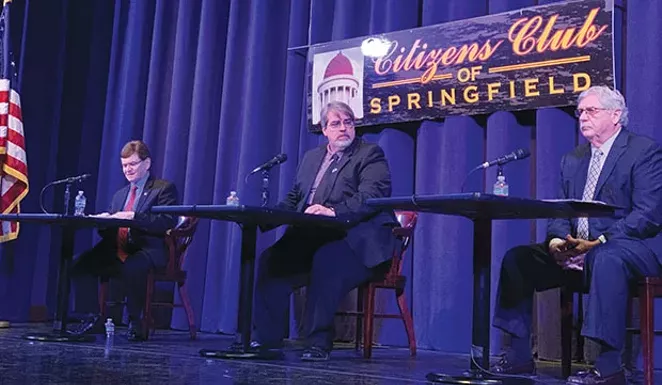 For Springfield residents who want to learn more about the issues facing their community and how to become more civically involved, the Citizens Club of Springfield is a great place to start. Since 2005, the Citizens Club has held open discussions at 8 a.m. on the fourth Friday of each month at the Hoogland Center for the Arts. There is no cost and no political agenda—only a goal of promoting public welfare and civic engagement. From spotlighting local government leaders to delving into complicated topics like race relations, the Citizens Club approach is to gather a diverse group of people and let them talk openly, face to face. When local officials are present, it's also a chance for the public to ask questions directly.

Shannon McCormick, an attendee at the Feb. 22 Citizens Club discussion between mayoral candidates Jim Langfelder and Frank Edwards, says it's vitally important for seniors to engage in civic matters. Working for thriving neighborhoods and economic development, she says, means engaging all sectors of Springfield, especially seniors, youth, those living in poverty, and others who are affected by public policy yet may have to fight to have their voices heard. "If groups are left behind, it doesn't make for a strong community," McCormick said.
Bob Gray, president of the Citizens Club, says he co-founded the club in 2005 because he wanted to "attempt to get people to sit down together who ordinarily don't sit down together." The club is intended to encourage citizens to become both better educated about the issues facing them and more likely to engage politically on those issues.
"The intent from the beginning was to get people more informed on what is going on in the community, particularly about public policy," said Gray. Gray says he hopes that anyone who shows up -- which can be between 70 and 100 people at any given meeting -- leaves feeling impressed and more engaged in the inner workings of public policy that affect us all on a daily basis. Seniors have the opportunity to take a particularly key role in community discussions because they are able to offer a unique perspective gained by their years of experience.
Jim Donelan, Ward 9 alderman and Citizens Club secretary, says Springfield as a whole has definitely benefitted from the enhanced understanding offered by the club's gatherings. He says providing an open forum to discuss issues leads to a higher level of discourse and a better chance of finding common ground. "It's an opportunity to hear all sides and make informed decisions," says Donelan.
Attendance has remained steady over the club's 14 years of operation, Donelan says, because the setup keeps things fresh. Since there is no partisan affiliation, any current issue and any viewpoint has a seat at the table.
"It's not the same topics at the same times of year. Our topics have moved with what is relevant for the community," explained Donelan.
Upcoming Citizens Club policy breakfasts
Anyone interested in learning more about public issues is encouraged to attend the forums, which are held at the Hoogland Center for the Arts, 420 S. Sixth Street. Coffee is served at 7:30 a.m. and discussions begin at 8 a.m., ending promptly at 9 a.m. for attendees who need to get to work.
Friday, June 28
CWLP
Doug Brown, P.E.
Chief Utility Engineer
Friday, July 26
TBD
Friday, Aug. 23
4th Biennial Sangamon County citizens survey report
Survey Research Office
University of Illinois Springfield
Elizabeth Watson is a freelance communications consultant in Springfield.