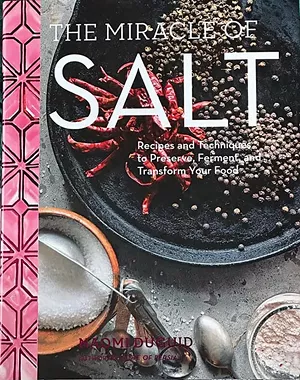 A definition of the verb inspire is "to make someone feel that they want to do something and can do it." After I finished reading the recently published The Miracle of Salt: Recipes and Techniques to Preserve, Ferment, and Transform Your Food by Naomi Duguid (Workman Publishing), I realized how much this author has played an inspirational role in my life. This revelation was especially timely and profound because the content of her latest book so closely parallels what I am doing in my new career as a restaurant fermentation specialist.
Naomi Duguid was an attorney practicing labor law in Toronto in the early 1980s. Just before she was to become a partner in her law firm, she decided to take an unpaid leave of absence and travel to faraway places. While journeying through Asia, she made the decision to stop practicing law and to "follow my compass, follow my nose and figure out how to make a living from it."
In Tibet, she met fellow traveler Jeffrey Alford on a hotel rooftop, where they "talked for hours in the dark before seeing each other's faces." This meeting led to both a marriage and a career in travel, writing, and photography. Her bold decision to abandon her career plan and follow her dreams resulted in the publication of nine books on world cuisine, several of which won James Beard Awards.
I became a fan of Naomi Duguid back in 2000 when she published Hot, Sour, Salty, Sweet: A Culinary Journey Through Southeast Asia. The book, based on her travels down the Mekong River, was beautifully photographed and serves as both a cookbook and an anthropologic study of a fascinating culture. She followed this with award-winning books about the culinary culture of the Indian subcontinent, China, Burma and Persia.
I admit to being a bit surprised when heard that Duguid's latest book was about a topic as mundane and ubiquitous as salt. I was expecting a culinary deep-dive into another exotic culture like her previous books, which were travelogues as viewed through the lens of a region's food. However, my preconceptions were proven to be unfounded.
As she explains early in the book, salt is essential to life, and civilizations developed around sources of salt or depended on trade routes, even wars, to obtain it. Prior to the availability of refrigeration, cultures relied on salt for food preservation to get them through the lean times. The miracle of salt is its ability not only to preserve food but to transform it into something more delicious, all the while imparting added nutritional benefits.
Duguid explains salt's effects on flavor and texture, how it's used to ferment and preserve, and how to cook with salt-preserved ingredients. This book is a fascinating mix of recipes and food history. Duguid's recipes recreate what she observed in her world travels. Most importantly, she has reinterpreted them in a home kitchen setting, making them accessible to her readers.
If you are interested in adopting techniques from other cultures to elevate your home cooking, I highly recommend this book.
Recipes adapted from
The Miracle of Salt
with the permission of the author
Salt-Preserved Lemons
Ingredients:
7 to 10 medium-large lemons
130 grams (about ½ cup) coarse sea salt or coarse pickling salt
1 tablespoon mild-tasting extra-virgin olive oil
Sterilize a 1-quart widemouthed glass jar and lid.
Scrub the lemons in hot water. Trim off the small nubs at both ends.
Cut several of the lemons into ¼-inch slices and remove the seeds. Sprinkle a little salt on the bottom of the jar. Add a layer of slices, then sprinkle on some of the salt. Continue to layer the lemon slices and salt, slicing more lemons as needed. Continue to pack the slices and salt to just short of the top of the jar, and press down again to compress them. The lemon juice given off by the slices should now come up to the top of the jar. If it does not, add more juice so that the slices are covered. Add the oil to help seal off the lemons and juice from the air. Put on the lid. Set aside, away from direct sunlight.
The lemons will be transformed after about one month, and they will continue to evolve after that and become sweeter. Refrigerate after opening.
Warming Bean Soup with Salt-Preserved Lemon and Miso
Serves 6
Ingredients:
1 pound dried navy beans, soaked overnight in lightly salted water to cover, or 4 cups canned beans, rinsed and drained
¼ cup extra-virgin olive oil, plus more for drizzling
1 medium onion, minced
6 or 7 medium garlic cloves, minced
1 tablespoon ground cumin
2 teaspoons fine sea salt
2 teaspoons ground ginger
1-inch cinnamon stick
2 teaspoons chile flakes
2 tablespoons tomato paste
2 bunches flat-leaf parsley, trimmed of coarse stems and finely chopped
2 tablespoons Red Miso
3 slices salt-preserved lemons, finely chopped
If starting with soaked dried beans, drain them, place in a large, heavy pot and add water to cover. Bring to a rolling boil, then drain and set the beans aside. Put the pot back over medium-high heat and add the oil. When the oil is hot, toss in the onion and cook for several minutes, until starting to soften. Add the garlic and cumin and cook for a minute or so. Add the reserved soaked beans to the pot. Add the salt and water to cover by 1 inch and bring to a boil. Lower the heat to maintain a steady low boil and cook, partially covered, stirring occasionally and adding extra water as necessary to keep the beans covered by about 1 inch, for 45 minutes.
If using canned beans, simply add them to the onions, garlic, and cumin, along with the salt, and then add enough water to cover them by 1 inch. Add the ginger, cinnamon stick, chile flakes, tomato paste and half the chopped herbs, and bring to a boil. Reduce the heat slightly and cook at a low boil, partially covered, until the beans are very soft, about 15 minutes for canned beans, another 20 to 45 minutes for dried. Add extra water if needed to loosen the texture of the soup.
Scoop about 1 cup of the liquid into a small bowl, add the miso and stir until completely dissolved, then add back to the soup. Add the preserved lemon, bring to a boil, and cook for another 15 minutes at a medium boil. Remove from the heat, cover and set aside until ready to serve. About 10 minutes before serving, bring the soup back to a low boil, stirring. Add extra water if you want it less thick, then add the remaining chopped herbs. Taste and adjust the seasoning if needed. Serve in large soup bowls, drizzling about 1 ½ teaspoons olive oil over each serving.