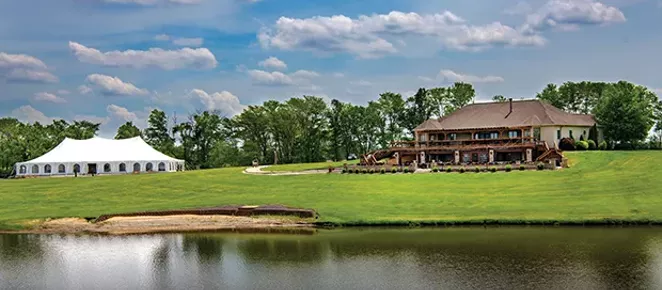 You don't need to plan a road trip to have an awesome outing. Instead, embrace your inner tourist and discover some of the many hidden gems this town has in store. Get outside this summer and take advantage of all that Springfield has to offer.

Downtown Springfield
Spend a day rediscovering Springfield's downtown. Head to Custom Cup Coffee for a freshly roasted pour over or around the corner to Wm. Van's Coffee House for a decadent caramel latte before heading over to Seventh Street to stroll though the Lincoln Home National Historic Site. Do some shopping and score a unique retro find at Springfield Vintage or a lovely new frock at Itty Bitty Fashion Truck, then get lost among the bookshelves at Prairie Archives. After working up an appetite, satisfy your hunger at one of downtown's many eateries. Go all out and enjoy an al fresco lunch at one of the fine dining establishments. Maldaner's, Augie's Front Burner, and Loukinens' on 4th are all open for lunch during the week and offer outdoor seating. For a more casual option, score an outside table and nosh on fresh Mexican offerings at Tacology 101, café classics at Café Moxo, or locally sourced fare from Long Nine Junction.

If you've got littles in tow, wear them out at the Illinois State Museum or the Kidzeum before popping into Del's Popcorn Shop for an oversized ice cream cone, then find a shady bench on the Old State Capitol Plaza and try to eat it all before it melts (make sure to grab extra napkins).

Sheedy Shores Winery
10300 John's Creek Rd., Loami
Sheedy Shores Winery doesn't actually make wine, and that's just fine with me. (Illinois isn't exactly the best climate for growing wine grapes.) What they do have is a gorgeous space to unwind with a glass of wine and watch the sun dip down over a shimmering 15 acre lake. After hosting huge soirées at their house for years, Mike and Gloria Sheedy decided to take the plunge and make it a business. The Sheedys live upstairs and converted their basement walk-out into a warm and inviting wood-trimmed winery featuring a concise list of old and new world wines and craft beer.

Cozy up in a comfortable chair by the fire, or head outside onto the spacious patio and enjoy the view. On the day we visited, it was cold and drizzly, so instead of having live music on the patio as planned, it was moved to the large white wedding tent adjacent to the house. Round tables and gas fire pits dotted the room while a guitarist strummed in the corner. It felt like we'd crashed a fancy wedding. Sheedy Shores doesn't serve food, though they do have small snack boxes for purchase. Guests are invited to bring their own snacks or picnic.
Nipper Wildlife Sanctuary
9873 Withers Rd, Loami
On your way home, stop by Nipper Wildlife Sanctuary, just down the road from Sheedy Shores. The 120-acre prairie restoration is operated by Friends of the Sangamon Valley. Stroll along the well-marked trails and enjoy the songbirds and prairie wildflowers.
Docker's Tavern
120 IL-54, Spaulding
On the other end of the spectrum is Docker's Tavern in Spaulding, an altogether different BYO food watering hole. Although the beer selection is limited (no draft, and Sam Adams and Sierra Nevada are the only ''craft beers'' offered), the activities available are plentiful. Inside are several pool tables, darts and shuffleboard to keep you busy, with pool and dart leagues in the winter. For summer, there are sand volleyball leagues, as well as horseshoes and bags. There are fire pits and several grills available for guests to use. You can even buy a chicken breast, pork chop or steak complete with barbecue sauce to cook yourself. Docker's Tavern definitely has a grown-up frat house feel, but it works.
Lake Springfield Marina and
El Dorado Bar and Grill
17 Waters Edge Blvd., Springfield
If you're craving vacation but can't get to the ocean, a visit to the Lake Springfield Marina and El Dorado Bar and Grill has got you covered. The marina rents a variety of watercraft, from large pontoon boats to stand up paddle boards. For the price of a couple movie tickets you can rent a two-person kayak for a few hours and spend the afternoon exploring the lake in the sunshine. After you return the boat, head up to El Dorado for a margarita and a plate of nachos. This is the third season that El Dorado has been serving up delicious, fresh Latin fare in the little waterside shack on the lake. I'm especially fond of their juicy, well-seasoned carnitas burrito and house-made salsas.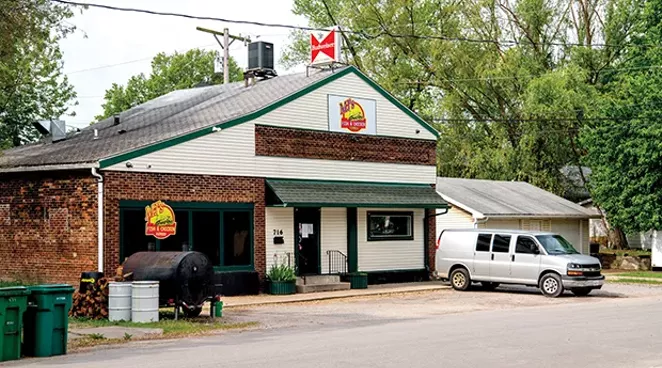 MJ's Fish and Chicken Express
716 E. Enos Ave., Springfield
My husband and I have a rule that whenever we're traveling and we pass a restaurant with a smoker and a stack of wood sitting outside, we have to pull over and imbibe. So when we pulled up to MJ's Fish and Chicken Express in Springfield's historic Enos Park neighborhood, my mouth began to water at the sight of the sooty black smoker and its stack of freshly chopped hickory. My tastebuds were immediately titillated as I scanned the large white board displaying the specials of the day. Several folks had told me that MJ's had the best fried fish and chicken in Springfield, and in addition, the menu also features rib tips, pork tenderloin, po' boy sandwiches and burgers. We ordered fried catfish, chicken and rib tips and all were as delicious as promised. And then there were the sides. Succulent collard greens, fried cabbage, and mac and cheese just like my grandma makes. Even the coleslaw and potato salad were better than average. Take my advice and get a slice of the homemade butter cake to go, then venture across the street to enjoy the small, but lovely, Enos Park sculpture garden. On the day we visited the garden was bursting with lilacs, iris and wild geraniums. We settled down under a sculpture to nibble at the luscious butter cake and watch bumblebees lazily bob from flower to flower.