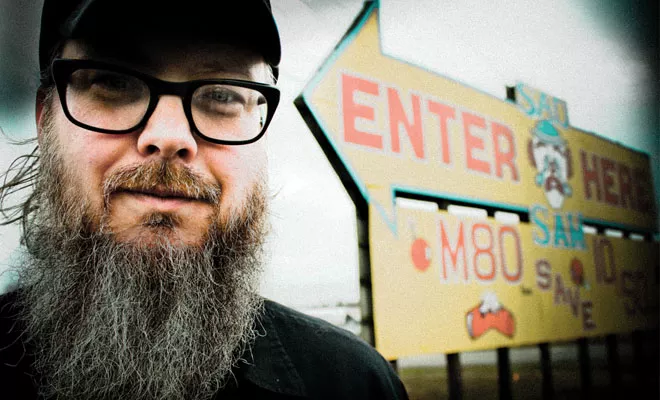 Good heavens! Just when you think there's nothing to do, there's more than ever before. Here we go with a jam-packed weekend of assorted happenings.
Here's a snippet of Thursday events. Otis Gibbs, a bespectacled, bearded, Indiana native and one of America's finest, folk singing composers, was passing through town and the Bedrock 66 folks got him a gig at Donnie's Homespun. Drop by the Barrel Head for the Clayville Folk Festival pre-party for various forms of folk-er-cizing from 8 to 11. Visit Bar None for a dandy double-header of Dear Creek and Sonny Deadwood at 7, then Joe Buck and Viva Le Vox from 9 to whenever. The Deep Hollow helps Engrained Brewing Company celebrate a first anniversary. Cheers!
Friday, two brilliant, local songwriters with bands hold simultaneous CD release parties. At Floyd's Thirst Parlor, Reggie Britton, singer and songwriter of Black Magic Johnson, announces the release of Walk with You Baby. Joining Mr. BMJ on the record are bandmates Alexis Rogers and Dan Grover with Willie Chrismon and Lawrence Baulden (also the producer) playing bass. Special guests include James Armstrong, Tom Irwin (yep), John T. Crisp Jr., Mark Russillo, Frank Parker, Darryl Virginia, Dave Lumsden and Brooke Thomas. Micah Walk, another dynamic singer-songwriter, delivers his new record with a live show at Donnie's Homespun. Our Band Spotlight covers news on his band lineup, plus the skinny on his new CD, produced by Grammy-nominated dude Jamie Candiloro.
Downtown Springfield Inc. hosts the always popular Old Capitol Blues and BBQS on the streets of our fair city Friday night and all day Saturday. A superb mix of local and national acts includes a Friday lineup of Victor Wainwright and the Wild Roots, Harper and Midwest Kind, along with Josh Hoyer and the Shadowboxers, plus Kicked to the Curb. The incredible Lee Boys and Sacred Steel close out Saturday night with Hard Road Blues Band, Mary Jo Curry and Tombstone Bullet and Blue Suns in the evening slots. In the afternoon, cheer on your favs as the Illinois Central Blues Challenge contest decides who represents our blues society in Memphis next February at the Blues Foundation 29th Annual International Blues Challenge.
Head west, out to the country near Pleasant Plains, for the Clayville Folk Music Festival all day on Saturday. On the porch of the restored Broadwell Tavern catch Michael "Supe" Granda of the Ozark Mountain Daredevils, The Gordons, Chico Schwall, Jason Eklund, Ben Bedford, John Brillhart and Gary Fifer, Amy Benton, Coondog and Pete Sander. The day starts with a traditional folk music gathering to honor the late Don Buedel from noon to 2, then closes with open song circles (bring your ax and join in) from 10 to midnight. Folksinger Job Conger, barbershop quartet Group Therapy and the St. Andrew's Society Dancers perform on the grounds between acts. Somehow it makes sense to me that the blues and barbecue would hang out on the city streets, while folk music and picnics like to congregate by trees and porches.
On Sunday, the fifth annual BassBerg lowballs into Donnie's Homespun from 3 to 8:30. Event founder and brilliant bassist Bill McKenzie heartily thanks Marly's Pub for being a gracious host for the last four years. The bottom end shines here as bassists perform with their respective bands, including Kevin Ellis of Dreaming in Colour, Bruce Williams with Black Queen, Joe T in Joe Cooke's Thin Ice, Shane Osterholt from Lidlifter fame, Los Injectors with Jeff Cunningham on the doghouse, Ed Eden of the Last Chance Blues Band and Danny Kerwin with The Good Companions, plus high-school rockers, Haircut Actual. Donations (give what you can) go to St. Jude's Children's Hospital. Be sure to check out auctions of instruments and original art by Christy Freeman.
You better hurry up or you'll miss something.
Contact Tom Irwin at tirwin@illinoistimes.com.