Restaurant and bars will reopen on Sunday under measures approved by the Sangamon County Department of Public Health.
The reopening comes despite the health department acknowledging that fewer than 20 percent of intensive care unit beds have been open. National experts also warn that travel over the holidays could spread the virus. In Colorado and California, authorities during the past 24 hours have confirmed that a strain of coronavirus first found in Great Britain that's more than 50% more contagious than previous strains has arrived in the United States.
The reopening announced by the health department is scheduled to take effect nine days earlier than a
prior scheduled reopening
of restaurants announced two weeks ago by Springfield Mayor Jim Langfelder. County officials then said that the mayor was acting on his own and that public health is paramount.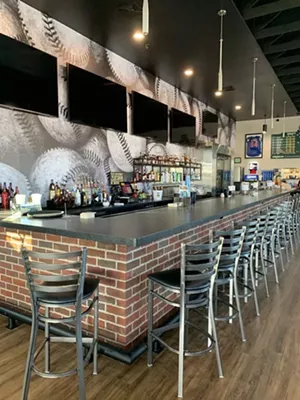 In a press release, the health department today said that it is allowing bars and restaurants to reopen because the seven-day positivity rate — the percentage of covid tests that come back positive — has fallen to below six percent from nearly 17 percent in mid-November. New cases, also are down, with fewer than 80 new cases reported daily in recent days, the health department says. Shortly before issuing a press release announcing that bars and restaurants will reopen, health department issued a press release saying that 67 county residents had been diagnosed with Covid-19 during the prior 24 hours and that nine people had died. The death toll announced today is one of the highest in Sangamon County since the pandemic began last spring. Sixty-three county residents were hospitalized with Covid-19 as of this afternoon.
The health department in the press release issued this afternoon says that bed capacity remains an issue.
"The currently reported ICU capacity remains critical at below the 20% threshold suggested by IDPH (Illinois Department of Public Health)," the county health department said in a press release. "We have reviewed the ICU metric carefully in the context of recent modifications made by IDPH. We believe that the metric as currently reported does not accurately reflect our hospitals' quick adaptability under standard operating procedures. We continue to monitor this metric by communicating daily with our local hospitals."
Michael Leathers, spokesman for Memorial Medical Center, did not have immediate comment.
Sangamon County Board Chairman Andy Van Meter said that that regional ICU capacity has been above 20 percent for the last two days but not for the past seven days. The region includes hospitals as far away as Adams County, Van Meter said. Springfield hospitals, he said, have been above the 20 percent threshold for some time.
What if there's a plane crash or mass shooting or some other incident that puts people in intensive care? "That's a question probably better put to the hospitals," Van Meter said. "The hypothetical you gave and the numbers I've heard, it would not be a problem. The regional numbers have been above 20 percent and the local numbers are considerably above that."
In the press release announcing that bars and restaurants will reopen, the health department says that progress has been made. "Our community has made substantial progress from early November to now," officials said in the press release. "In mid-November, cases averaged over 300 new cases per day."
There will be restrictions.
Capacity will be limited to 25 percent, and neither karaoke nor live music nor dancing will be allowed. Customers seated indoors must provide a name and a phone number for one person in each party that must be kept for 30 days, with the health department being granted access to names and numbers upon request.
No more than 10 people can be seated at a table, and customers who don't live in the same household or don't arrive together cannot sit at the same table. No one will be allowed to eat or drink while standing, and seating at bars or counters will not be allowed. Businesses must keep tables six feet apart unless there are "physical barriers" between tables. Hours of operation will be restricted: Bars and restaurants won't be able to open before 6 a.m. and can't serve past 9 p.m., with all customers being required to leave by 9:30 p.m.
Van Meter said he wouldn't take his grandparents out for dinner or drinks when bars and restaurants reopen on Sunday. "But with appropriately aged cohorts, with a place at the restaurant that followed these mitigations, people should feel comfortable," the county board chairman said. Would he visit his grandparents afterward? "I don't know," Van Meter replied. Asked again he said, "It's not a great idea to visit grandma and grandpa now, period."
The county's decision is at odds with state public health directives stating that indoor service at bars and restaurants shouldn't be allowed. The county defied the state in early November, allowing indoor service that lasted just a few days as new cases surged and hospital bed capacity was stretched. Dr. Brian Miller, president of health department board, recently said that reversing last month's decision to reopen might have averted catastrophe.
The county health department in Wednesday's press release noted that the pandemic isn't over.
"We are extremely hopeful that with the arrival of the vaccines we will continue to see a steady reduction in our community's suffering from the virus," the department said. "However, it is important to note that this virus has a tendency for resurgence, as seen in our community three times in the last 10 months. We should not let our guard down even as we relax some of our mitigations to assist our struggling businesses. The community must continue to wear masks, wash hands, and practice social distancing."
The reopening announcement comes as federal officials, who had set a goal of vaccinating 20 million people by the end of this year,
acknowledged falling short
, with 2.1 million vaccinated as of Monday. Nonetheless some states are easing restrictions, including in New York, where Gov. Andrew Cuomo today announced that 6,700 Buffalo Bills fans will be allowed to attend a National Football League playoff game scheduled for either Jan. 9 or Jan. 10. Cuomo said that he'll be there.
Contact Bruce Rushton at brushton@illinoistimes.com
.