Need a microwave? How about a coat rack or a Pottery Barn rug?
Don't delay, act today. The Abraham Lincoln Presidential Library Foundation has launched an Eviction Special sale since the public institution last week said
au revoir
,
adios
, don't-let-the-door-hit-you to its erstwhile partner aka the Abraham Lincoln Presidential Library and Museum. Chris Wills, ALPLM spokesman, says the nonprofit charity has until April 30 to skit from state-owned offices it's enjoyed for free for a very long time.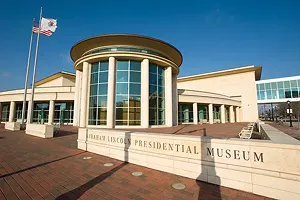 Some of the best stuff from foundation offices, apparently, already is gone from the Facebook Marketplace sale that launched this morning on the account of Jamie Stout, director of membership and giving for the foundation; her LinkedIn profile includes "change consultant" as a skill.
Snatched up almost immediately was a refrigerator-freezer, advertised for a mere $100, that sources say contains a tuna sandwich, partial, from Lincoln's last cabinet meeting and a certificate of authenticity taped inside the crisper. Still available, at last report, are filing cabinets, sadly empty. Inexplicably, no coffee maker is on offer.
But if you
want some cool chairs
or space heaters for cheap, check out the foundation's stuff on Facebook and take a piece of history home.
Contact Bruce Rushton at brushton@illinoistimes.com
.