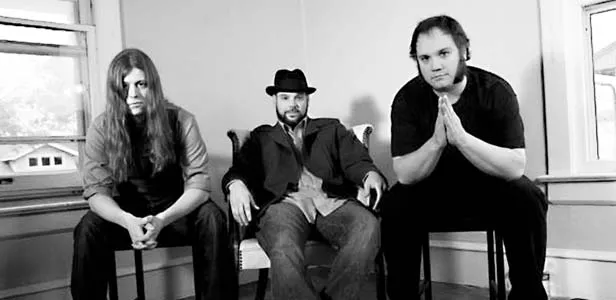 Backyard Tire Fire, the little trio that could from Bloomington, Ill., is smoking its way across the musical landscape of America, blazing a trail and firing up good solid music the entire way. Highlights for the group in the last year include opening dates for Cracker and receiving a most-favored listening status from Cracker guitarist Johnny Hickman, playing some of the top Midwest music festivals and getting selected as Band of the Week for Paste magazine, opening for Gov't Mule and getting invited to Warren Haynes Christmas holiday benefit jam, just to name a few. Toss in an appearance on the Mountain Stage radio program and a tour with Rev. Horton Heat, plus good club dates all over the place and you get the idea the band is on fire after a few years of smoldering, if you want to fan the flame analogy.
"It's taken years as a 12-year obsession to get to this point," said Ed Anderson, chief songwriter, singer, keyboardist and guitar player for BTF. "We have a nice national buzz and we're feeling creative. Now if we can just keep the van running."
When BTF opened for Los Lobos at a Bloomington show in Oct. of 2008, our heroes ended up catching the ear of the Grammy-award-winning band's saxophonist and producer, Steve Berlin. Much to the surprise of Anderson and his bandmates, brother Matt Anderson (bass, vocals) and Tim Kramp (drums, percussion, vocals), Berlin contacted BTF's management company and offered to produce a record for the group. During March of 2009 the guys flew to Berlin's hometown of Portland, Ore., and did the deed.
"We put the record in his hands. We had about 20 demos and he picked 11," said Anderson. "It came out really radio friendly. We can't wait for folks to hear it."
He tells the complete story in amusing detail at the From the Road blog on the official band Web site at www.backyardtirefire.com. It's a nice read, giving precious insight into the workings of making a record and the beneficial qualities of Rainier beer. Though the whole demeanor of the band is modest and low key, expect some big things to happen when the record hits the streets.
"We're filling more rooms and radio play continues doing well in more and more markets," explains Anderson. "That's following the model and the way things are supposed to happen."
It's nice to know though, that just selling CD units and drawing a crowd is not the only goal of these hard-working Midwestern rockers. From supporting the hometown by actually claiming to be from Bloomington wherever they go, to hosting an annual Holiday Jamboree to benefit local charities (last year's concert raised over $4,000 for a YMCA program), these fellers give more than they take.
"We're trying to win the right kind of music fans so 20 years from now we'll still have people coming to see us," he said. "We like to have fun with each gig, be creative and make legitimate music fans."
By the look and sound of things the plan seems to be working for Backyard Tire Fire. With the new record coming out soon, another jamboree scheduled for this holiday season and plenty of tour work in between, the band seems poised for bigger things and ready for whatever comes.
"You can't spend your life waiting for something to happen and I see no division between job and life," Anderson said. "I like to get up in the morning and think all day about the next tune and the next record. It needs to be that way if you want success."
Contact Tom Irwin at
tirwin@illinoistimes.com
.