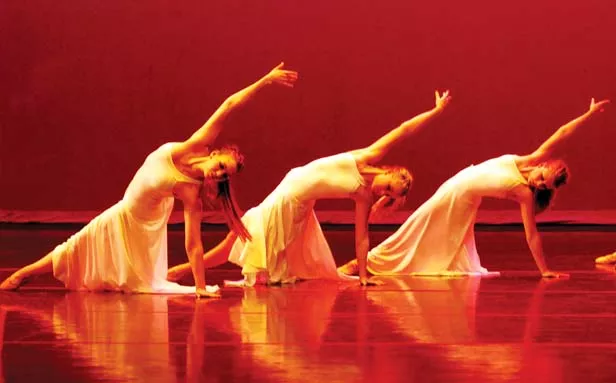 Fall is a great time of year, and there's always an interesting list of theater productions in the area. Take a look at what's happening here this fall.

Theatre in the Park at New Salem has two more performances of Kari Catton's play Healin' Home this weekend, Friday and Saturday at 8 p.m. The play is about three children who run away from an orphan train in 1920 Missouri. Next week a special performance of Shakespeare's Macbeth returns Sept. 2-3 at 7:30, also in the outdoor theater. The 90-minute performance, adapted and performed by professional actors Reiko Aylesworth and Rob Clare, premiered there last spring. Kevin Purcell and Jonah Walker will also take part in the production. Call 217-632-5440 for tickets; online at www.theatreinthepark.net.

Springfield Ballet Company's Julie Ratz unveils Rockballet at Sangamon Auditorium Sat. and Sun., Sept. 10-11. This is the 18th year for this popular production, celebrating dance and rock music and the music for this year's edition will be performed live.

Rockballet is always an exciting event, featuring the troupe in very high-intensity dancing. Songs by Adele, Stevie Wonder, Van Morrison, Frank Sinatra, Aretha Franklin and Fleetwood Mac are featured in this year's production. Call 206-6160 for tickets or online at www.Springfieldballetco.org.

Sangamon Auditorium hosts two Broadway touring editions this fall: My Fair Lady comes in for one performance, Sunday, Nov. 6, and Disney's Beauty and the Beast is here for two nights, Wed.-Thurs., Nov. 30-Dec. 1. Roxy Entertainment brings singer Michael W. Smith to the Auditorium Fri., Oct. 21, at 8 p.m. Call the Sangamon Auditorium box office at 217-206-6160 (online at www.sangamonauditorium.com).

The new Legacy Theatre (in the old Theatre Guild building on West Lawrence Ave.) opened this summer with The Marvelous Wonderettes. The unique offerings this theater is bringing to Springfield continue with a special touring edition of the hilarious Dixie's Tupperware Party (Sept. 16-18) in which "fast-talking Dixie Longate travels the country throwing good ol' fashioned Tupperware Parties filled with outrageous tales, giveaways and audience participation." This will be the show in which you'll find a fabulous assortment of Tupperware to buy onstage. I'm not kidding!

Next is the central Illinois premiere of the Tony award-winning musical The Drowsy Chaperone, one of the most fun and unique musicals in years (Oct. 14-16, 21-23 and 28-29). Cynda Wrightsman, Ed MacMurdo and Erin Biggerstaff are featured in the cast of wacky characters in which an old 1920s musical comes to life in a modern-day New Yorker's apartment. Call 800-838-3006 for info, or go to www.atthelegacy.com.

The Hoogland Center for the Arts has the musical Smoke On the Mountain opening this weekend, running Aug. 26-28 and Sept. 2-4. Don Russell directs a great cast of local performers in this show about a family gospel singing group in the 1930s.

The Hoogland's big gala fundraiser production is set for Fri.-Sun., Sept. 9-Oct. 2 with the grand musical Ragtime, directed by Matthew Vala and featuring a strong cast of performers and singers, including Joel Tinsley-Hall and Mary Kate Smith.

The stage musical version of The Rocky Horror Show will be performed by ADHD productions for the third year in a row at the Hoogland Center Oct. 27-29 (curtain at 9 p.m., plus an 11:59 p.m. show Oct. 29). Mac Warren again directs. For more ticket information for all the Hoogland productions, call the box office at 217-523-2787 or online at www.hcfta.org.

Local actor Aasne Vigesaa portrays convicted conspirator Mary Surratt in a one-night Re-trial of Mary Surratt, Monday, Oct. 3, at the Abraham Lincoln Presidential Museum. Judge Tom Appleton will preside, with area attorneys Steven Beckett, Bill Davis, Greg Harris and Carol Posegate taking part. Rich Bradley will narrate the event. Call 217-558-8934 for info and tickets or online at www.presidentlincoln.org.

Rich McCoy is directing the first show of Springfield Theatre Centre's 64th season at the Hoogland Center, the musical 1776, running Oct. 14-16 and 21-23. STC is also producing a youth theater version of the classic The Pirates of Penzance, running Nov. 4-6 and 11-13. Call 523-2787 for ticket info, or online at www.springfieldtheatrecentre.com.

Eric Thibodeaux-Thompson, theater director at UIS, directs the comedy I Hate Hamlet in the Studio Theatre, running Oct. 28-30 and Nov. 3-5. The comedy about an actor playing Hamlet confronted by the ghost of John Barrymore (who was famous for playing the role) should be a fun night out. Auditions take place Aug. 28-29. For info and tickets call the box office at 206-6160 (or online at www.uis.edu/theatre).

The Little Theatre on the Square in Sullivan is presenting the Broadway musical version of the movie The Full Monty Oct. 21-30. Call 217-728-7375 (or online at www.thelittletheatre.org). Jacksonville Theatre Guild has a Halloween show titled Drac's Back, running at the Sophie Leschin Theatre in Jacksonville Community Park Oct. 27-30. Call 245-1402 for tickets (online at www.jaxtg.com).

Millikin University theater department in Decatur has two interesting productions planned: Sam Shepard's epic play A Lie of the Mind runs Oct. 5-9 and the Marvin Hamlisch/Craig Carnelia musical Sweet Smell of Success, with book by John Guare, plays Nov. 11-13. Call the box office for tickets and information: 217-424-6318.

The Vachel Lindsay House in downtown Springfield will host screenings of David Cain's film The Yellow Wallpaper Sat., Oct. 8, at 5 and 7 p.m. The film features Aasne Vigesaa in the one-woman play she has performed many times at the house this past year. On Oct. 14 Classically Scared returns for a third year, featuring readings from classic horror and mystery literature; and Job Conger presents "Vachel Lindsay and Johnny Appleseed in Story and Song" at 2 p.m. Oct. 22. For information, call 217-524-0901 or online at www.oldstatecapitol.org/vachel.html.

Finally, congratulations to local actor and Rochester High School graduate Michael Presney, who has just been hired as an understudy for the Carl Perkins role in the national tour of the musical Million Dollar Quartet. This is a great career start for Mike!

Phil Funkenbusch is a local theater practitioner, currently in Colquitt, Ga., directing Swamp Gravy: Solid Ground at the Cotton Hall Theater, running through October.