The job description for a nurse is full of things that people with autism have difficulty doing. But to Elijah "Eli" Hernandez, difficult does not mean impossible.

"There were plenty of times where I thought, 'I don't think I can do this'" including the period where he was homeless, Hernandez said. "But what's important is what I do with my life, where I take it, what I allow my autism to be."
The 22-year-old Hernandez earned his registered nurse (RN) degree this month from the University of Illinois Chicago College of Nursing's Springfield campus. He was chosen by his fellow students to speak during their pre-graduation pinning ceremony on April 27. Eli plans to start a nursing job with Memorial Medical Center in July or August, once he successfully completes his national clinical licensing exam.
Hernandez is entering a profession where he must make physical and eye contact, engage in interpersonal communication, react to intrusive noises and lights, and endure constant stress. In short, being a nurse is one of the last career choices you'd expect a person with autism to make.
"I made a list of my craziest, wildest dreams that were not realistic. But as I ended this semester, I'm realizing they can happen," Hernandez said. "Coming here, getting a bachelor's degree, having a job lined up for me, having an apartment, starting my adult life. It is exciting, but it is also terrifying."
Hernandez has come a long way from his childhood in Chicago, where his parents told him he couldn't walk or talk until he was three years old. He preferred to communicate via sign language in preschool. As he grew older, Hernandez would shut himself off from his family and play video games the entire day.
"I would just give my parents hell if I didn't have my space," Hernandez said. "Not knowing how to deal with me, they gave me that space and they let me essentially do whatever I wanted."
As a child, Hernandez wanted to be a doctor and while researching the profession, he made the realization that his symptoms were typical for a person with autism. That childhood self-diagnosis was made official by a medical professional a short time later. Hernandez has Asperger's Syndrome, a form of autism.
Asperger's is no longer considered a separate diagnosis, so officially Hernandez has a condition that is part of the autism spectrum.
Dreams of becoming a doctor faded during high school and Hernandez thought about pursuing a computer science career. It was about that time that Hernandez decided he wanted to "live outside of my autism" and started to enjoy connecting with people. His focus was drawn back to the health care field, and Hernandez decided that nursing might be his calling.
"My family had their reservations. My mother was for it because she worked in a hospital and was like 'That's the way to go,'" Hernandez said. "But my father felt I could have just been a doctor and didn't see why I had to go down the nurse route."
Hernandez enrolled in the University of Illinois Chicago with the hope of getting into the school's nationally renowned nursing program during his last two years. There wasn't room in the Chicago campus' nursing program, but Hernandez was accepted into the university's brand-new nursing program based at the University of Illinois Springfield.
Then his world started to fall apart.
Hernandez' parents separated at that time and would soon divorce. His brothers had moved to other locations across the country. He had become estranged from his father. Hernandez, who had been commuting to the Chicago campus, was homeless for a period of time. The carefully ordered world that is so important to people with autism, and the family that had been Hernandez' chief source of comfort and support, were no longer there for him.
Friends helped raise the money he needed to make it into the program, but Hernandez still came to Springfield with no friends, no support network and trepidation about life in the capital city.
"I know it's simple, but in Chicago the light pollution is so prevalent that my whole life I had only seen one or two stars in the sky, so coming here and just seeing what the stars looked like the first time at night, it was like, 'Wow,'" Hernandez said. "I was told Springfield would be dull but I think it is actually a very beautiful area filled with very, very kind people. I have gotten a lot of major Southern hospitality here."
Hernandez tried to be accepted in his new environment, and keeping quiet about his autism was part of the plan.
"You don't go into college and make friends by telling people you meet that you have autism," Hernandez said. "I'm sure there are people who are cool with it, but it's not exactly the line you start with."
As he felt more comfortable with his new surroundings, Hernandez decided to open up about his autism. He and his fellow nursing students were participating in get-acquainted activities and were involved in a game called "two facts and a lie," where each person makes two true statements about themselves and one untrue statement, then the other participants guess the veracity of each. One of Hernandez' truthful statements was, "I have autism." No one guessed it correctly.
"I think half of the class was shocked because they weren't expecting someone with autism to be able to communicate with them," Hernandez said. "The other half seemed disbelieving because they thought, 'You don't seem like someone who has autism.'"
Kaylan Hawkins was one of Hernandez' nursing school classmates
"My first impression of him was that he was quiet and reserved, but as the semesters have gone on, I have learned that Elijah was not as quiet as I once thought," Hawkins said. "He has really come out of his shell during nursing school. All of our classmates have watched him grow into a confident and competent nurse-to-be.
"Elijah is a person that I count on every day. No matter how his day is going, he is always right there to pick you up and make sure you are OK," Hawkins said. "He has such a vibrant personality that just makes you want to be as happy as he is. He can turn your day around within minutes."
Hawkins said that knowing Hernandez has changed her perspective about people with autism.
"I come from a small town. I grew up not knowing a lot of people with autism," Hawkins said. "I have learned that people are human beings and not their diagnosis. He is an incredibly smart and selfless person. If he didn't tell you that he has Asperger's, there is a big chance that you would never know it."
Hernandez has admirers among the nursing school faculty as well. Dr. Jennie Van Schyndel is a school of nursing clinical instructor who had Hernandez in a senior-year community nursing class.
"I could tell this class stretched him in those community interactions having to function without his peers and without the typical structure students have," Van Schyndel said. "He was always smiling though, as if he enjoyed every experience, and I saw him grow in his comfort level."
"We teach and require our nursing students to be accepting of patients from all walks of life who are different than themselves," Van Schyndel said. "Students like Eli might be the one nurse who can better connect to a difficult patient and give them the best care because of how they have overcome their own life situation."
Instructor Lorna Scoggins had Hernandez in classes during his first year of nursing school.
"He does not seek special accommodation or acknowledgment. His willingness to share his story is enlightening to others, however," Scoggins said. "I have a great deal of respect for Eli, knowing how he pushes himself out of his comfort zone to achieve his goals, as well as to connect to others. He really is an excellent student and I think he will be a wonderful nurse."
Hernandez made such an impression on his classmates that they selected him to be the student speaker during their pinning ceremony, a long-standing tradition at all nursing schools that symbolically welcomes students into the nursing profession. Hernandez was shocked when the student ceremony organizers informed him that he was their choice to speak.
"I laughed, because I don't have any public speaking experience. A lot of the time I can't verbally express how I'm feeling," Hernandez said. "I'm very, very careful about my words. When it comes to maintaining eye contact, I don't do that very well. If I do I'm using the 'Look at the bridge of the nose' kind of trick, something that will help me get around that anxiety of directly communicating with someone."
But Hernandez nailed it. The audience of students, instructors, family and friends gave him a hearty standing ovation when he concluded his remarks.
"Within the first minute or two he had disclosed that he had autism and that he had been homeless. I was at first surprised that he would want to put himself out there, but I also thought, 'Wow, how cool is that,'" said UIC College of Nursing Springfield campus director Cindy Reese. "I was also surprised at how composed he was. He did not appear nervous at all. He did a great job."
"His speech made quite an impression with someone at my table. Eli didn't have enough money to purchase his own pin, so we just gave him a little UIC pin so he had something," Reese said. "Well, this person gave me $100 to get a real nursing pin for him."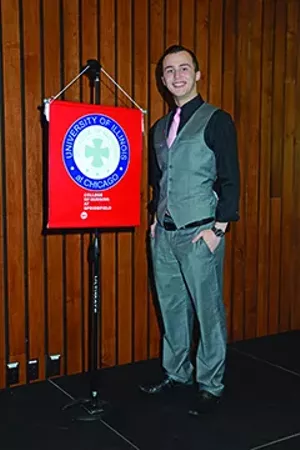 Reese said the Springfield campus has a high percentage of students from the Chicago area, so she is pleased that Hernandez and several of his classmates have chosen to begin their careers in the Springfield area. Hernandez will work in the neurology and neurosurgery unit at Memorial Medical Center, and Charla Warren, the nurse manager of that clinical unit, said they are glad to have him.
"He's very enthusiastic and passionate about providing the best care possible to patients and families. He's determined to achieve his goal of becoming the best nurse he can be despite the challenges he has faced," Warren said. "His empathy and compassion for patients are very evident. As a hospital recognized nationally for nursing excellence, we look for nurses who are committed to being the best of the best – and we are convinced that Eli has everything it takes to be an exemplary nurse at Memorial."
Hernandez could have chosen to work virtually anywhere as an RN because nursing is one of the nation's fastest-growing professions and is expected to create more than one million new job openings in the next few years. The Bureau of Labor Statistics estimates that the total number of new job openings for nurses will rise to 1.09 million by 2024. The Bureau also projected the need for 649,100 more nurses to replace the 55 percent of the workforce that is age 50 or older and nearing retirement.
Nursing continues to be a predominantly female profession with 94 percent of the nurses in Illinois being women, according to the Illinois Center for Nursing. The median nurse salary in Illinois is near $70,000, the center reported.
The U.S. Centers for Disease Control estimate autism's prevalence as one in 59 people. There is no known cause or cure.
Springfield's Hope has served persons with developmental disabilities since 1957 and is the headquarters of The Autism Program of Illinois. Hope has seen thousands of people with autism over the years, but Amanda Brott, chief operating officer, said Hernandez' story is still one of a kind.
"It's astounding that he's been very successful and it is a testament to hard work and some feelings of inclusion in our community," Brott said. "It's all about being able to allow people to be different but remain successful. People are less likely to put people in boxes any more, which feels very good.
"I think his story is inspiring in several ways. It's inspiring on his behalf because of the work he must have done and the things that he had to accomplish on his own to achieve those goals," Brott said. "I'm also very excited about the nursing field and its acceptance of people with autism spectrum disorders."
Hernandez may be inspiring to some, but with autism he still has daily challenges of the type that most people will never face.
"There is still that nagging hesitation with everyone. I've learned to quell it, I've learned to diminish it," Hernandez said. "But when I converse with someone, it's kind of like I have to go over what I want to say in my head at least a thousand times before I say it. It is very draining to have to talk to people."
During the interview for this story the soft-spoken Hernandez was candid about his life journey, but he seldom made eye contact. He preferred to avoid looking directly into the camera for the posed photos that accompany the story. It was obvious that it took a lot of effort for him to talk at length with a relative stranger who was peppering him with probing questions.
Hernandez confided that keeping a journal is his biggest coping mechanism to get through life's challenges.
"I need to go over everything that happened during the day," Hernandez said. "I need to go from beginning to end, I need to reflect on what events happened, how I felt about these events, what I could have done better."
Hernandez still appreciates what his family did for him during his "really dark spots" and the advice and support he continues to receive from his brothers. He cherishes the experiences he's had at nursing school. But he is taken aback by the term "inspiring" that people have used to describe him.
"I was given this label, I struggled with it, and then I grew," Hernandez said. "I think everyone has moments where they struggle, that challenge them. I think that anyone in my shoes would have probably done the same thing and would have done the best they could."
David Blanchette is a freelance writer from Jacksonville and is also the co-owner of Studio 131 Photography in Springfield.