Saying Jackie Jackson's magnum opus is about a barn, is like saying Alice's Adventures in Wonderland is a history of rabbit holes. The Round Barn encompasses a way of life that has all but disappeared. It captures the history of an extraordinary family whose members will live forever, thanks to a girl who kept notebooks beginning in second grade, and kept a promise to her grandfather that someday she would write a history of his farm.

Jacqueline Dougan Jackson's notes, her extraordinary memory and her gift for telling stories, paint a vivid narrative of agrarian life in the first three-quarters of the 20th century. Her writing is colorful, intricate, funny, heartbreaking and informative. Not only did she keep notebooks, she also collected a plethora of family photographs that illustrate the richness of life on a working dairy farm in Wisconsin beginning in 1900.
At times Jackie worried that the story of the farm would never be written. She made many attempts to start but it wasn't until 1976, when teaching a writing class at Sangamon State University in Springfield, that her inspiration came. She told her students, "Don't write a line. Write a page." That year she took a sabbatical, went back to Beloit, set up a card table in her old bedroom and began to write. Over the years she had the first two books,
Stories from the Round Barn,
and
More Stories from the Round Barn.
After those two, she then went on to write the four volumes of
The Round Barn: A Biography of an American Farm. Vol. 4
was published this week.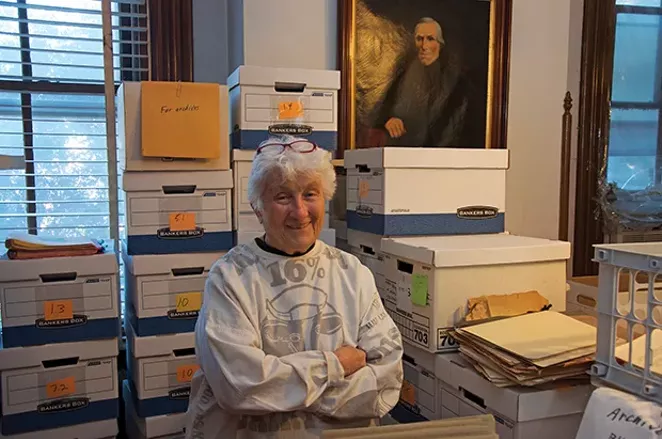 The story began nearly 80 years before it would be put to paper. Jackie's father, Ronald, born in 1902, was the son of Wesson Joseph and Eunice Dougan. Ronald would spend the rest of his life devoted to working with his father, founder of the Dougan Dairy. Grampa is perhaps the central character in Jackie's book. The enterprise he and his family worked so hard to make successful would grow to be considered one of the premier dairy farms in the country. Later years saw Jackie's dad expand the business into one that included a hybrid seed company and later one of the first to experiment in breeding cows using artificial insemination.

If she cared to, Jackie could romantically trace her beginnings Paris, France. It was there, while working as American Methodist volunteers to work with children who had lost parents in World War I, that her mother and father met. Jackie entered the world in May of 1928, and spent her childhood in what many of us would describe as bucolic setting. The myriad stories that comprise the Round Barn books are more realistic. Many at the farm were hit by the Spanish Flu pandemic. The year after Jackie's birth, the Great Depression descended; farmers were hard hit. Vaccines for people and animals had not yet been discovered. Bad weather and poor crops were all part of the hardships of farm life. Bankruptcy papers were drawn up in 1930, but never filed. Also part of farm life, however, were good neighbors and an abiding faith in God.
Grampa had always felt he was called to be a minster. He was raised in the Methodist faith, and had a lifelong aversion to smoking and drinking, both of which he considered serious sins. But at an early age, he began to lose his hearing. It soon became clear that a deaf preacher would face insurmountable barriers. So he turned to his other strong suit -- farming. Jackie insists that
The Round Barn
is not her memoir, that it is a memoir of the farm. Within that framework W.J., Jackie's grandfather, looms as the central character of the book. Like the barn, he stands at the center. Life on the farm radiates from him. He was clear on what he felt his family's life there should encompass, and on the silo of the barn, he painted his "aims for the farm" for all to see:
1. Good Crops
2. Proper Storage
3. Profitable Live Stock
4. A Stable Market
5. Life as Well as a Living
In a series of articles for the magazine
Hoard's Dairyman,
Grampa expounded on the last aim. He urged people to "enjoy the simple pleasures – the sweep of the landscape, the open sky, the forest and the field and stream, as well as all animate life. … In the home we have an abundance of light, some inexpensive art, music and literature, and withal, a home spirit." He must have taken his aims to heart, because in 1925 he was named a "Master Farmer," one of 23 Midwest farmers so honored.
When he died in 1949 Jackie felt remorse that she had not yet kept her promise to write a book about the farm. Life had intervened. After graduating from Beloit College in 1950, Jackie married, and she and her husband move to Ann Arbor to receive graduate degrees from the University of Michigan, she in Latin and he in English. They live on the outskirts of town in what she describes as "shanties," and what others called graduate student housing. She's taking a full course load and playing cello in the university orchestra. She realizes she is homesick. The end of the semester approaches and she comes to terms with how her life has changed. She describes how she feels in this beautiful passage:
There has been another clock within her. She didn't set it nor place it there. It's been geared not to hours but to cycles; the daily precession of milking and bottling, feeding and cleaning, the yearly procession of planting, cultivating, harvesting. It's been set to sun, moon, heat, cold, wed, dry. But now if there's a heavy spring freeze, she puts on a coat without sensing the loss of crisp that might result from too-late planting. If the sky lowers black, she takes an umbrella without feeling the sway of the hay wagon racing to reach the barn before the cloudburst. Her dailiness is now this class, that lecture, the next trip to the stacks. This was true before, too, but the steady throb of the milking machine was the heartbeat of the dailiness, the Greenwich underneath that all the other clocks were timed to. It was the ground she'd stood on, the air she'd breathed.
She has no special moment, no epiphany to explain the realization of loss that comes over her. She only knows that something elemental is gone and has been gone for some time. That it's probably irretrievable, unless she changes the path she's treading.
It would take almost 20 more years, four children, and a divorce before that "something elemental" would return to her. It came as a result of her father's illness and a long-remembered promise to Grampa.
In 1967 Jackie's dad, Ronald, fell ill and was in the hospital for several weeks. She traveled to Beloit many time to sit by his bedside and take what some would call an oral history, asking him to tell her stories about the farm and family. One of those stories was one of the earliest Jackie had written as a child and would find decades later in an old brown notebook. It is a tale about a girl and her blue-ribbon calf at the local 4-H fair. While the girl in the story is a top prize winner, Jackie's real-life fate was not so glorious. She and her brother, Craig, both entered calves in the fair. Craig's calf behaved, but Jackie's bolted and she found herself face down in the show ring with the calf having headed for the barn. The story of the successful girl, Jackie said, was a way of "licking her wounds."
Beginning in 1950 Jackie saw her life turn from farm girl to scholar to wife and mother. In 1970 she began one of the most important turnings in her life. She moved with her four daughters, Damaris, Megan, Elspeth and Gillian, to Springfield, Illinois, to be part of an educational experiment on the prairie called Sangamon State University. W.J. had described an educated person, as a person who has taught "her mind to think, her hand to act, and her heart to feel." With these arrows in her quiver, Jackie would begin to teach others how to embrace these goals.
Jackie found her true calling in teaching when she became a part of SSU. It was the perfect proving ground. Established as a two-year university for juniors and seniors, the school had an open admissions policy and, for the first two years, no grades. This liberal learning philosophy encouraged independent study programs. The plan called for recruiting the finest and most innovative teachers to begin what was, in fact, an experimental idea. The initial faculty comprised 45 pioneering professors. Many of them are still among Jackie's closest friends. Over the course of her career one of her greatest pleasures was co-teaching with her colleagues. The focus was to be on establishing a public affairs university with corresponding colloquia sessions on local, national and international affairs. Its other emphasis was to graduate superior elementary and secondary teachers.
Jackie's degree from the University of Wisconsin was in Latin. At SSU she taught courses in English literature, perceptual writing, and a history of children's literature (everyone who took this class left having written their own children's book). When it comes to children's literature, Jackie had the credentials. Starting in the early 1960s, Little Brown and Company has published several of her children's books (see p.15). She also taught in the genres of fantasy and mystery, and the aspects of women's liberation.
Because SSU was a junior and senior university and because it offered so many night classes, most students at the beginning were adults. Jackie recalls a writing class she taught at night. She imagined her students having worked all day, making evening arrangements for their families at home while grabbing a quick bite for themselves, then rushing to be at class on time. Knowing that such a frazzled pace would not encourage creativity, the first thing she did after all her students were at their desks was to turn out the lights. And then she played Mendelssohn's Rondo Capriccioso Opus 14. At the end of the piece, students were relaxed ready to write. Jackie herself grew up in a musical family. She played the violin, but when both of her sisters played that same instrument, they encouraged her to learn the cello. She went on to play in more than one symphony orchestra.
Jackie Jackson could not be described as shy. She may have met a few strangers but they weren't strangers for long. When she meets someone, she is engaged in that person's interests and eager to share her own. Her outgoing personality often turned into opportunities for her students. Jackie planned summer field trips to England and Scotland. One of the books she had taught in her fantasy class was Richard Adams' famous
Watership Down.
She remembers biking in the country to find Mr. Adams' house. He opened the door upon her knock. She introduced herself and asked if her students might come back to see the setting of his book. He invited her in for tea, and later her students were privy to a private tour of the down, led by Adams himself. She also arranged a visit with C. S. Lewis' stepson, and a trip to the Black Museum at Scotland Yard, and an Oxford pub visit with Colin Dexter for her students studying mystery writing.
For 20 years, beginning in 1975, Jackie produced a radio show on WSSR, later WUIS. "Reading, Writing and Radio" was an outreach program to elementary school children across central Illinois. Students in 90 classrooms were given radios to listen to the program. SSU faculty and experts from many fields were recruited for programs on a variety of topics. Pen pals were established across communities. Every class visited the radio station. And in the spring, they attended a Jamboree. Jackie remembers it as "the liveliest day on campus," and suspects that many of the children later attended SSU.
One of Jackie's books,
The Endless Pavement
, was the first dramatic performance at the Sangamon Auditorium Theater. Bemoaning the fact that the automobile seemed to have taken over our lives, Jackie envisioned a world where people were ruled by their cars and only dreamed of using their legs to get somewhere. She fondly remembers dozens of children in toy cars zooming around the stage.
After she retired from teaching, Jackie has concentrated on what she loves – writing and her family. She has six grandchildren and two great-grandchildren. In her big house on Fifth Street (rumored to have been visited by Abraham Lincoln) Jackie has hosted a writers group for years. Many members of the group have gone on to have their work published. She has been the
Illinois Times
poet for more than 12 years. When John Knoepfle gave up that post, then editor Roland Klose approached Jackie. "I'm not a poet," she told him, to which he replied, "But I want you and I know you can do it." The poems are enriched by the rich life Jacqueline Jackson has lived. She has shared this wellspring in a series of "Liberty" chapbooks.
Agingpoem #1
when tradepeople
waiters ushers
and such start
calling you "young lady
Then you know
you're getting old
Jackie Jackson is 89 years old. When I expressed my disbelief of this fact, she joked that on a recent trip to London, her older sister Pat, 92, chided her for not keeping up with group.
---
Book Coming Out Party
Jackie Jackson will host a Coming Out Party for the last volume of Round Barn on Wednesday, Nov. 8, from 5 p.m. till 7 p.m. at First Presbyterian Church, Seventh and Capitol Streets, in the Cook's Lounge. Copies of the Round Barn book will be for sale at a discounted rate. Other writers will have their books available for sale. Volume 4 of "The Round Barn Book" will also be available at Prairie Archives downtown, at Barnes and Noble, and from Jackie herself. For more on the book, or to order, go to roundbarnstories.com.
---
Round Barn Roundeau
At twilight, in the cold Rock County fall
in late October, as the farmland rests,
around the dairy barn the swallows call
and dart and dip into their loft-tucked nests.
The barn cats purr as in the mounds of hay
in intertwined bliss they make their beds,
and horses sigh and shuffle as they sway
into their stalls and gently droop their heads.
Then as the full moon rises in the night
and fireflies flicker faintly in the air
the scruffled calves cry out in sweet delight
to find their mothers waiting for them there.
And as they sleep, these creatures great and small, the circle of the barn surrounds them all.
This poem was written about Jackie Jackson's Round Barn by M. Lee Alexander, "Observatory," Finishing Line Press, 2007. Used with permission.
---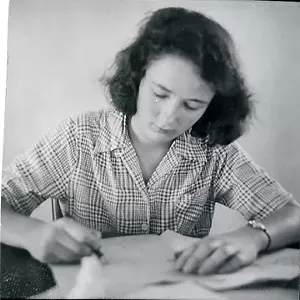 Children's books by Jackie Jackson
Julie's Secret Sloth – 1953. Julie hides a pet sloth in the house, right under the noses of her parents. Little Brown and Co.
The Taste of Spruce Gum – 1966. Libby learns to appreciate the different qualities of life in New England. Little Brown and Co.
Missing Melinda – 1967. Sisters Cordelia and Ophelia move to their uncle's house, and discover Melinda, a valuable antique doll. When the doll disappears, a mystery-adventure ensues. Little Brown and Co.
Chicken Ten Thousand – 1968. Chicken 10,000 was just like chicken 9,999 until she escaped the egg factory's incubator and discovers what the life of a hen should be.
The Paleface Redskins – 1968. Children on vacation in Wisconsin are upset when a Boy Scout camp moves in, disturbing their idyllic summer. Little Brown and Co.
The Ghost Boat – 1969. Five children are convinced that the rowboat they see moving across the lake is propelled by the ghost of a dead fisherman. Little Brown and Co.
Spring Song – 1969. An ode to spring based on a traditional poem. Kent State University Press
The Orchestra Mice – 1970. Clarissa longs for a musical life. She marries Sam Mouse and together they teach their little mice to appreciate classical music. Contemporary Press
The Endless Pavement – 1973. Living in a time when people are the servants of automobiles and ruled by the master auto of the planet, Josette longs to leave her rollabout and try her legs. Seabury Press
Turn Not Pale, Beloved Snail: A Book about Writing Among Other Things – 1974. Using excerpts from her own writing and that of her children and other authors, Jackson suggests a variety of approaches to learning to write.
These books are currently out of print but are readily available from booksellers online.
---

Corrine Frisch is a freelance writer. She has known Jackie Jackson for more than 20 years. She first met Jackie at Lincoln Library, Springfield's public library, when she was working as its PR director and Jackie was presenting a children's program.