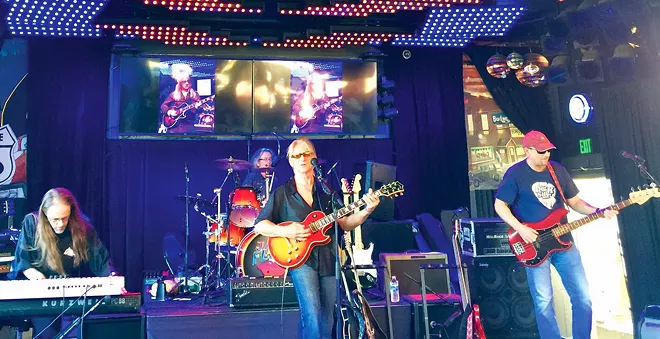 Hot diggity dog, here we are in the first full weekend of August 2021. While we're all still dealing with the consequences of a full-blown pandemic as we navigate through slight upticks in infections from variants and such, let's see what's ahead on the ticket for this week.
There's nothing like a good Thursday of entertainment to kick off a wonderful week, and this one has plenty of "umph" to carry us on through the weekend. We begin with a last call for the Levitt AMP music series downtown on the Y-Block, as this week's indie-rock lineup features Nectar and Ratboy as the final acts for the 2021 season of free live concerts (6 p.m.). Once again, let's give a big "hurrah!" to all those involved in making this happen and to continued success in 2022.
In another big Thursday outdoor free show, the Sherman Village Park Amphitheater Concert Series hosts the fabulous and ever-popular Captain Geech and the Shrimp Shack Shooters this week (6:30 p.m.). If you've never been there, the folks in Sherman have built a marvelous outdoor space to see live music on the south side of the village, hosting several successful events this summer (last week was Excitable and Rockhouse), all thanks to a wonderful volunteer staff. There's food and libations (adult and otherwise) available, so get on out there and see what's what.
Continuing our Thursday romp, check out the Curve Inn on the south side of Springfield as The Rick Mari Band takes the well-maintained and finely run stage of Ric "Skippy" Major to play some blues-based, classic rock and original songs (6-9 p.m.). Anybody who's been around Springfield for any time knows the name of Rick Mari as one of our finest guitarists and vocalists (he knows his way around the keyboards, too) who has played in some of the best-known bands in town through his several decades of music performance. For the last few years, he's fronted his own group backed by top local players and playing cool covers by the likes of Joe Bonamassa, Eric Clapton, Black Crowes and Johnny Lang, as well as a sprinkling of originals tunes, plus some classic covers from Led Zeppelin and other bands Rick cut his teeth on during those heady music days of the 70s. Tear it up, guys.
Let's hustle on to Friday night and get busy for some action. The Gin Mill Lounge (formerly Bar None, on the corner of Fifth and Monroe streets) presents a rockin' hard night of three bands, featuring The Rolling Sixes with special guests ZED and No Good Deed taking a stand on the tall and handsome corner stage. It's so good to see that venerable downtown venue up and going again after some down time from being a top live music spot in years past.
Also on Friday night, in their 2021-created outdoor concert stage space, Danenberger's Family Vineyard hosts Blessid Union of Souls, a hugely popular 90s hit-making band still going strong, with guests Avery Kern, Fireside Relics and Tom Irwin's Hayburners (yes, that's me). DFV WineRocks continues a relentless summer schedule, including national act Saliva on Sept. 17, among a bunch of local bands taking it to the fields.
And the rest of the weekend is chock-full of all kinds of area acts playing all over the place in your favorite live music venue. Whether it's a bar, beer or wine garden, grocery store, brewery, winery, golf course, VFW Hall, restaurant, small-town square, amphitheater or whatever, get on out there and enjoy the show if you can. Then next week, here comes the State Fair.