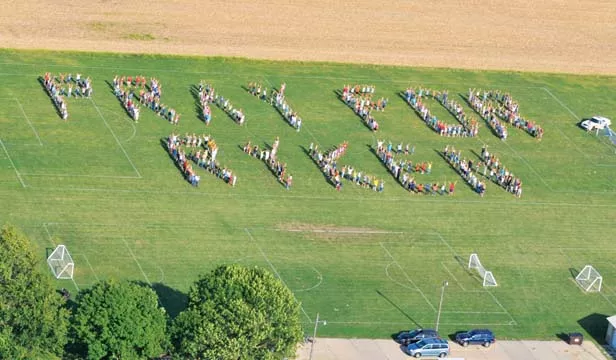 Probably never realizing how her friends and neighbors would later prove her right, Christy Codron Bailey explained several months ago on the school district webpage why she so enjoyed teaching at Auburn Middle School. "The community support here is second to none," she wrote last November.

Less than a year later, on July 31, she and her husband, Todd Bailey, would learn that their 21-month-old son, Ryken, had a brain tumor. The diagnosis: ATRT, atypical teratoid/rhabdoid tumor, an aggressive cancer that often spreads through the central nervous system. According to St. Jude Children's Research Hospital, where Ryken is now undergoing treatment, the survival rate for children under three years old is less than 10 percent.

The news, which spread across Auburn within days, was bleak. But community members immediately responded and their efforts continue to help lift the Bailey family's spirits as they accompany Ryken through test after test. Ryken is expected to undergo 20 weeks of chemotherapy at St. Jude's in Memphis, Tenn., followed by two months of radiation in Florida. Then, Ryken will return to either Memphis or Peoria for another 24 weeks of chemotherapy.

Although the Baileys are far from home, they can rest assured that the community they've been a part of since childhood will be with them all the while – at least in spirit.

Already, the community raised more than $32,000 during a day-long kickball tournament, highlighted by a telephone call from Christy Bailey that was broadcast at the event. "You could hear a pin drop," says Charlene Brown, a family friend and one of the organizers of an upcoming Ryken benefit. "There was hardly a dry eye in the place. … Initially, she was very bubbly, like the typical Christy. … Then she started crying. They missed home and they appreciated everything everyone has done."

At the school where Christy teaches sixth-grade math, the girls' basketball team has taken to praying for Ryken at every practice and every game. "Our players, it's constantly on the back of their minds," their coach, Dave Farris, says. "It is something that is in our lives daily."

Farris, who coached Christy Bailey nearly two decades ago when she helped lead the junior high team to state, has dedicated his coaching salary to the cause. "Over the years I have told my players, 'If you need anything, I will try to help you.' Usually it is a phone call, a letter of recommendation, or tip on a job search," Farris says. This time, it's reaching out to everyone he has ever known, encouraging them to support the Baileys as they help Ryken fight cancer. Farris is asking past and present community members to pledge their support based on the team's performance.

So far, the experience has been humbling, Farris says. He's heard back from alumni as far away as California. "I think it just shows that you have a lot of good people in the world," he says.

Brown says it's not surprising that the community has rallied for the Baileys, not just because Christy and Todd Bailey are Auburn natives and Christy Bailey is a well-liked teacher, but also because that's the way small towns work.

"With each thing you go to, you hear more and more people say how glad they are they're from Auburn," she says.

The same will probably be true this weekend, she adds, as the community hosts a 5K Run-Walk in Ryken's honor. The event will take place at Auburn's Union (East) Park at 8 a.m. on Oct. 10. Registration is $20 per person. For more information or to register, contact Charlene Brown at 971-7733 or visit www.active.com.

A "Ryken Bailey Fund" has also been set up at United Community Bank in Auburn.

To track Ryken's progress, visit caringbridge.org and search "rykenbailey." The family maintains a public journal there and can read comments left by readers.

Contact Rachel Wells at rwells@illinoistimes.com.