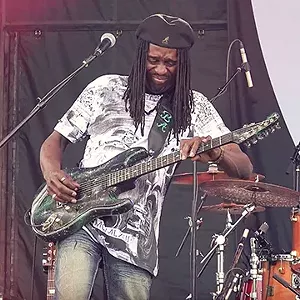 I think we can safely state the Illinois State Fair was more than fairly good this year. It's fair enough to say, it's time to move on to other happenings around town, and they are bountiful.

First, let us give our sad goodbyes to another member of our music community as Gary "Walnuts" Swaggerty passed away on Aug. 15 after years of battling with that damn cancer. I think we can fondly mention he was known as a character, and just to prove the point, requested that all who came to his celebration of life last Monday to "please wear shorts." Gary was the original drummer for NIL8 and continued to be a part of the band's legacy long after he no longer beat the skins for the seminal Springfield punk-metal-hip band. Look out folks, Walnuts will always be around in his own wonderful way.
This weekend marks the capital city debut of Memphis: The Musical, the Tony-award winning Broadway production directed by Reggie Guyton with quality assistance from his "core team" of Nicole V. Pittman, Montel Morgan and Samantha Gaines, all well-experienced in other local theater productions. Springfield singer-songwriter-musician Casey Cantrall takes the lead as Huey Calhoun, a character loosely based on Dewey Phillips, the Memphis DJ who got credit for introducing black rock n' roll music to white listeners in a very segregated city and world. Jasmine French performs as Felicia Farrell, the aspiring singer who gets involved romantically and business-wise with the Calhoun character. Along with a fine batch of songs, incredible dancing and an engaging story, the action really centers around how race relations relate to music and to society as a whole, which in many ways, is as pertinent now as during the actual era of the play, the 1950s. But I won't reveal anymore so you can take one of the six opportunities available over the next two weekends to see this amazing and apropos show.
Downtown Springfield hosts one of the most popular outdoor events of the year with the annual Old Capitol Blues & BBQ Festival on Friday and Saturday. The music lineup is really superb, including Mary Jo Curry, Matthew Curry and Albert Castiglia on Friday night and Black Magic Johnson, Kilborn Alley, Johnny Rawls, Bernard Allison and the Spin Doctors on Saturday night. Add in the incredible smells of barbecue cooking wafting down the city streets and you have the makings of a full sensory overload experience, and it all happens right down the road from wherever you are in town.
In nearby Decatur, Donnie's Homespun and several generous sponsors present the 10th annual Oakwood Block Party on Saturday, featuring bands all day, including headliners Natty Nation, the Midwest's premier reggae group, and our Chatham friends, Positively 4th Street doing a Bob Dylan tribute, along with Jason Gotts Band, L-Win Motel and the Red Wheelbarrows. The all-ages, free party is on Oakland Avenue on the west side of the soy city.
Sunday afternoon (noon to 5 p.m.) marks the very first Watermelon Festival held at Hill Prairie Winery near Oakford, which is a fundraiser for Brother James Court. There will be plenty of watermelon available to supply the seed spitting contest and the watermelon eating contest, which could be combined into one event, but not this year. With watermelon cooler drinks and plenty of tasty food, plus live music by the outstanding and ubiquitous Off the Wall, you can surely have your fun and help out BJC, too.
Finally, the nominations for our annual, and always fun and fiesty, Best of Springfield concluded this week. So stay tuned, and be prepared to vote for all your favorites when the top five nominees in each category are revealed on Sept. 12.