The last Clay County farmer elected governor was John Riley Tanner in 1896, but Darren Bailey hopes to be the second.
In fact, Bailey took the doorway from what was Tanner's house and made it the entryway to his living room. One way or another, through that portal, a governor will have walked.
Earlier this month, Bailey spent an hour-and-a-half talking to Illinois Times in a rare interview. Media availabilities have been restricted. At the Illinois State Fair's Republican Day he took just a few questions from a gaggle of anxious reporters before being hustled away.
What emerged during the interview was a candidate different from his public persona. He was quiet, contemplative, relaxed. He was comfortable kissing his adult sons in front of visitors, an unusual custom in the hyper-masculine environs of agriculture.
The verbose MAGA candidate who stood next to Donald Trump at an Adams County rally in June seemed gone.
"This garbage that JB Pritzker is throwing out there, people need to realize that this is dangerous. It's called fear mongering – to set out and try to make me into someone that I am not. It's dangerous, and the people of Illinois need to realize that," Bailey said.
His origin story – all politicians seem to have one – is that he spent his first five years living in a house trailer on the farm until his parents moved to a more permanent residence. Growing up, he was active in 4-H and Future Farmers of America, and hard physical labor defined much of his childhood. He speaks with the syrupy cadence of a rural southern Illinoisan.
Evangelical Christianity defines Bailey. As a child, he accepted Jesus as his savior during Vacation Bible School. He and his wife were 14-year-olds who met at church camp and have been together ever since. Their home, office and machine shed are all adorned with Bible verses.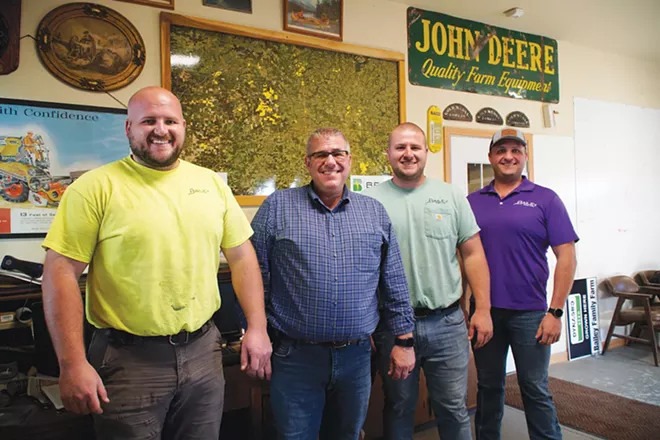 If elected, he would be the first Illinois governor since Louis Emmerson, who left office in 1933, not to hold at least a bachelor's degree. But he speaks of his time at Lake Land Community College, where he earned an associate's degree, with the nostalgic tone of an Ivy Leaguer recalling his salad days.
Bailey studied agriculture and his wife, Cindy, dental hygiene. He marked it as a special time when he could be away from home and get to know her better.
Bailey has focused much of his gubernatorial campaign on social issues. He and his wife are opposed to abortions, except to save the life of the mother.
"Well, first and foremost, I want to end taxpayer-funded abortion, and I'm finding out that a lot of people across the state don't even realize their tax dollars are paying for that. So, as they learn that they are, they seem frustrated. I want to return parental notification. A lot of people don't understand that a 12-year-old now can go and do anything they want without their parents' consent," he said.
Illinois is one of 16 states that go beyond federal Medicaid limits and use state funds to cover abortions for people enrolled in Medicaid.
But Bailey was more circumspect on whether he would push to go further, noting that the current political reality is that Illinois lawmakers will not vote to end abortion, implying pro-choice voters had little to fear from a Bailey governorship.
"When a candidate is telling voters what they should care about, that's a problem," said Brigid Leahy, a lobbyist for Planned Parenthood. "Voters should be telling candidates what they're concerned about. And they want to know where you stand on it. Voters are making the decision in the election. So, for a candidate to be turning around and saying, 'Voter, that's not really that important to you. Let's talk about something else,' that's not helpful, because voters care about this and voters are really, really concerned about it right now."
When asked what he would do if one of his grandchildren told him they were gay, Bailey said, "I'd say, 'I love you.' We would talk about the situation. But regardless, I would always love them."
Money talks
Much has been made about whether Bailey is a millionaire.
With farmers, that's hard to discern. He rents 9,000 acres from various landlords and owns another 3,000 acres that he says are mortgaged. In addition to himself, three sons are part of the operation, which dilutes profits. The land in Clay County is thick with clay and is not as productive as in Sangamon County or other parts of the state.
His lifestyle seems middle-class. His home is nice, but not a mansion. His daily attire is blue jeans and a work shirt. He still does physical labor on the farm and finds himself in the cabs of tractors and combines. On the day of the interview, his sons were working on farm machinery and their shirts were covered with grease and dirt.
This is a family that works with their hands.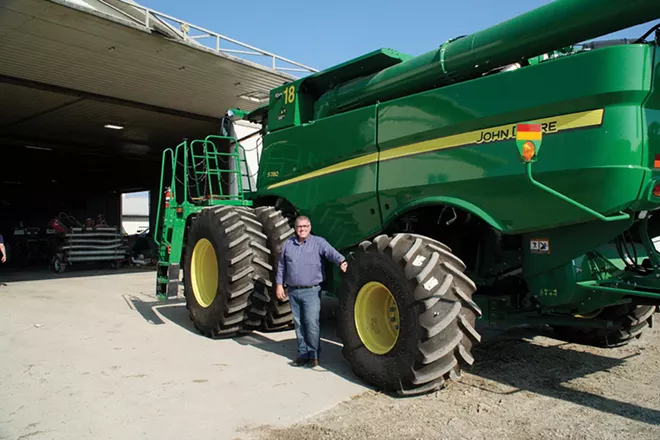 In a video released by the campaign last month, Bailey said, "JB Pritzker, you were born with a silver spoon in your mouth. You inherited billions of dollars from your family. You have millions stashed away on islands most folks have never heard of, let alone visited. You've never woken up in the middle of the night in a cold sweat worrying about keeping a job or managing payroll.
"You sit around with your soft hands, laughing with your snooty friends at the downstate farmer who thinks that he can make a difference. Well, you got one thing wrong. I don't think I can make a difference. I know I can make a difference, because I know what it takes to work hard and build something, and you don't have a clue."
The tone of the video is much different than the one Bailey projects in person. He's quiet, affable, down-to-earth and free of vitriol.
In 2016, he and his wife started a private Christian school in Louisville, Illinois, which now has 360 students from preschool through high school and has expanded to a second campus in Olney. They use a curriculum developed at the fundamentalist Bob Jones University. The curriculum is centered on the inerrancy of Christian scripture – even when it may appear to contradict scientific determinations.
Guns are under lock and key throughout the campus and a large sign at the entrance proclaims that the staff is armed and prepared to defend pupils.
Two years ago, the Baileys stepped away from running the school, but their daughter remains involved.
During his interview with Illinois Times, Bailey had harsh words for the curriculum being taught in many of the state's public schools. He said he doesn't like that critical race theory and sex education are a part of their lessons.
Former Republican state representative and 2018 gubernatorial hopeful Jeanne Ives was an early supporter of Bailey. She said these are important issues for Bailey to underscore.
"They want to paint Darren as an extremist," she said. "It's honestly JB Pritzker and his fellow Democrats who are the extremists. And I think that's the tone that he has to set. He doesn't have a choice. He can't avoid it, because that's all the left wants to talk about. So, he should confront it head on. This idea that he's an extremist is completely false. You can't get a tattoo. You can't get your ears pierced. You can't go to a tanning salon. You can't have an aspirin in school without your parents' permission. And they say your 13-year-old can have an abortion without you knowing."
Ives said when Pritzker sought to have Bailey be his opponent, he misunderstood Bailey.
"He underestimates the grassroots momentum that only Bailey has. He has network upon network. Lots of people follow and watch everything that he does on social media. He and his running mate are invited everywhere all the time – lots of places to go and visit. They're never at a loss for an invitation to come and meet. Pritzker does not have any of that. None, none.
"He can win. He's got the right environment. He's got grassroots organization. He needs to raise a lot more money in the next month to just seal the deal – at a minimum, $10 million."
In person, Bailey is engaging – a born salesman. As a young man he was the top Pioneer Seeds corn dealer in the nation.
But if polls are to be believed, he hasn't closed the sale with Illinois voters.
"He's running a regional campaign, and he is focusing on the region with the least amount of people," said Patrick Pfingsten, a Republican political consultant. "You can't win an election by ignoring the 7.5 million people living in the northeast corner of the state."
But his running mate, Stephanie Trussell, says that is not the case. The African American former radio talk show host from Lisle says Bailey is deeply concerned about the welfare of people throughout the state and has campaigned in all its regions.
Trussell uses Biblical analogies to describe their candidacy.
"This is a David v. Goliath moment," she said. She likened incumbent multibillionaire JB Pritzker to Goliath and she and Bailey's cash-strapped campaign as Davidic.
They may well need more than five smooth stones and a sling to take down the wealthiest person to ever hold office in the history of the United States. Pritzker's immense wealth has been both helpful and a challenge to Bailey.
During the GOP primary, Pritzker and the Democratic Party spent $30 million to help Bailey, whom they deemed the weakest Republican candidate, win his party's nomination. Now that he is the Republican nominee, he faces the prospect of being greatly outspent. Four years ago, Pritzker, an heir to the Hyatt Hotel fortune, spent $172 million to win the governorship.
"I'm not afraid. When I ran for the House four years ago, I was outspent 10-1 and I still won. We just need to get our message out," Bailey said.
And there is the rub. He runs the risk of being defined by his opponent's attack ads, if he can't find enough money to buy his own.
Bailey has $1.74 million in his campaign coffers, compared to the $65.8 million that Pritzker has on hand, said Kent Redfield, an emeritus political science professor at University of Illinois-Springfield and an expert on campaign finance.
During the primary, Bailey's top donor was Dick Uihlein, the office and shipping supplies mogul. But there is said to be a conflict between the two that raises questions as to whether he will be as significant a donor during the general election.
Bailey said he is confident of Uihlein's continued financial support, noting his campaign just received a check for $1 million from him. But individuals familiar with Republican politics, who asked not to be identified, said Uihlein demanded that Bailey revamp his campaign staff and he refused.
Uihlein is said to have diverted money that would have gone to Bailey's campaign to a political action committee operated by Dan Proft, a longtime conservative political operator and occasional unsuccessful candidate for statewide office. The idea is for Proft to run a shadow campaign with the more than $20 million Uihlein donated.
But there are problems with this strategy. A political action committee can't coordinate with the candidate, and they are charged a higher rate for advertising.
"Every dollar that The People Who Play by the Rules PAC spends on TV, they're spending twice as much as they would if it was the Bailey campaign. Issue ads cost more within the 60-day window before an election than candidate ads. So, they are paying almost double. Campaigns get the lowest unit rate," GOP consultant Pfingsten said.
Proft did not respond to an interview request.
An accidental politician
Bailey describes himself as an accidental politician who until five years ago never considered a run for partisan office.
"In 2017, I realized that several Republicans were going to vote for this budget that was going to increase our taxes by 32%. Having 15 men and women who were working on the farm at the time – and their spouses were working as well – I realized that $1,200 was going to be taken out of their paychecks because of this tax increase. I became noisy about it and started sharing on social media. ... Unfortunately, I guess I did too good of a job of complaining because when people began to realize what was going on, they came to me and suggested that I run for state representative."
He is currently serving in the Senate after a two-year stint in the House. Before entering the General Assembly, he served on the North Clay School Board for 17 years.
During the pandemic, Bailey was openly defiant of the governor's mandates. He was kicked off the floor of the House of Representatives after refusing to wear a mask. It was a move that garnered ire not only from Democrats but from many legislative Republicans.
Bailey took Pritzker to court arguing that after 30 days, Pritzker needed legislative approval for his emergency pandemic orders. He prevailed at the trial court level but lost on appeal.
Bailey was equally frustrated when trying to pass legislation. For example, a bill he sponsored to create a $1,000 tax credit for families who adopt went nowhere.
"Republicans and Democrats just don't talk to each other. (Democrats) have the attitude that they have a super-majority and just don't need us. We need to work together. If I'm elected governor, that's one thing I would like to change."
Scott Reeder, a staff writer for Illinois Times, can be reached at sreeder@illinoistimes.com.