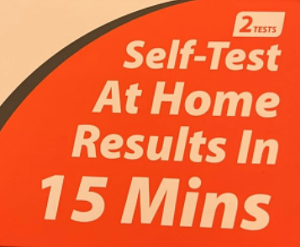 Sangamon County's COVID-19 case numbers, which are "inching up" but remain relatively low, should be interpreted with caution, the county's top public health administrator says.
The slight increase in recent weeks is "not astronomical," said Gail O'Neill, director of the Sangamon County Department of Public Health.
"But it's something to be a little concerned about," she said. "It's kind of enough to remind us the virus is still out there, and you could catch it, and if you're unvaccinated, it could be really bad for you."
O'Neill said she agrees with recent decisions by state and national public health officials to focus on COVID-19-related hospitalizations rather than test-positivity rates.
She joined her colleagues at the Illinois Department of Public Health and U.S. Centers for Disease Control and Prevention in saying hospitalizations are a more accurate measure of the pandemic in its third year.
O'Neill said the widespread use of home testing – results of which aren't included in government-reported cases counts – and the fact that laboratories no longer are required to report negative results, make COVID-19 case rates less-accurate indicators of the pandemic's severity. IDPH this month stopped reporting COVID-19 test-positivity and case-positivity rates.
Among new information on the state agency's online COVID-19 dashboard, dph.illinois.gov/covid19.html, will be:
• Updated data on vaccination rates to reflect the full population eligible as eligibility evolves.
• The number of people admitted to hospitals with a COVID-19 diagnosis.
• More detailed data on hospitalizations, including information about vaccination status in those who are hospitalized.
"At this stage, now that we have vaccines and effective therapies available, it is more useful to rely on data that indicates the case rate, disease severity and the level of strain on (the) health care system to guide our public health recommendations," IDPH acting director Amaal Tokars said in a news release.
Rising cases in the northeast portion of the United States have prompted some areas to reinstitute mitigations or delay easing previous restrictions.
Philadelphia recently became the first major U.S. city to reimpose its mask mandate amid a surge of the BA.2 subvariant of the omicron variant of COVID-19.
IDPH was reporting a seven-day average of fewer than 2,300 new COVID-19 cases per day, and an average of fewer than 10 deaths per day, in mid-April.
Those levels, as well as COVID-related hospitalizations totaling 400-500 patients across Illinois, are far below numbers recorded in January during the omicron surge.
In fact, hospitalizations of COVID-19 patients in Sangamon County and statewide are at some of their lowest levels since the pandemic hit Illinois in March 2020.
But IDPH officials said in an April 14 news release that COVID-19 case rates are "slowly rising in many areas of the state and that members of the public should be paying attention to conditions in their local communities and staying up-to-date on their vaccination status."
A total of more than 33,500 people have died in Illinois with COVID-19 as the direct or indirect cause, state officials said, and the COVID-19 death toll in Sangamon County stands at 376.
About 64% of residents in Sangamon County and statewide have received a primary series of COVID-19 vaccine. The percentage of the population that has received the recommended booster shots is unavailable, though IDPH says more than 50% of the fully vaccinated population has received at least one booster shot.
About one in every four Illinoisans has received no vaccine or isn't fully vaccinated.
Tokars said in an online news conference April 12 that most people hospitalized in Illinois with COVID-19 are either not vaccinated or haven't received the recommended vaccine doses.
IDPH officials haven't discussed reimposing the state's mask mandate or other mitigations "at this time," she said. She added, "We hope we don't get there," but future mitigations haven't been ruled out.
IDPH is suggesting precautions such as getting vaccinated and staying up to date with recommended booster shots, wearing a mask in indoor spaces with other people and avoiding large gatherings in communities with rising COVID infections.
Officials said people who test positive should talk with their health care provider immediately so they can get treatment within five days of feeling sick.
Infected individuals also should communicate their positive test results to others in close contact with them within two days of becoming ill or testing positive, according to IDPH.
Fewer than five COVID-19 patients from Sangamon County are currently in the hospital, O'Neill said.
The number of new COVID-19 cases reported each day in the county has been in the 30s and 40s, compared with more than 1,000 per day in January, she said.
The latest counts compare with 10 to 20 cases a day a few weeks ago, and the availability of at-home tests means the undercount is higher than ever, O'Neill said.
At Hospital Sisters Health System's nine Illinois hospitals, including HSHS St. John's in Springfield, a total of fewer than 10 COVID-19 patients were hospitalized, according to Dr. Gurpreet Mander, chief medical officer at St. John's. St. John's alone hit a daily record of 83 COVID-19 patients in January, he said.
Memorial Health, with hospitals in Springfield, Decatur, Jacksonville, Lincoln and Taylorville, has been caring for fewer than 10 COVID-19 patients a day for the past month, according to Dr. Rajesh Govindaiah, the health system's chief physician executive.
"Memorial is prepared to take care of the needs of the community," he said. "I think we will have an increase in cases because of the BA.2 variant. What I do not know, and what I think no one really knows right now, is if that is going to drive more hospitalizations or not."
Dean Olsen is a senior staff writer for Illinois Times. He can be reached at dolsen@illinoistimes.com or 217-679-7810.