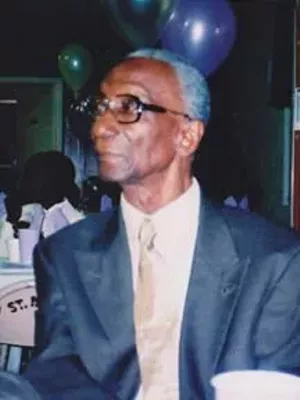 Sisters Gifty Smith and Yarvo Roberts say their childhood home in Liberia was so full of familiar faces that they didn't know which people were actual relatives. "Those in need came to our house and my parents would find a way to get them whatever they lacked. Dad was always helping someone," says Smith, a former Springfield resident.
Some asked for food while others just needed a place to sleep. Young students would often receive graduation clothes. "We always saw our father helping someone, and we started to view everyone as family. We called everyone 'aunt' or 'uncle' and sometimes didn't really know who was who," Yarvo says. Helping others became a way of life.
That's just the way Tecumsay Roberts, Sr. was. He was humble. He was compassionate. And he helped people. Roberts, known by many as TR, was born in 1923 in New Georgia, Liberia. He studied at the College of West Africa and Liberia College before meeting Antoinette "Nettie" Williams, who he married one day after his 24th birthday on Nov. 27, 1947. While Nettie raised the couple's 13 children, TR found work with the Liberian government in the late 1950s and 1960s, eventually serving as Chief of Customs and then Commissioner of Internal Revenues for the Republic of Liberia's Ministry of Finance in the 1970s.
TR embraced his Christian faith at an early age and attended the Eliza Turner African Methodist Episcopal Church in Monrovia, Liberia. As war escalated in the late 1980s, life became increasingly difficult. What started in 1989 was by 1993 a full-blown civil war that would eventually kill 200,000 people and ravage the capital city of Monrovia. During that time, Roberts' son, a prominent Liberian musician, was brutally killed by a rebel faction leader. The tragedy – combined with TR's status as a former government official – forced the family to move 14 miles to a small town called Brewerville. While the Roberts family sought safety among kin, fighting between rebels and government forces intensified until the government's men launched missiles. One day Roosevelt Smith, TR's son-in-law, heard an incoming missile and warned those around to take cover. It whistled over two neighboring houses and, according to Gifty, hit nearby trees. With TR in the path of shrapnel, Roosevelt rushed to tackle his father-in-law, saving his life.
TR and his family left Liberia for the United States and moved between their children in Maryland, New York, Ohio, and Illinois before settling to live more independent lives in Minnesota. There, the Roberts got involved in a Liberian church and volunteered in a day care center and at a food pantry designed to aid Liberian refugees and other foreigners.
When daughter Gifty and her husband, Roosevelt Smith – pastors with the United Methodist Church – were assigned to a church in Danville in 1998, the family moved to Illinois. TR and Nettie stayed with the Smiths when Roosevelt and Gifty were reassigned to Kumler United Methodist Church at Fifth and Carpenter in Springfield and they lived in the capital city until the church sent them to Ashland in 2001. Yarvo Roberts remembers her father's continued passion for service. "He always participated in men's ministry and went on several mission trips," she says. One of his favorite projects was a semi-regular trip to Henderson Settlement, a 1,500-acre work camp in Kentucky through which volunteers repair homes and complete other projects for the residents of Appalachia. Roberts, a master mason, relished the opportunity to use his skills for the benefit of others.
Roberts is survived by his wife, Nettie, who turned 86 this year. Nov. 27 would have been the couple's 66th anniversary. –Zach Baliva