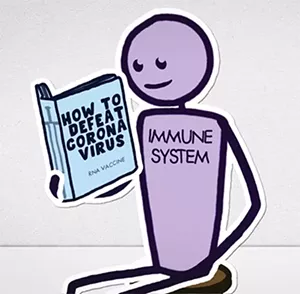 Artists throughout Illinois are using their creative talents to encourage people to get vaccinated. Through an initiative of Arts Alliance Illinois, invited artists of all genres are receiving stipends to design powerful messages in unique formats. The Springfield Area Arts Council (SAAC), a member of Arts Alliance Illinois, is a local partner. Sheila Walk, SAAC executive director, chose to reach out to local performing artists. "Performing arts venues were the first to close under COVID and the last to open," says Walk.
Julio Barrenzuela, known locally as the Ambassador of Salsa, organized a salsa dance party and family picnic on July 19 in a neighborhood with many immigrants from Spanish-speaking countries. The Sangamon County Health Department vaccinated 17 people at the fun event. The musical duo Idle Oath (Mark Beanblossom and Ren Nickerson) wrote and performed an original song to promote receiving the immunization and presented a live premiere at Dumb Records on Saturday, July 17, Record Store Day. They partnered with a visual artist to animate the lyrics and create an engaging video https://youtu.be/Mfve_B9wDlU. Reggie Guyton, actor and director, currently is working with others to create spoken-word pieces that address some common concerns about the vaccination, while highlighting the benefits.
The mission of SAAC is to enrich the community through the arts, and the arts sector is eager to return to the work of bringing communities together. Artists were deeply affected by the pandemic, but they never stopped being creative. Artists have a vested interest in being able to get out and perform. They are now using their talents to be a part of the solution and help encourage widespread vaccination. "If people want to hear live music, those sitting in the audience need to shoulder some responsibility," says Walk. "I hope these artist-designed messages encourage people to be immunized." For more information go to https://springfieldartsco.org/artsvaccinationcampaign/.