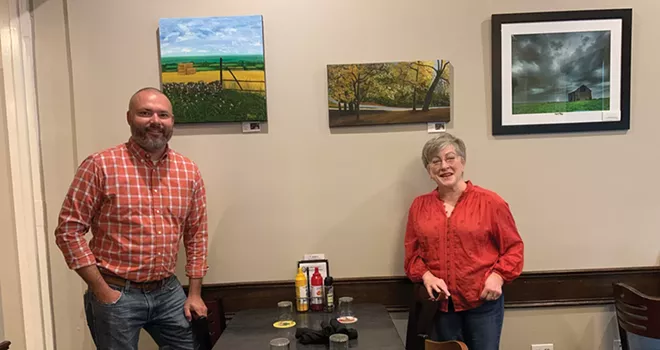 At Obed and Isaac's, you can acquire art along with your amber ale. Several dozen original works of art by Springfield artists grace the walls surrounding the dining tables. The art contributes to the décor of this popular microbrewery and eatery in downtown Springfield. All of the work is for sale. While enjoying your food and drink, take time to savor the art.
Obed and Isaac's will celebrate its 10th anniversary in February. Art has been a part of this establishment from nearly the beginning, thanks to Mary Coker, who approached the Conn family with the idea. Casey Conn says the Conn family is committed to helping the community. They source products locally as much as possible, so it is a perfect fit to showcase local artists and give them exposure.
Coker rotates the art monthly, communicates with participating artists and coordinates a review process to accept new artists. "This is the best unpaid job I've ever had," says Coker. She started painting 10 years ago after a long career as an Avon district manager overseeing more than 500 independent representatives. Her inspiration came from taking drawing and painting classes at Lincoln Land Community College.
There are currently nine participating artists – Rob Campbell, Mary Coker, Yinka Fatoki, Dave Hinds, Phil Locascio, Brian McKenzie, Felicia Olin, Tracey Maras and Kate Worman-Becker. Many are familiar names in the Springfield art scene.
The art ranges from serious to whimsical, abstract to realistic, landscapes to caricatures, in a diversity of media such as pastels, watercolors, acrylics and photography. If you are more likely to go to a bar or restaurant than an art gallery, take advantage of this opportunity to view and purchase local art. If you are a shopper or art aficionado, visit the several shops and galleries downtown that feature local artists and add Obed and Isaac's to your shopping destinations. "This is an opportune time to buy art," says Coker. "The supply chain isn't broken here."