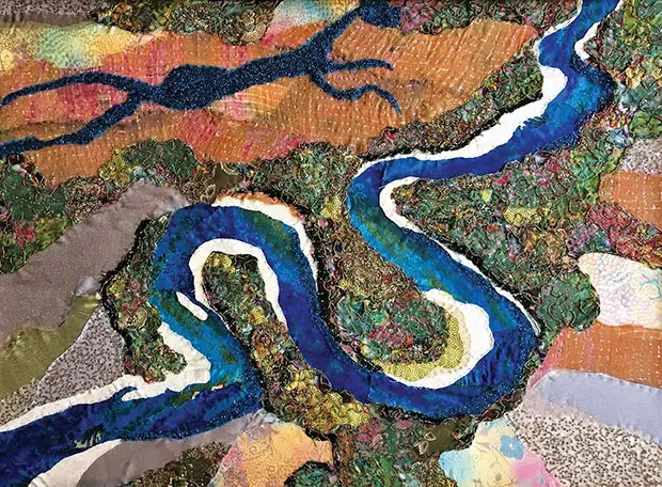 The Pharmacy Gallery and Art Space's most recent group exhibit,, which had a two-evening opening this past Friday and Saturday, is entitled "Bio-Region." According to promotional material, the show's theme is "how every person explores the creativity of their unique space." As usual, each member artist in the Springfield-based group interpreted the common idea in their own idiosyncratic way, making for a display that was both highly varied and somehow cohesive.

In contrast to previous themes, such as December's "Fashion Bash" show, which saw work that tended toward figurative representations of people, the environmental associations of "Bio-Region" pushed several of the artists to present work that was uncharacteristically both landscape-oriented and implicitly political. Wendy Allen's multimedia piece "Water is Life" directly addresses the Dakota Access Pipeline protests and the Trump administration's menacing of the Environmental Protection Agency with two depictions of the Sangamon River, one done in fabric, the other rendered in paint. Jeff Curtis Williams' contribution is a series of five colorful paintings of water towers, depicting the ways that landscapes are transformed by the requirements of civilizations. Guest artist Megan Craddock's work consisted of meticulously arranged plant life, turning the Pharmacy's adjacent triangular annex space into a stylized greenhouse.
Permeating the event on every level was Timothy Donovan Russell's sonic creations combining field recordings of ambient sound with his own electronic compositions. Russell is the sole Pharmacy member working in the medium of sound rather than visuals, and his recordings shaped the environment of the gallery as surely as the environments captured in the field recordings shaped his compositional responses. Russell and musician Vincent Sgro will each be presenting ambient pieces at an event called "Electric Lounge" on Friday, March 31. Work from "Bio-Region" along with other pieces by Pharmacy member artists can be seen during the Pharmacy Gallery and Art Space's regular hours of 12 p.m. – 6 p.m. Fridays and Saturdays. The gallery is located at 711 S. Fifth St.
The Black Sheep Annual Art Show was held this past Sunday in Southtown to a steady crowd of curious and appreciative onlookers. Organizer Clare Frachey has been in charge of the event for the past three years. "My process has been to ask as many young artists as I can," Frachey said, explaining why the work on display seemed to be primarily by youthful creators. "I'm not biased towards young people but they don't always get as much exposure in the art world and I tend to want to display lesser-known people."
This year, each artist was allowed to show only a small number of pieces, allowing for a larger total number of artists. "I'm really happy with the turnout," said Frachey, who also organized the First Friday series at Café Brio until the restaurant's recent closing. "The more artists who are involved, the more people they are each going to invite and the more reach the event is going to have."
Beyond the visual work on exhibit in the Black Sheep's main room, there was also an art display from the public library inside nearby Dumb Records (part of a complex of businesses, also including the recently renovated Southtown Sound recording studio, Boof City skate shop and the Skank Skates indoor skateboard ramp, all located near the corner of 11th Street and South Grand Avenue East). "It's not just an art show," Frachey said, pointing out that poetry readings by several local authors, and a series of musical performances rounded out the one-day event, which lasted from 5 p.m until 8 p.m. Sunday.
Unique among the attractions was an ongoing group collage project, located near the entrance of the Black Sheep Café. "I wanted to come up with a community art project for people to help create during the art show." The collage in progress consisted of a large, square, flat piece of wood acting as a surface for visitors to attach different images to it using tape. Materials on hand included a selection of encyclopedias for participants to scissor images from, along with various stickers, adhesive tape in multiple colors and other items. "I'm very happy to say a lot of people have been taking advantage of these resources and using this opportunity to make it their own," Frachey said.
Contact Scott Faingold at
sfaingold@illinoistimes.com