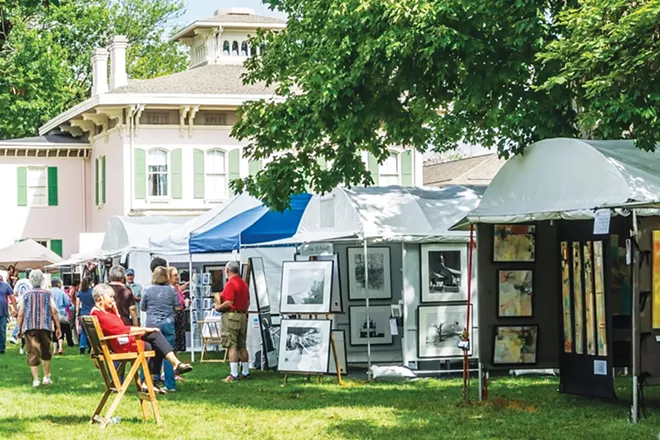 With the coronavirus at the forefront of our minds and lives, art lovers of Springfield are still keen to experience what art offerings are available and to support the artists who make them happen.
"Due to COVID, we are implementing protocols to keep everyone as safe as possible," says Art Spectacular coordinator Connie Heskett, a sentiment widely shared by art organizers throughout Springfield. Masks are to be worn and social distancing is encouraged at every in-person event listed below, while available hand sanitizer stations and temperature checks vary by event. Stay safe and appreciate the art.
Through Oct. 15, the Old State Capitol Historic Site (1 Old State Capitol Plaza) is hosting the Illinois Times' Springfield Visitor Guide Cover Art Gallery. More than 40 portraits of Lincoln done in a variety of media, all courtesy of area artists, are on display at the Old State Capitol. Entry is at scheduled times only, and reservations are required. For more information, call 217-785-9363.
The Pharmacy Gallery and Art Space (623 E. Adams) has regular gallery showings from 12-4 p.m. every Friday and Saturday. Figure drawing of an undraped model is offered as a group experience on Tuesday evenings from 6:30-9:30 (reservations required and donation suggested). An open studio will be held each Saturday from 12-4 p.m., beginning Sept. 12, with artists set up around the gallery. Visitors can watch artists in action, ask questions, listen to the live music or even join the action, as there will be dancers posing as models. Plans are also in the works for a members' painting show this fall. As Pharmacy president Janet Sgro says, "We know people want to get out and be social," and The Pharmacy is hoping to make that happen.
To help celebrate Henson Robinson Zoo's 50th anniversary, artists at The Pharmacy have been painting murals and existing sculptures at the zoo. On Saturday, Sept. 19 from 4-9 p.m., Pharmacy artists will team up with the Springfield Park District for Bites and Wild Night Art Walk at Henson Robinson Zoo. In addition to the fabulous art, a dinner will be served, with reservations limited and spread throughout the evening. For more information, check out the Facebook page or pharmacygallery.com.
Art Spectacular will be held at the Thomas Rees Memorial Carillon (1740 W. Fayette) on Sept. 12 from 10-5 and Sept. 13 from 10-4. "It's our responsibility to find a safe way to keep the show going," says organizer Connie Heskett, explaining that the 32 juried artists will be divided up into pods with sanitary check-ins at each pod. Otherwise, "The show will be just like usual," with the carillon playing and a food truck on site, though picnics will take place on the ground instead of picnic tables this year. For more information, contact Heskett at 217-306-1838.
Though the H.D. Smith Gallery at the Hoogland Center for the Arts remains closed, the M.G. Nelson Family Gallery at the Springfield Art Association (700 N. Fourth St.) is hosting several exhibitions this fall. The Gallery is open Monday-Friday, 9-5 p.m. and Saturday 10 a.m.-3 p.m. First up is the Sacred and Liturgical Art Exhibition from Sept. 3-26, with a reception on Sept. 12 from 5-7. The Sangamon Watercolor Society is showing its members' work from Oct. 2-31. The annual 6 x 6 Exhibition is from Nov. 4-12, with the raffle and closing event taking place in the M.G. Nelson Gallery from 5-7 p.m. on the Nov. 12. Canvases are available for purchase for the event. For more information, contact Betsy Dollar at 217-523-2631.
The SAA is also hosting the annual Edwards Place Fine Art Fair on Sept. 19 from 10-5 and Sept. 20 from 10-4. While this year offers a scaled-back event, the fair will feature artwork for sale from over 40 juried artists with booths spread apart and limited capacity within individual booths. Edwards Place (700 N. Fourth St.) will be open for short guided tours on the hour. For more information, contact Betsy Dollar at 217-523-2631.
Dim Art House (1613 S. MacArthur) is offering two art shows this fall. First up is "purple orange," held Sept. 19 at 3 p.m., hosted by Christy Freeman Stark. "Americundrum," revolving around politics and the upcoming election, will be held on Oct. 17 at 3 p.m. These shows may be in a virtual format or onsite, depending on the community conditions at the time. For more information, check their Facebook page.
Carey Smith, a Springfield resident, is a mama and gardener with a resurging interest in art.