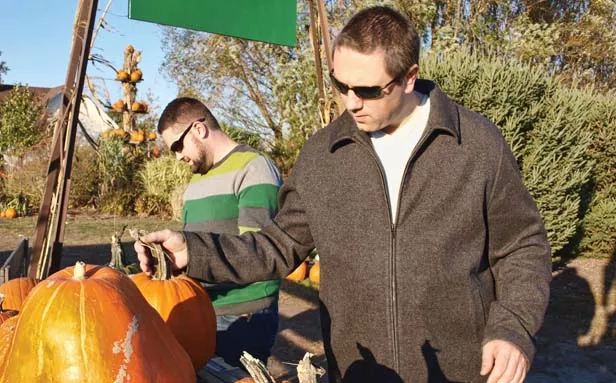 Fall sings with color. Besides the glorious riot of the leaves there are the deep reds of the apples, the golden orange of the pumpkins and the muted shades of squash. Fall is all about texture, taste and glorious food. Whether you are heading out to a fall festival, anticipating a cookout or a hayride, the smell of baked bread, apple pie and pumpkin bread is part of fall traditions. This year make the acquisition of your produce an event to remember.

The Apple Barn is a nearby choice for local produce. Located right outside of Chatham it is known for great selection and for quality. For the fall season Apple Barn grows and sells apples, Indian corn, pumpkins, gourds, mums, etc. Besides the Apple Barn's freshly picked fruits and vegetables, plants and garden supplies, among their best products are fresh cider, apple pies, fudge and other homemade goodies. Arrive early for the best supply ever. Whether you are celebrating Halloween or just need some fresh delicious apples, the Apple Barn can help you, log onto http://applebarn.net for details.

Lincoln's New Salem is a great place to visit during the fall. If you head out that direction you might also stop at The Farm, midway between Springfield and Petersburg, just off Rt. 97. There visitors can shop for handmade and unique items, take a leisurely stroll through the garden and of course buy farm fresh produce. Plan ahead for The Farm open house scheduled for Saturday, Oct. 6, 10-5 and Sunday Oct 7, 1-4. The owner, Gail Adamski stated, "There will be goodies and refreshments served, and special sales. And pumpkins!" Groups can book The Farm for hayrides, group tours, picnics and bonfires throughout the year. Check out the website at http://www.visit-thefarm.com for more information.

While the Apple Barn and The Farm are nearby, a drive through the fall countryside to the Great Pumpkin Patch may be in order. Located in east central Illinois, the Great Pumpkin Patch is right in the heart of the Amish community. Mac Condill and his family farm this ground and together they have three distinctive businesses: the Great Pumpkin Patch; Homestead Bakery and Homestead Seeds. The farm is located just outside of Arthur.

Mac Condill is rather famous in the pumpkin, squash and gourd world. He has been on the "Martha Stewart Show," where he said he decorated "anything to do with pumpkins." In the past he created a display for the White House. The Great Pumpkin Patch is part of a fifth-generation family farm. These days even the Condill grandkids are getting into the act. "This is our family's 24th year for the Pumpkin Patch," Mac said.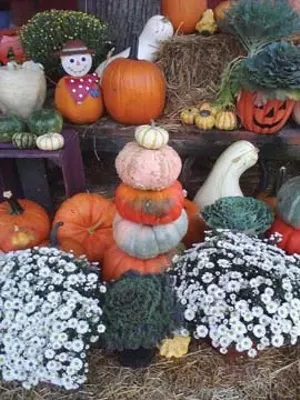 To be open Sept. 15 through Oct. 31 this year, the Pumpkin Patch offers more than 300 varieties of pumpkins, squash and gourds from more than 30 countries around the world. All are grown on the family farm. The Condills have jumped on the agritourism bandwagon and along with the pumpkin patch they also have a children's garden and conifer garden where kids can explore and learn. On their website http://the200acres.com/thepatch they describe what a visitor will find. "We love what we do and take great interest in providing beautiful surroundings in which to educate our guests about the Cucurbit family. Numerous premier displays, over 5.000 hardy mums, various mazes and gardens grace the grounds. We exhibit our love for diversity, through not only plants, but animals – featuring several goats, pigs, exotic chickens, rabbits, a llama and an alpaca. There are several places to eat and drink on the farm and lots of entertainment on the weekends."
On the grounds the Condills have two one-room schoolhouses used for various activities. One was built in 1912, and the other in 1916. One of the schoolhouses is decorated each year for school visits. "We decorate it back the way it was. We work with the Moultrie County Historical Society and they staff it with schoolmarms. We offer agritainment." The Great Pumpkin Patch is open Sept. 15 – Oct. 31, 9 a.m. – 6 p.m. seven days a week.
In the Metro-East area, check out Eckert's Country Store and Farms. Eckert's began in 1837 and started a roadside stand in 1910. This seventh-generation farm has evolved into the largest pick-your-own orchard in the U.S. Eckert's has kept their customers in mind with the drastic drought of 2012. To assist far-flung customers they have opened their pick-your-own orchards and stores to northern Illinois residents. "Many farms experienced devastation early this spring. Fortunately we are one of the lucky ones," stated Chris Eckert, president of Eckert's, Inc. "While hail did slightly hit one of our farms, we are still experiencing one of our largest apple crops in five or six years."
Eckert's Country Store offers a children's play area, cooking classes, custard shop and country "grocery" store with a restaurant, garden center and gift shop, plus pick-your-own orchards. You have three choices of where to go when choosing an Eckert farm. They have locations in Millstadt, Grafton and its headquarters in Belleville. Eckert's Farms offers peaches, blackberries, apples, pumpkins and cut-your-own Christmas trees. It also has an extensive local meat and wine selection. Go to Eckert's website for more information about what there is to see and do at http://www.eckerts.com/stlFarmMarket.htm.
Pick some produce and make some great fall memories to mull over when the snow flies.
Cindy Ladage of Virden is a freelance writer who specializes in stories about people and places. She is married to a farmer and has three grown children and two grandchildren.