Pragmatic, bipartisan, driven.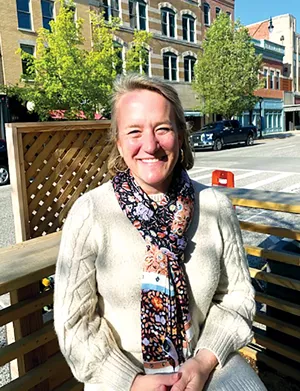 Those words are used by both Republicans and Democrats to describe Nikki Budzinski, who is seeking the Democratic nomination for the 13th Congressional District.
But her friend U.S. Rep. Cheri Bustos, D-Moline, uses a different term: "old-school."
The Springfield native said Budzinski has the best-run congressional campaign in the nation. Bustos added she calls her "old-school" because she carves a middle path for herself.
"She is a strong advocate for working people and unions but she also wants to see businesses do well. She's willing to reach across the aisle and work with Republicans. To her, 'compromise' is not a bad word."
Don Tracy, head of the Illinois Republican Party, isn't so sanguine about Budzinski's candidacy in the eel-shaped district that stretches from East St. Louis to Springfield to Decatur and ends in Champaign-Urbana.
"Well, it was designed for a carpetbagger, Nikki Budzinski, a labor organizer and activist who lives in D.C. You know, she obviously has some very powerful friends, like (Gov. JB) Pritzker and (U.S. Sen. Dick) Durbin," Tracy said during an interview last fall. "Obviously, she got somebody to draw the district just for her, by just taking the pockets of Democrat voters in places like East St. Louis and in parts of Springfield and, of course, university towns like Champaign. They connected the dots and carved up central Illinois."
Budzinski bristles at the notion that she is a "carpetbagger." She notes that she grew up nearby in Peoria, attended University of Illinois in Champaign and worked for Pritzker's administration in Springfield and Chicago. She said she now has a residence near Springfield's Washington Park. Budzinski, 45, is single and lives with her French bulldog, Lulu.
Former Gov. Jim Edgar, a Republican, who got to know Budzinski when she was an Edgar fellow, said she brings civility to the political process.
"She had experience with the unions, but she could work with the Republicans. You could tell she got along with the Republicans, made some good friends, and that paid off for her when she was in the governor's office or wherever she would work with Republican legislators."
Bustos said, "Nikki knows that Republicans are not our enemies. They are our opponents when we run for office. But we govern together. You have to be able to work with them to get things done."
While the 13th District was drawn by Democratic state lawmakers to favor a Democrat, Bustos anticipates it will be highly contested this year and that neither Budzinski or her eventual GOP opponent will be in want of campaign cash.
"I think this is the only district in downstate Illinois where a Democrat could win," Edgar said. The former Republican governor was mum on who he will vote for.
"I live about a half a block into the new district. I vote on a secret ballot, so I won't say how I will vote. But I will say I have voted for Democrats in the past," he said.
Budzinski said she supports abortion rights and universal background checks for firearm purchases, but also believes she can find common ground with Republicans.
"I think we could pull Democrats and Republicans together to agree upon the fact that Medicare should be able to negotiate over the cost of prescription drugs," she said. "I think that we should be focusing on putting money back in the pockets of working people. And we can do that by lowering the cost of prescription drugs, by extending the child tax plan, something that helps to support working families with children at home who are struggling to make ends meet."
Tim Drea, who heads the Illinois AFL-CIO, said he and his family have become close with Budzinski during her time in Springfield.
"She is very moderate, and politics is the art of the possible," he said. "When she negotiated the minimum wage increase for Gov. Pritzker, she knew how to get it done. And it was the art of the possible. Those are always very difficult bills to negotiate. You compromise here and a little compromise there. But the prize is increasing the minimum wage for workers across the board."
Budzinski has worked as the political director for the United Food and Commercial Workers. She also has served as a senior adviser to Pritzker and as chief of staff for President Joe Biden's Office of Management and Budget.
She is widely considered the favorite to win the Democratic nomination. But David Palmer, a Champaign insurance broker, is also on the ballot. There are four GOP hopefuls seeking their party's nod: Terry Martin, a Springfield journalist; Regan Deering, a Decatur community activist; Matt Hausman, a Champaign engineer; and Jessie Reising, a Decatur lawyer.
Former Gov. Edgar said of Budzinski, "She is someone who can get things done because she can work with people of different persuasions. And she knows how to say 'no' in a pleasant way that's not going to get you too upset."
Bustos said an example of this is when she was contemplating seeking the Democratic nomination for governor four years ago.
"Nikki called me and told me she was going to be working for JB Pritzker's campaign. I told her how disappointed I was. But, you know, most people wouldn't have made that call. They would have just let me find out some other way. That's why I call her 'old-school.'"
Scott Reeder, a staff writer for Illinois Times, can be reached at sreeder@illinoistimes.com