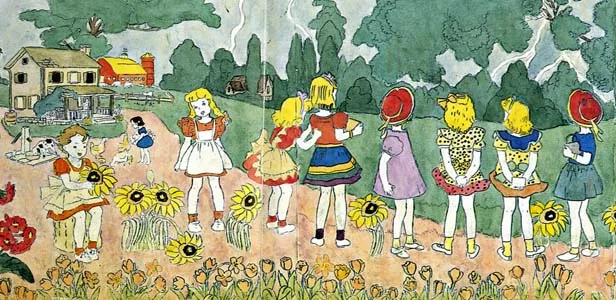 "Too late now," said Henry Darger, an 80-something retired janitor and former central Illinois resident, as he waited for death at a Chicago charitable institution in 1973. He'd just been told that his landlords discovered the artworks he'd created over a lifetime. But Darger thought it was too late for his art and too late for him.
Once again, he was out of touch.
Darger's was a life in reverse. It was only after death that his fantasy became real and his name became known. Until then, he was a pathetic figure, a poor hospital janitor who rarely spoke to others, yet talked and even yelled to himself in his tiny room on Chicago's north side.
After ill health forced him to leave his apartment of 40 years, his landlords, Nathan and Kiyoko Lerner, found it crammed to the ceiling with treasures, according to the Web site of Chicago's Carl Hammer Gallery, which represents his work. Amid the multitudes of Pepto Bismol bottles, string, magazine photos of children, and other detritus Darger had collected on city streets, were hundreds of mysterious paintings and associated writings, including a 15,000-plus-page novel: The Story of the Vivian Girls, in What is Known as the Realms of the Unreal, of the Glandeco-Angelinian War Storm, Caused by the Child Slave Rebellion.
His alternately sweet and violent paintings illustrate the novel's story of the "Vivian Girls," pious innocents from a fictitious Christian country who battle a country that rips children from their parents and enslaves them. In his writing and art Darger created a highly detailed fantasy world which, given the volume of his output, must have consumed much of his life. It was so detailed that this Civil War buff created casualty lists of the battle's soldiers and designed flags for the numerous warring parties.
After his landlords found Darger's works, Nathan Lerner, an artist, approached museums with it.
Today, Darger is practically a pop culture star whose art sells for top dollar. (A 2005 Forbes magazine article valued his collection at $2 million.) He had no art training, yet his art has been displayed around the world and is in the permanent collections of top museums, including Chicago's Art Institute and the Museum of Modern Art and American Folk Art Museum, both in New York. The latter opened a study center in his name, has an exhibition devoted to him through Sept. 6, and calls him "one of the most significant artists of the 20th century."
It's an amazing postscript to a lonely life that began with a rotten childhood.
When he was about three years old, Darger's mother died giving birth to his sister, whom he never knew because she was adopted by another family. After his sickly father became too ill to care for him, Henry was put in a Chicago orphanage, the Mission of our Lady of Mercy. The home sent him to the Illinois Asylum for Feeble-Minded Children in Lincoln, Ill., where residents were forced to work.
"If I had known the cause of me being sent to that children's nuthouse, I sure would have never forgiven those at the Mercy of Our Lady Home," Darger wrote in his autobiography, according to Jessica Yu's documentary In the Realms of the Unreal: The Mystery of Henry Darger. (Children and even a landscape from the asylum appear in Darger's works.)
John M. MacGregor, an art critic and psychoanalyst who studied the recluse for years and wrote a book analyzing him (Henry Darger: In the Realms of the Unreal), researched the Lincoln asylum during that time. He read reports issued by a state committee appointed to investigate conditions there, and suspects Darger was neglected and possibly abused. (While Darger was there, another child was found "ravaged by rats," according to an April 17-23, 2002 Village Voice article about the artist.) Several years later Darger ran away to Chicago, where he ended up working as a janitor, attending Catholic mass up to five times a day, and writing and painting whenever he could.
His paintings are more than curious; at times they're disturbing. The Vivian Girls, who are depicted occasionally with male genitalia, are brutalized in some scenes by their child-enslaving enemies. Their gender isn't the only ambiguity: Darger cast himself as a leader for both the good and bad guys, and he wrote two endings — in one the heroic girls win and in the other they don't.
It's no surprise that Darger is rich material for psychoanalysis. Experts, like author MacGregor, have contradictory theories about whether Darger was insane or dangerous. MacGregor thinks he was autistic.
Darger has inspired books, a poem, a symposium, songs (Natalie Merchant's is wonderful), films, albums, even a Simpsons cartoon, and most recently a radio drama, "Darger and the Detective." It premiered in a reading this spring in Chicago with actors from the renowned Steppenwolf Theatre; the Pulitzer and Tony-award-winning Tracy Letts portrayed Darger.
The play was written by Mike Walker, but conceived by producer Judith Kampfner, who hopes to get it produced as a stage play or film. "It seems to me that Darger proves that there is no such thing as an ordinary person," she says. "He was a man who mopped hospital floors and yet he created an epic world in words and paintings. How many people today who lose themselves in interactive worlds after their dull day jobs are like him?"

Henry Darger is buried in a pauper's plot in All Saints Cemetery in Des Plaines. His disheveled apartment/art studio has been partly reconstructed and is on permanent exhibition at Chicago's Center for Intuitive and Outsider Art.

Contact Tara McAndrew at tmcand22@aol.com