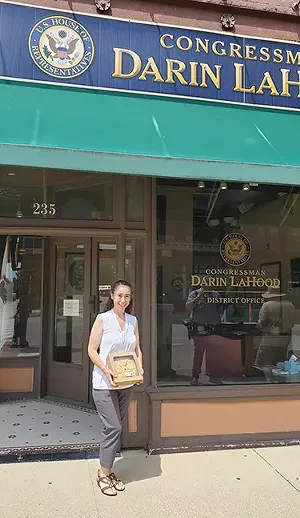 Immigrants in the U.S. are as American as apple pie – as well as rice and beans. That was the premise of an action in Springfield July 2, when members of the Faith Coalition for the Common Good took both pies and rice and beans to the offices of members of Congress. They were advocating for passage of the U.S. Citizenship Act of 2021, which, if enacted, would help establish a path to citizenship for certain people living in the U.S. without documentation.
María Sorto, born in Honduras, is a Springfield resident who has lived in the U.S. for nearly three decades. She said she first traveled to the U.S. as a 19-year-old foreign exchange student, and realized she wanted to start a family in the states so her children could have the opportunities offered by life in the U.S. She recently graduated with a business administration degree from the University of Illinois Springfield and is an administrative assistant for the Faith Coalition for the Common Good.
"What the apple pie and the rice and the beans means to me personally is that we are all Americans," she told reporters outside the Springfield office for U.S. Rep. Darin LaHood. "We're one whole family in this country, and we should see each other as equal." The Faith Coalition in Springfield is an affiliate of Gamaliel National Network, a faith-based social justice advocacy organization. Gamaliel organized the apple pie and rice and beans action throughout the country in an effort to add to the call for Congress to pass the immigration reform measure.
Both U.S. senators from Illinois – Democrats Tammy Duckworth and Dick Durbin – are cosponsors of the proposal. "Immigrants are doctors, teachers, students, essential workers and service members – they're vibrant parts of our American society and, unfortunately, our broken immigration system has failed many of them for far too long," said Duckworth in a press release earlier this year.
The press release touts a proposed roadmap to citizenship for some 11 million undocumented immigrants. Farm workers, Dreamers – immigrants brought to the U.S. as young people – and those with Temporary Protected Status would be able to engage in a three-year process toward citizenship. Other undocumented immigrants who pay taxes and pass background checks would have an eight-year process toward getting citizenship. The measure would also increase funding for support for immigrants and address the backlog of applications for asylum seekers. "This legislation reflects our proud heritage as a nation of immigrants. After years of inaction and obstruction, Congress has a responsibility to finally fix our broken immigration system," Durbin said in the press release.
Another piece of the proposal would change language in federal immigration statutes to replace "alien" with "noncitizen." Sorto said the change would be a step toward humanizing people. "The word alien demonizes immigrants and establishes fears," she told Illinois Times. "The word alien excludes people from the place they now call home."
Replace with A Spokesperson of U.S. Rep. Darin Lahood, a Republican from Peoria, said in an email, regarding the action, "We appreciate their advocacy and outreach and look forward to reviewing the legislation and learning from our constituents about how it would impact the 18th District of Illinois."
Sorto was granted U.S. citizenship in 1996. She said for many, the legalization process is unduly cumbersome. "The process is too long and complicated, resulting in a struggle for many families." Sorto added that deportations tear families apart, and that "confining and caging immigrant children at the border, to me, is inhumane." In June, the Department of Homeland Security released a progress report about the "zero tolerance" program that separated children from their parents under the Trump administration. While the Biden administration has removed the policy and some restrictions for those seeking to enter the U.S. – the report indicated that more than 2,100 children were still awaiting reunions with their families.
Biden is a proponent of the U.S. Citizenship Act of 2021, though it could be a steep climb for the measure to gain bipartisan support. "I hope that Congress realizes that passing the new legislation – immigration reform – will benefit the country as a whole," said Sorto. "In my opinion, a person who is legally working and completing a good education is a huge asset to the United States."
Contact Rachel Otwell at rotwell@illinoistimes.com.