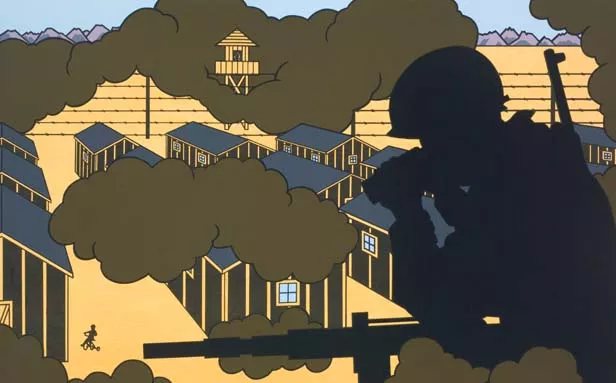 America has a dark little secret. We imprisoned 120,000 fellow citizens during World War II in U.S. concentration camps or, as some call them, internment camps. Artist Roger Shimomura tells this troubling tale through his art. As an American, albeit a Japanese-American, he lived the nightmare.

As a small child, Shimomura, a third-generation American, and his family were displaced from home and friends in Seattle and transferred to Minidoka Concentration Camp in Idaho. "America Behind Barbed Wire" is an exhibition of prints and lithographs on display at UIS Visual Arts Gallery that recounts this story.

The show consists of 27 framed prints grouped in four arrangements from Shimomura's series "Yellow No Same," "Memories of Childhood," "Mistaken Identities" and "Minidoka Snapshots." Several motifs reoccur throughout – barbed wire fence, guns, guard towers, barracks and barrack walls. The lithograph images in "Memories of Childhood" are actual recollections of the first 10 memories of Shimomura's life – a life he just happened to be living within the confines of prison.


"Mistaken Identities" features Japanese figures in traditional attire in images based loosely on notable photographs or paintings made during the time period. The artist describes the series as representing "Americans' inability, during WWII, to differentiate between the Japanese Americans and the Japanese enemy." Shimomura continues, "This misconception continues today as many Americans assume that people of Asian appearance are foreigners to this country."
"Yellow No Same" plays on this confusion with identity. The prints combine American and Japanese archetypes and caricatures to drive the point forward. One such work shows Mickey Mouse in a camp behind barbed wire fence and a samurai outside. Mickey waves and smiles as if to say, hey I'm in here, as the warrior looks in.
Shimomura's style appears lighthearted and accessible. Bold colors, block formations and heavy lines grab your attention in the way comics or traffic warning signs do. Think Andy Warhol and Pop Art. Yet, closer examination uncovers serious commentary on dispositions and misconceptions about Asian-Americans and the issues that concern Americans of Asian descent. The more you look at each print, the more you can see. Meaning runs deep; symbols repeat. "Memories of Childhood" prints capture the eye in this way, and then hold it. One print depicts a woman sitting at a table with a hotdog and bun on a plate. Chopsticks sit idle by the plate. The text below the print confirms the absurdity of this combination and provides further commentary, "Grandma didn't like the food we were served in the mess hall."
From "prisoner" to professor, Shimomura transcended the traumas of his past to become distinguished professor emeritus at the University of Kansas in Lawrence and recipient of numerous awards, including four prestigious grants from the National Endowment for the Arts in Painting and Performance Art. His work is in more than 85 permanent museum collections, and he has had more than 130 solo exhibitions of painting and prints.
Shimomura's "well-known and celebrated" life as an artist has UIS Visual Art Gallery director and visual arts program instructor Jeff Robinson ecstatic about his visit and exhibit. "It's a big deal for the University of Illinois Springfield," Robinson says. "Shimomura is a significant artist."
Tonight, Oct. 11 from 5:30-6:30 p.m. in the Performing Arts Center, Room F, hear firsthand from the artist. He will talk about stereotypes, incarceration camps and ethnic identity as found in his three series – "Yellow Terror," "Minidoka on My Mind" and "An American Knockoff." Following is a reception from 6:30-8 p.m. in the gallery in the Health and Science Building. "American Behind Barbed Wire" runs through Dec. 1.
Contact Anita Stienstra at astienstra@illinoistimes.com.