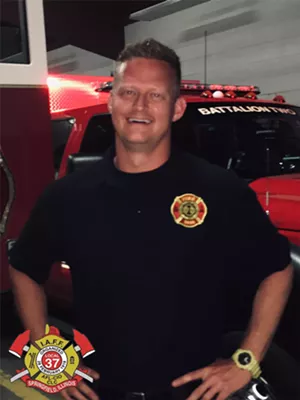 A recent decision by the Illinois Labor Relations Board siding with the Springfield firefighters' union will give the union an opportunity to advance its proposal for a city-operated ambulance service to supplement private ambulances, the union's president says.
Kainan Rinaberger, president of Springfield Fire Fighters Local 37, said the ruling will allow its members with training as emergency medical technicians or paramedics to stop having to ride in the back of private ambulances transporting critically ill patients to the hospital.
The requirement to ride along and provide care to those patients began in December 2021 when those ambulances lacked enough paramedics to provide advanced medical care for critically ill patients.
The unanimous vote by the board on April 13 will become final when a written ruling is issued, and that could be as soon as May 17, according to the board's general counsel, Helen Kim.
The board voted to agree with an administrative law judge who said in a January recommendation that the city violated state labor law when it "made unilateral changes to a mandatory subject of bargaining without bargaining its decision or the impact of its decision" with the union.
The mandatory ride-alongs stemmed from a fall 2021 agreement between Memorial Health, which oversees medical care provided by Springfield firefighter EMTs and paramedics, the three private ambulance services in the city, and other medical officials, Fire Chief Brandon Blough said.
The agreement was in response to ambulance service staffing challenges and an ongoing growth in requests for emergency medical services, according to Robert Bajier, operations director for America Ambulance, one of the three ambulance providers.
But the agreement, which the union objected to because the city didn't negotiate it first with the union, amounted to a "temporary fix" to the underlying problem, Rinaberger said. "We want to fix it forever," he said.
A better solution would be an additional ambulance service for the city – one provided through the Springfield Fire Department, he said.
More ambulances on the street would help reduce response times for ambulances overall, he said.
"We are doing everything we can to provide solutions," Rinaberger said. "We want our own ambulances to supplement the private companies," he said. "We want to staff them with our own people. That solves the problem. Nobody wants anybody to die."
The city has been studying a fully or partially municipally operated ambulance service as one way of improving emergency medical services. This concept was part of an analysis of fire department operations done by the nonprofit Center for Public Safety Management in Washington, D.C., and made public in January.
Outgoing Mayor Jim Langfelder has said he is against the city transitioning to an all-municipally operated ambulance system, one that would eliminate the need for ambulances provided by for-profit America Ambulance and LifeStar Ambulance and nonprofit MedicsFirst.
He appointed an advisory group to study all the issues raised in the 219-page report on emergency medical services, firefighting and other fire department services. The group hasn't reported back yet to the City Council.
Rinaberger said Mayor-elect Misty Buscher is more open to the idea of a municipally operated service as a supplement. Buscher, who was endorsed by the unions representing Springfield firefighters and police officers, said the idea "is something we should evaluate."
City firefighters are called upon to ride in the back of ambulances with patients about 10 times per month, she said.
However, it would take at least a year to start a city ambulance service, Blough said. And he said such an initiative would require City Council and state approval, plus agreements with local hospitals. It also would require hiring additional personnel.
Rinaberger said a city-operated, multimillion-dollar ambulance service could eventually pay for itself by billing for services and receiving additional reimbursement for the care of Medicaid patients through the federal Ground Emergency Medical Transportation Program.
There are municipally operated ambulance services in several Illinois communities, including Chatham, Joliet, Rockford, Bloomington and Chicago.
Blough said he has begun to have discussions with the Springfield firefighters' union on what will happen after May 17 to ensure that there are no gaps in the care of patients who require ambulance transports to hospitals.
Rinaberger said the union won't do anything to put patients in jeopardy, but the union also doesn't want the city to continue disregarding labor law.
The EMS system has received additional attention in recent months after the Dec. 18 death of Springfield resident Earl Moore Jr., allegedly related to improper treatment by a LifeStar paramedic and an EMT.
The two LifeStar employees have been charged with murder related to Moore's death from what the county coroner described as "compressional and positional asphyxia" when Moore was strapped face-down on an ambulance gurney.
Springfield Police Chief Kenneth Scarlette looked into whether Sangamon County's 911 dispatch center could put in place a new policy in which fire department paramedics and EMTs would be dispatched in certain instances to accompany private ambulances when police call for an ambulance. Scarlette said more oversight of private ambulance crews could prevent another tragedy.
Fire department medical personnel weren't present at Moore's home when he was strapped down and taken to HSHS St. John's Hospital, where he was pronounced dead.
Police were the first to arrive at Moore's home. They later called for an ambulance when they found Moore going through withdrawal from alcohol.
After discussions among the 911 center, police and fire departments and medical providers, there was a consensus not to automatically send out more fire crews with EMTs and paramedics because it would be a waste of resources, according to Christopher Mueller, executive director of the center.
The center soon will use a new protocol in which police will be asked a series of questions by 911 dispatchers who decide what kind of medical assistance to send. The protocol will result in swifter and more efficient use of medical services, Mueller said.
"We will better utilize our resources and keep them for the people who need them," he said.
However, he said the new protocol probably wouldn't have resulted in fire department personnel being dispatched to Moore's home and intervening in what Mueller called the alleged actions of "two bad actors."
Assistant Police Chief Joshua Stuenkel said one result of the EMS discussions could end up preventing more tragedies.
Since the Moore case, the police department has provided additional training to its officers on EMS procedures. The additional training could prompt police to ask more questions of ambulance workers at the scene of medical emergencies if they witness care that doesn't seem appropriate, Stuenkel said.
The training also could lead to police officers requesting fire department crews if crews weren't dispatched initially but officers believe they are needed to assist ambulance workers, Stuenkel said.
Dean Olsen is a senior staff writer at Illinois Times. He can be reached at dolsen@illinoistimes.com, 217-679-7810 or twitter.com/DeanOlsenIT.