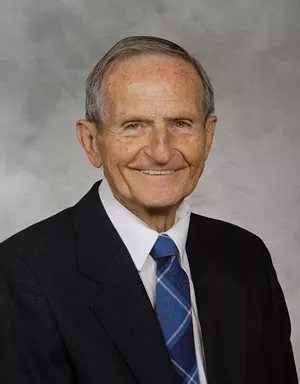 Bill Boyd was always there to help, whatever was needed. That's what you hear when you talk to people who knew Bill well and served alongside him during the decades he devoted to Springfield. He was a tremendously effective leader, a devoted husband and father and an esteemed mentor to many individuals. His kindness, sound judgment and work ethic left an indelible mark in our community through multiple institutions and organizations.
And if you knew Bill, you knew Carolyn. They were married on July 31, 1955, in Gahanna, Ohio. To witness their love for each other was simply beautiful. Carolyn preceded him in death on Jan. 28, 2015, and the two are buried together at Camp Butler National Cemetery.
Bill served our country as a corpsman in the Navy during the Korean War. Following his military service, he earned a bachelor's degree from Capital University in Columbus, Ohio, and a master's degree in health care administration from the University of Chicago. Bill enjoyed a long career of 35 years with Memorial Medical Center. During his career he oversaw historic periods of growth, supported the creation of SIU School of Medicine and served as an interim president. Bill retired as vice president of Memorial Medical Center in 1992.
He did so much and made it look so easy. He was a longtime member of Christ Episcopal Church, serving on the vestry and managing the building and grounds. He was active in the Episcopal Diocese, Boy Scout Troop 7 and the Old State Capitol Foundation. One of his favorite investments of time was serving for many years as executive director of Memorial's Festival of Trees. In addition, he played in several bagpipe bands and was a long-standing official with the Illini Striders Track and Field team. His level of commitment made it appear as if he were always just around a corner, always here to help. His legacy is a call to action to be involved in our community, but first, involved at home.
I remember meeting Bill through Downtown Springfield, Inc. One of my favorite stories dates back to August 2004, when Victoria Ringer, who would grow very close to Bill and Carolyn, started as the organization's new executive director. Victoria was more than a little surprised when she learned early on that DSI was heavily involved in decorating the downtown for the holidays. The intimidating task turned into a formidable feat when only one volunteer stepped forward to rewire and resuscitate 220 wreaths. That one volunteer, however, was Bill Boyd. According to Victoria, "Bill chipped away at the assignment several days a week for three months until all the wreaths looked fantastic." Next, he led the effort to hang the wreaths throughout the downtown. During other seasons, Bill methodically walked the sidewalks of downtown to note cracks and damage for DSI to report to the city for repair. For these efforts, which he repeated many times, Bill received the DSI Lifetime Achievement Award in 2009.
It is fitting to publish this tribute to Bill while the spirit of the holiday season is still in the air. Over a very long period of time, he helped create special memories for countless families, first through Festival of Trees and later through his commitment to downtown. It is interesting that this year, the year we lost Bill, Festival of Trees has evolved into Holiday Fest and relocated downtown. This community collaboration would make Bill smile – and he had a great smile.
Whether you knew him or not, you'll miss him now that he's gone. In memory of Bill Boyd, let us recommit ourselves – to our neighbors and our community – to be always here to help, whatever is needed. May the light of God's face shine upon Bill and Carolyn Boyd.
Justin Blandford is the superintendent of Springfield's state historic sites. He became friends with Bill by serving together during a variety of DSI and Old State Capitol Foundation events.