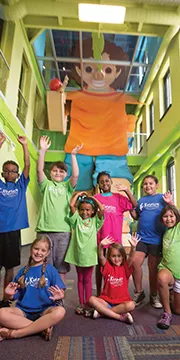 Are you ready to discover your legendary couple's getaway, family vacation or weekend with your best girlfriends? Check inside to uncover what's new in Springfield for 2019. Learn about History Comes Alive, celebrating 10 years this summer, and the iconic Route 66, a classic American road trip. You'll also find a complete listing of lodging and camping options along with travel tips to make navigating the area a breeze. We're here to help! VisitSpringfieldIllinois.com is a great resource for all things Springfield or stop by our new Springfield Visitors Center at Lincoln-Herndon Law Office upon your arrival and one of our travel specialists will help you plan your stay. We're excited for your visit!

kidzeum
Kidzeum is a new central feature in downtown. Perfect for ages 2 to 12, Kidzeum, promotes a healthy earth, healthy body and healthy community with three floors of engaging exhibits that will provide the whole family hours of learning and discovery through play. Come experience Active Alex, one of Kidzeum's "biggest" attractions. Take a walk through the corn maze, get active in Kidzeum Fit Klub or turn on the siren and ride in the Kidzeum ambulance—just a few of the many experiences at this imaginative new museum. Admission.
412 E. Adams St.
(One block west of the Old State Capitol)
217-971-4435 • kidzeum.org
Open Tuesday – Saturday: 10 am – 5 pm,
Sunday: 12 pm – 5 pm
Illinois Governor's Mansion
Nestled between brick-paved streets and just blocks from the State Capitol, the Illinois Governor's Mansion is the third-oldest state governor's residence in the United States. The Mansion has been home to Illinois governors and their families since 1855 and was added to the National Register of Historic Places in 1976. Undergoing a spectacular, privately funded 3-year renovation, the Mansion reopened as the People's House on July 14, 2018. It is now a place where visitors can glimpse Illinois history, witness its artistic side, and experience its long-heralded hospitality. The Governor's Mansion is an energy efficient landmark building recognized as a LEED Silver by the U.S. Green Building Council. Free.
410 E. Jackson St.
217-782-6450 • Mansion.Illinois.gov
Open Daily: 1 pm – 4 pm
Abe's Hat Hunt
Join us for a scavenger hunt in downtown Springfield to find President Lincoln's hidden hats. The adventure begins by picking up a pocket-sized Abe's Hat Hunt booklet containing a map, clues and stickers. Visit at least five of the ten Hat Hunt sticker stops, find the hidden hat and match the correct hat color to the corresponding location, placing the same colored Abe's Hat sticker for that location in the booklet. Once you've successfully filled your booklet, head to a redemption center to collect your Abe-mazing prize.
Booklet available for pick up at Springfield Visitors Center
One S. Old State Capitol Plaza
(Corner of 6th & Adams)
1908 Race Riot Markers
Embark on a historic and emotion filled journey through the events that have become known as the "Springfield Race Riots of 1908." This self-guided walking tour tells the story through a series of new commemorative markers placed along the path of destruction in downtown Springfield. Join us as we go back in time and explore the occurrences leading up to those two sweltering days in August of 1908 and the birth of the NAACP.
Throughout historic downtown
Brochure available at Springfield Visitors Center
Always open to the public
Springfield Visitors Center
at Lincoln-Herndon Law Office
The city of Springfield has opened a new Visitors Center on the first floor of the Lincoln-Herndon Law Office across from the
Old State Capitol. Talk to one of our travel experts to help plan your visit. Parking passes are available for metered parking spaces—just ask!
Abraham Lincoln maintained a law office here with Stephen T. Logan and later with junior partner William H. Herndon. Visitors can tour an exhibit of the law office on the first floor as well as the U.S. Post Office, located in the building from 1841-1849.
One S. Old State Capitol Plaza
(Corner of 6th & Adams)
217-789-2360 • VisitSpringfieldIllinois.com
Open Monday – Friday: 9 am – 5 pm. Additional seasonal, special event evening and weekend hours
bicentennial plaza
Bicentennial Plaza, a REALTOR® community partnership, is a new pedestrian walkway connecting Lincoln Home National Historic Site to the Illinois Governor's Mansion. Bicentennial Plaza is dedicated to Abraham Lincoln's vision for an America of opportunity. Sixteen panels flank the plaza and tell the stories of some of the people and events that are part of the city's complex history. Stories chosen include some known and others told for the first time that show the role that everyday people have in moving society forward.
522 S. 5th St.
(Jackson St. between 5th and 6th Streets)