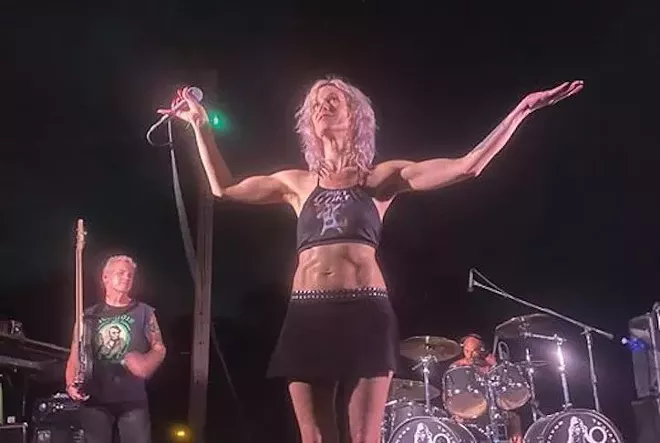 Heading into our first full August weekend of 2020, we're still staring deep into the pandemic hole that's taken a toll on our live music scene and those all over the world. As our summer festivals, concerts, fairs and anywhere needing a crowd to be a thing are not happening, we look wherever we can to find relief in live music.
Let's take a moment to continue our weekly tribute to those directly involved with COVID-19, either through positive testing, knowing someone going through the bug or anyone dealing with frontline battles to control and contain the thing. Thanks to all who mask up every day at testing centers, hospitals and wherever to give their best to work with this issue. It's a strange and different world on most levels, but being decent to and respectful of others and doing what is right to help out is the same as it ever was. So keeping all that in mind and the new regulations at bars and restaurants necessary to keep us safe, let's see what kind of music is going on around this old town.
Normally, we would be gearing up for the State Fair to kick off next week, including experiencing the myriad of music performances on the fairgrounds proper and all the extra shows in bars and clubs that happen then, too. It's just mind-boggling to think of all the acts booked at the free stages, including the Ethnic Village, Lincoln Stage, Twilight Ballroom, Apex Stage, The Shed and beer tents. Toss in the Kid's Korner and whatever else is going on for several acts a day for 10 days, plus the Grandstand shows and our regular in-town scene of bar events, and that's a lot of live music not happening.
In the meantime, we've got some stuff going on around town, if you don't mind listening with masks, practicing social distancing and watching the crowd numbers. Once again, the Curve Inn, while doing their very best to stay safe and keep you safe, hosts another Southtown Fair this year to coincide with the State fair. Since there is no State fair at all (and other reasons, I am sure), the Curve is calling their event the Un-Fair and is holding it this week and weekend, ahead of when the fair would be next week if there was a fair, because it doesn't matter since there is no fair. Does that make sense? Good, because hardly anything makes sense these days, so it works out perfectly.
Regardless, the Curve has their fair menu, including cocktails and food, happening along with tunes from Bustin' Loose on Thursday, Brandy Kristin and the Revival on Friday, Soul Experience on Saturday and an all-ages show of Unchained with Jack Kennedy on Sunday, as long as everything remains okay. On Friday and Saturday, most of the usual band suspects are just playing at different venues than they did the week before, so I'm going to leave the fun of finding out who is where and when up to you and your special friend, our Live Music listings.
Folks out at The Gables are hosting a nifty event called "Salute to the State Fair" all day on Saturday. Along with sidewalk sales, they're having fair-like food and drink specials, plus live music by country stylist Ty Brando at Pease's at BUNN Gourmet in the evening and theater person/musical performer of rare talent, Michael Lanham, off and on during the day in The Gables and at Curate in the evening.
Take care, be fair and see you next week.