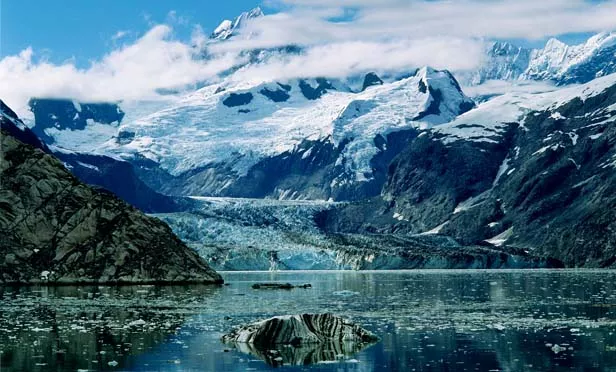 The eminent nature photographer Robert Glenn Ketchum has been photographing the Alaskan landscape for nearly 40 years and has become one of the most foremost photographers championing the environment. Audubon magazine listed him among the 100 people "who shaped the environmental movement of the 20th century."

So it is a special occasion indeed for the Illinois State Museum to exhibit 30 of his large-scale photos in Springfield. Many of these are aerial photos, giving us a perspective on Alaska that we don't typically see in travel magazines or books.

Ketchum's "Rookery Cliffs at the Edge of Lancaster Sound" gives a dramatic sense of the vast space of Alaska. His photographs are so stunning and the scale is so breathtaking to a Midwesterner that one can look at each photograph for a long time.

Ketchum is surely a patient man. He must wait for hours sometimes for just the right light or atmospheric effect for a shot, as with "John Hopkins Island, Glacier Bay."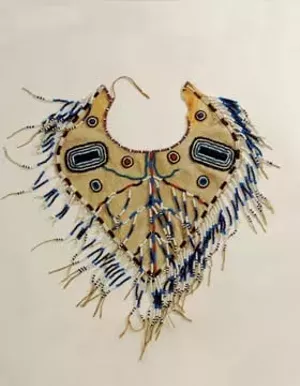 Looking at some of the photos, one wonders if they are of Alaska. "Meltwater Flowing over Golden Sand and Silt Bars, Baffin Island" on first glance could be an aerial view of the Sahara Desert. And "Bear Trail in Old Growth," a green woodland scene, could have been made in the Shawnee National Forest.
Ketchum uses color masterfully. The red, pink, yellow and green foliage pops from the black, brackish water in "Difficult Terrain for Overland Travel." "Boreal Boogie Woogie" is equally colorful.
The photographer uses film and a medium-format Pentax camera, then scans the film making a high resolution digital file which is imprinted onto paper imbedded with color. This process is environmentally quite friendly, using only heat and a few ounces of distilled water. Ketchum believes that film is still superior to an image made digitally.
The museum has cleverly added artifacts and mounted animals from its vast collection, many of which have never been on exhibit before, to enhance the exhibit.
Snowshoe hares and Alaskan ermines are on display along with snowy owls and Rock Ptarmigans, and a menacing wolverine. A huge Kodiak brown bear reared up on hind legs dominates the east end of the exhibit space, next to a glass-beaded man's caribou leather outfit, to show just how big the bear is. His claws are something to behold.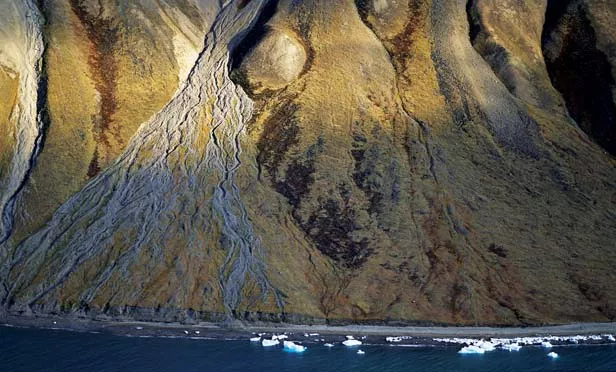 Also included are miniature carvings of a seal and polar bear made from a mammal's tooth, finely woven and decorated Inuit and Aleut baskets, and a beautifully crafted mid-nineteenth century Tlingit adze.

But the piece de resistance for me is the almost 20-foot-long Inuit kayak, c. 1850, made with sealskin over a cedar frame. It is so magnificent to look at, and imagining someone paddling it in Arctic waters stirs the imagination. The kayak was donated to the museum years ago and was restored recently through a charitable remainder trust from Clarence and Ida Classen.

A board member of the Illinois State Museum had seen Ketchum's work and thought this particular grouping would be a good fit for the museum, according to ISM curator Bob Sill. Aperture has published his book Rivers of Life: Southwest Alaska, the Last Great Salmon Fishery and partially funded this exhibit.


Among his many achievements, Ketchum has served as curator of photography for the National Park Foundation and wrote the defining history of conservation photography in North America, American Photographers and the National Parks. His work is also in Regarding the Land: Robert Glenn Ketchum and the Legacy of Eliot Porter.
North to Alaska continues through March 28. Dr. Eric Grimm will discuss "Global Warming: Past, Present, and Future—Why Florida Should Care about Greenland" on March 10 at 7 p.m. at the museum.
Ginny Lee of Springfield is a photographer and environmentalist.
Check out more photographs of Alaska and Alaskan Native Cultural Objects here.