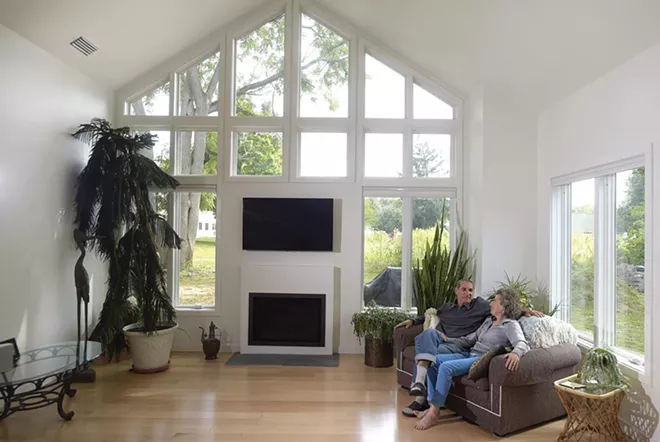 As of 2018, 52 million Baby Boomers were in their golden years, 65 or older. As they age, the question of how and where to live as a senior becomes more real. That gracious three-story home with a large garden is no longer seen as an asset but as a hindrance for an older adult who can't manage the stairs anymore and certainly doesn't want to shovel the driveway.
So the question arises. Assisted living or a nursing home, or even apartment living are all possibilities, depending on one's finances and health. But another answer appeals to many aging adults: staying right where they are.
Aging in place, as this is called, can involve building a new home or buying a condo specifically to make one's older self comfortable, or remodeling an existing home.
Karen Iluliano, a real estate agent with Keller Williams Realty in Glastonbury, Connecticut, and in Naples, Florida, who works extensively with Baby Boomers, said she's noticed certain styles gaining traction.
"Ranch houses or capes with a first-floor master are suddenly popular again," Iluliano said. "All first-floor living is good for aging in place. Why go up stairs if you don't have to?" Anything open-concept is big, too. And the old adage of "location, location, location" takes on new meaning: "Living closer to services like medical care, an airport and shops becomes important when driving everywhere isn't as easy as it once was."
David Ostrowski of Above & Beyond Home Improvements has worked with clients renovating houses to adapt to the aging process.
"For Baby Boomer clients who are remodeling their houses, we have put in pocket doors that slide into the walls for better access from one room to another. For aging-in-place clients we have also put in new kitchens and bathrooms, with comfort-height toilets. Walk-in showers with grab bars and a bench seat in the shower are a must. We have also redone entrances to houses to make them wider, added a ramp, an electronic door and even constructed a covered concrete patio for a client needing wheelchair access." Having a generator that goes on automatically in case of power loss is also important.
Don't forget the exterior: Scaling back gardens for less care and maintenance is another thought for homeowners who want to stay put.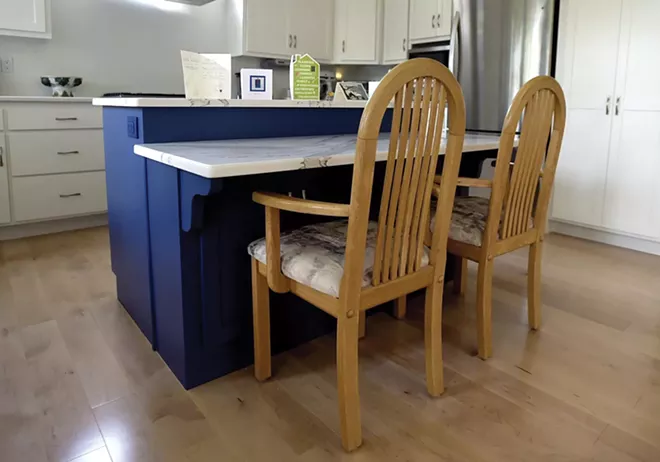 Sue and Jeffrey Pitler, both 66 and formerly of Marlborough,Connecticut, mulled different options for a house to live in for the rest of their lives.
"We thought about Florida," Sue Pitler said, "but I don't like the heat." They also didn't like the age isolation of 55-and-older housing complexes, because they like living with people of all different ages. So the couple bought an older home on a flat lot near downtown Glastonbury, Connecticut, tore that old house down and built a new one with numerous features to make it their forever home.
"We worked with architects to put in options like wider doorways and a walk-in shower; even the doorways have levers and not handles, which are easier for an older person to manage," Sue Pitler said. "The kitchen has an island, and next to that is a table space in the same quartz countertop, which is easier to sit at than stools."
The house is accessibility-adaptable, which means they can tweak it later on if they need to use a wheelchair. "Our yard is manageable and flat, and we love being able to walk to town."
All their living space is on the ground floor, but the house has two stories.
"The upstairs has a bedroom and a sitting room as well as a bathroom for guests or, someday, a caregiver."
A few years ago Francie and Jack Bergquist, both in their early 70s, moved from their home to a more manageable condo. "Of course we thought about this condo as aging in place," said Francie Bergquist. "Our condo is comfortable and quite well designed for us today. We just updated our kitchen. We like living here without the concerns of maintenance when we travel. It's large enough to be a real home on one level to meet our needs but has the room to invite our growing family of grandchildren to join us for longer visits from out-of-state. It has a lower level for my husband's office and my studio, which we enjoy today."
Aging at home is something that architects grapple with, too. Mark Aldieri, 66, a project manager for Kronenberger & Sons Restoration, has focused over his 20-year career on residential, historic preservation and health care projects. He's renovated everything from a lighthouse to the steeple of St. Joseph's Cathedral in Hartford, Connecticut, but lately, his most interesting projects have been homes for older people – for a relative, and now for himself and his wife.
"I look at my parents' generation, and I can see them struggling with architectural barriers," Aldieri said. "I'm also a first responder with a volunteer fire department and have seen seniors in need of medical attention in their various living situations."
For his family and in his personal life, he didn't want structural details that could be fixed to cause mishaps, so he's taken it upon himself to fix them.
Designing for elder care requires empathy, to see how someone with less mobility or diminishing eyesight might view things. "Elements of designing an aging-in-place home include common-sense things like removing thresholds between rooms, having a washer and dryer on the ground floor, wider doors, oversize bathrooms with a curbless shower, grab bars as needed in bathrooms, a lower sink and prep counter area, handrails at stairs, and to eliminate outside steps as much as you can," Aldieri said.
When he designed a house for a relative without mobility, he put in a ramp from the garage for easier access from the car to the house. "The new house design was life-changing for this relative. He had access to all the rooms he needed and it made all the difference for his well-being and quality of life."
The Aldieris have lived in a lovingly self-restored mid-19th century Greek revival style home for the past 35 years. As time went by, he and his wife realized that house wasn't going to work as they aged. Aldieri put his architectural skills to use designing the perfect home for their later years. In this next home he has planned a downstairs master bedroom with two upstairs bedrooms for guests or a caregiver. All essentials are on the first floor.
That's no reason to leave good design behind. "A house like this doesn't have to look institutional; it can be gracious," Aldieri said. "I'm building my new house closer to the ground, so that way we will need fewer steps, with the idea that someday if a ramp needs to be put in, it can be. The bathrooms are designed for a worst-case scenario, wheelchair access. We looked for and found a flat lot to build on. All these ideas have helped guide my path and journey for my wife and I as we age."