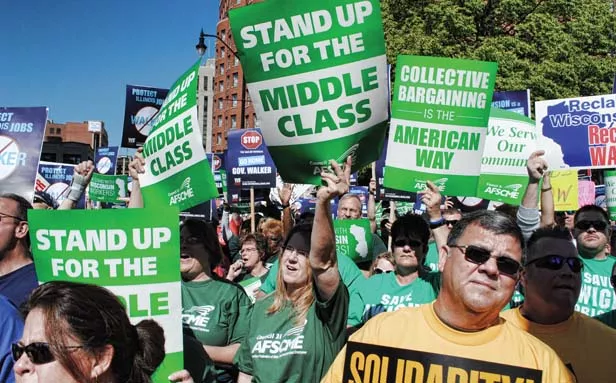 What would drive a crowd of unionized state employees to boo the very governor they helped elect? The answer is about $83 billion of pension underfunding, a broken labor contract and a lot of jobs in jeopardy.

When Gov. Pat Quinn stood before a crowd of fellow Democrats and union members on Governor's Day at the Illinois State Fair last month, the usually sympathetic group booed so loudly that not a word of Quinn's speech could be heard. Quinn wasn't the only Democrat on the stage booed that day, but he was the main target.

From the union members' perspective, Quinn's offenses are many. He has attempted to close union-staffed facilities across the state, ignored union contracts calling for raises, attempted to force union workers to take pay cuts and supported legislation to limit union membership. That seems like a slap in the face for union members, whose campaign contributions and union dues pumped money into Quinn's 2010 campaign for governor. Now, they say Quinn is acting less like a labor-friendly Democratic governor and more like his Republican opponent, Sen. Bill Brady of Bloomington, who proposed cutting state agencies 10 percent across the board.

But Quinn isn't the only worry for the American Federation of State, County and Municipal Employees (AFSCME) Council 31, the largest union representing state employees in Illinois. AFSCME now faces one of the biggest challenges in its 60-year history: how to address the underfunded state pension systems. The system has an estimated unfunded liability of $83 billion, caused mainly by years of lawmakers diverting money intended for pension payments into other funds. In the resulting political battle, the focus isn't on holding lawmakers accountable, but on what concessions state employees should make to fix the problem.
Henry Bayer, executive director of AFSCME Council 31, portrays this as a critical time for the union. The political climate has soured toward unions, which Bayer says are portrayed by anti-union interests as "fat cats" living on the public dole, and AFSCME now faces "unprecedented" challenges to both its members and its influence. And because the union represents state workers who perform vital public services ranging from issuing driver's licenses to investigating child abuse, he reasons that if the union suffers, everyone suffers – from unionized state employees to private-sector non-union workers.

AFSCME itself began in 1932 in Wisconsin, during a period of often violent confrontations between workers and businesses. For the public employees who organized, their concern was less about work conditions or wages and more about losing their jobs because of patronage – the practice of rewarding political supporters with government jobs. The first public union in Illinois was formed in 1942, and numerous state and local government workers began organizing local unions during the 1950s and 1960s.

AFSCME is a branch of the American Federation of Labor and Congress of Industrial Organizations (AFL-CIO), the main union organization in the United States, which covers 56 trade unions and about 12 million workers. The Illinois branch of AFSCME, known as Council 31, has about 75,000 members and represents dozens of public employee labor unions across the state, including a handful of unions in Springfield.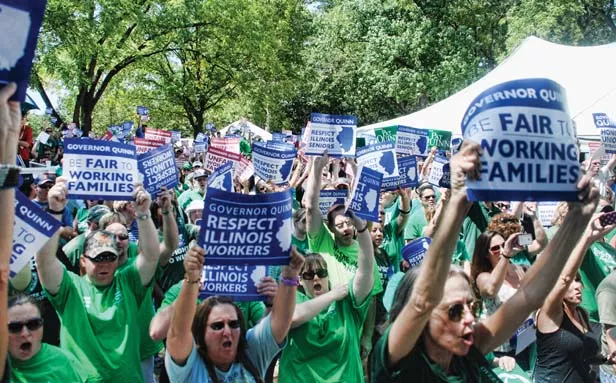 A bevy of threats

AFSCME members currently face several threats to their jobs, pay and benefits, and they've been handed some resounding defeats lately.

In June, lawmakers passed a law requiring state retirees to pay premiums for health insurance, prompting at least two lawsuits – one from a group of unions including AFSCME and another from retired appellate justice Gordon Maag – which claim the law diminishes state employee pension benefits in violation of the Illinois Constitution. The lawsuits await a court ruling.

In early August, AFSCME began holding emergency meetings to deal with a negotiation proposal by Quinn to reduce union members' pay in their next contract. That controversy hits an especially raw nerve in the midst of an ongoing court battle over the previous contract. In January 2011, Quinn and AFSCME struck a deal in which AFSCME members would give up half the value of their contractually mandated pay raises in exchange for a promise that Quinn would not lay off 2,600 workers or close any state facilities until July 2011. AFSCME also accepted voluntary furlough days and other concessions to save the state about $50 million.

Quinn later reneged on the deal, saying the Illinois General Assembly hadn't appropriated money for even the halved raises. AFSCME filed suit, and despite a state arbitrator's ruling that Quinn should pay the increases, a U.S. district court and a U.S. appellate court both backed Quinn. On Aug. 30, a Cook County judge ordered Quinn to set aside funds to pay the raises in case AFSCME prevails on appeal.

The governor also wants to close seven facilities statewide, including the Jacksonville Developmental Center and the super-maximum security prison at Tamms in southern Illinois. AFSCME filed a lawsuit to stop the Tamms prison closure, saying it would endanger guards and public safety. AFSCME claims that recent searches of guards at Illinois prisons across the state were retaliation for guards speaking out about prison conditions. Speaking to reporters at the Illinois State Fair, Quinn denied the retaliation claim and declined to discuss the issue further.

There are even instances of Quinn's administration allowing state jobs to be sent outside Illinois. In May, the state awarded a $248,650 contract to Jacksonville, Fla.-based call center company Veritech Solutions to take calls for the Illinois Department of Financial and Professional Regulation's mortgage fraud hotline. A separate contract for another state phone bank is currently up for bid.


A brewing battle

AFSCME's biggest threat is the ongoing battle over pension funding. The outcome of this highly controversial issue could set precedent for years to come and could change how the state's constitution is interpreted with regard to state employee benefits.

Each of the state's five pension systems have enough money to pay current retirees for the next several years, according to their annual reports. In fact, Dave Urbanek, spokesman for the Illinois Teachers' Retirement System, says TRS could survive until at least 2030 even if the legislature cut its annual appropriation for pension payments by $1 billion. Urbanek says pension underfunding is a long-term problem, not an immediate crisis as it has been portrayed.

While none of the five state pension systems is in danger of collapse any time soon, the cost of benefits is expected to grow faster than the combined value of contributions and the pension systems' income from investments. Put simply, money is expected to go out faster than it will come in. That's why lawmakers passed a law in 1995 requiring the state pension systems to be funded to 90 percent of total liability by 2045. That law requires a "ballooning" state contribution that gets progressively larger with time, putting more strain on the budget.

Henry Bayer, AFSCME's executive director, says state employees have always contributed their share to the pension system, but lawmakers have not followed suit. Urbanek says, for example, between 1970 and 2011, the legislature redirected $15 billion in funds that should have been invested in TRS.

But Paul Kersey, director of labor policy for the conservative think-tank Illinois Policy Institute, says AFSCME shares some of the blame it assigns to lawmakers.

"A union's responsibility doesn't end with negotiating a big pension; they should monitor things to make sure the employer follows through," Kersey says. "Less energy should have gone into coaxing politicians into making new promises, while more should have gone into making sure they'd keep the ones they'd already made. Some of this is 20-20 hindsight, but at best the union miscalculated badly. At worst, they were indifferent and reckless with their members' retirements, or are reckless with taxpayer money and didn't think it ever would run out."

The variety of proposals to make up the shortfall vary widely in their impact and potential for controversy. The already-enacted law to make retirees pay health insurance premiums would save the state about $1 billion per year, but has spawned a lawsuit and could be ruled unconstitutional because of the Illinois Constitution's prohibition on diminishing public employee pension benefits.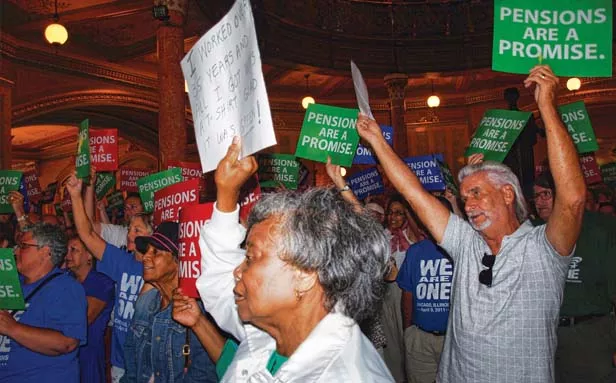 Rep. Elaine Nekritz, a Democrat from Northbrook, introduced a pair of bills in early August that attempt to comprehensively address the pension issue. Those bills would make state employees hired before Jan. 1, 2011, choose between receiving health care benefits as retirees and having raises count toward their pensions. AFSCME is likely to challenge the constitutionality of those bills, which would also gradually shift payment of downstate teacher pension contributions from the state to school districts. A special session day called in August to deal with the pension issue produced no action on those bills.

The Chambers for Pension Reform, a group composed of the Illinois Chamber of Commerce and several local chambers, has a more Spartan plan. They say the state should raise the retirement age for state employees, increase the amount employees contribute toward their pensions and reduce the level of benefits that have yet to be earned.

The group's most controversial idea – shared by the Illinois Policy Institute – is changing pensions from a system in which benefits are defined beforehand to a system in which the state makes no promises about benefits. In the latter scenario, called a "defined contribution" plan, retirees receive whatever they have saved plus whatever the state has contributed toward their pension. AFSCME opposes that idea because it represents the possibility for greatly diminished future benefits.

If the General Assembly adopts any changes along those lines without first getting AFSCME on board, the union is likely to challenge the changes in court. The reason is the Illinois Constitution's Article XIII, Section 5, which states that membership in the pension system is a contractual right, "the benefits of which shall not be diminished or impaired." Plans like that of the Chambers for Pension Reform are careful to address only benefits to be earned in the future, which could be interpreted as not impairing benefits already owed.

But AFSCME sees the promise of benefits as a contract itself. When a worker begins employment with the state, the worker is promised certain benefits as a term of employment. For AFSCME, reducing that promise of benefits for people already employed amounts to breaking the contract protected in the state constitution. Whether or not the benefits have been earned to date doesn't matter in AFSCME's view.

Should AFSCME lose a court challenge to a plan that amends benefits, it would likely open avenues for more benefit cuts. While the state probably won't switch state employees to defined contribution plans as the Chambers suggest on this go-round, reform advocates – especially those hostile to the union – could view a court-approved benefit cut as a declaration of open season.

Contrarily, if AFSCME wins such a challenge, it would eliminate talk of reducing benefits and instead focus attention on ways to reduce state spending or increase revenues. In the current political climate – already soured by the 2011 income tax increase that didn't solve the state's financial problems – further revenue increases are likely to be considered toxic for any politician seeking reelection.

AFSCME has its own ideas about how the pension issue should be handled. The organization's pension reform framework states union members would be willing to pay "a little more, even though they have contributed their portion over the years." That concession would be given in exchange for a promise that the state would pay its share toward the system. AFSCME also calls for closing "tax loopholes" like those that excuse from taxation the offshore profits of oil companies and foreign dividends of large corporations. The union says those changes could generate nearly $900 million annually, all of which AFSCME says should go toward the pension system.

Bayer says the state should go one step further and enact a graduated income tax instead of the current flat tax. A graduated tax would create a higher tax rate for those with larger incomes, which would require a constitutional amendment. A handful of lawmakers have proposed such legislation, to no avail.


Budget trumps alliances

How did this political climate develop, in which a Democratic governor who has long touted his support for unions now pursues policies that practically make him the union's nemesis?

Dr. Kent Redfield, a longtime observer of Illinois politics and a professor emeritus of political science at the University of Illinois Springfield, contrasts Pat Quinn with Wisconsin Gov. Scott Walker, who created a firestorm last year when he attempted to rescind many collective bargaining rights for state workers in Wisconsin. Quinn and Walker share a desire to improve their respective states' financial standings, Redfield notes, but their ideology differs. He describes Walker's views as "free-enterprise, government is the enemy," while likening Quinn to the good-government political reformers of the 1960s and 1970s.

"Quinn's trying to balance the budget," Redfield says. "He's ambitious. I take him at his word in the sense that he wants to solve the state's problems. It really all goes back to the budget. The hole was so deep that even with the temporary tax increase, you couldn't get your way out of it."

That massive budget hole – as much as $8 billion by some estimates – caused Quinn to shift from idealistic to pragmatic, Redfield explains.

"The things that you can control with the state budget are public employee wages, hiring, pensions, that kind of thing," he says. "There aren't a lot of options on the expenditure side that don't involve employees. Even if you fired every state worker, you wouldn't have enough money to get that hole filled, so it isn't the public employees who cause the problems, but there aren't a lot of other options for cuts."

Henry Bayer, the AFSCME executive director, says another force is at work. He notes that former Gov. Jim Thompson – a Republican – signed the law that gave public employee unions statewide the power of collective bargaining.

"It's hard to fathom a Republican governor signing a collective bargaining bill now, because politics have moved so far to the right," Bayer says. "The political climate has changed dramatically, and the financial and business community has more say in shaping public policy. It's a much more conservative climate that is hostile to working people."

But while Bayer classifies the pension reform battle as "an assault on the middle class," the Illinois Policy Institute sees the situation as the natural outcome of years of mismanagement.

"What's assaulting them is reality," says Paul Kersey, director of labor policy for IPI. "Illinois' pension system is unsustainable. Without reforms, there is a distinct possibility that the systems will eventually collapse, leaving retirees with close to nothing. Organizations pushing reform such as the Illinois Policy Institute could well prove to be state employees' best friends."

Kersey sees AFSCME and other unions as roadblocks rather than victims.

"AFSCME is increasingly becoming a negative force in Illinois, not just for taxpayers but for their own members," he says. "First, the political machine AFSCME and other government unions have built is an obstacle to creating the leaner government Illinois needs. But perhaps worse, without reform it is AFSCME's own members who will be hurt. If the pensions are not reformed, we will get to a point when the funds run dry and it's state workers who don't get their retirement money."

Meanwhile, Redfield says AFSCME's voice on the pension issue is less influential because of the perception that there aren't many options for reform except cuts to state employee pay, pensions and benefits.

"People who are their traditional friends are really under a lot of cross pressure," he says, adding that the political debate sometimes misses the mark. "Talking about 'greedy public employee unions' sounds good at one point, until you need a policeman or a fireman, or you want good teachers so your kids can get an education. There's no Bureau of Waste and Fraud. The abstract is very different from the reality. The state provides essential services."

Those services could suffer if Illinois doesn't get back on track soon because the state "is getting a reputation as a very undependable employer," Redfield says.

"You want the best and the brightest to come work for your universities, your schools, your regulators, your prisons, and all of that," he explains. "If you don't get good, confident people, then you're going to get even less in the way of services because they'll be inefficie
nt and ineffective."
The current election cycle could mean even more trouble for AFSCME because of the U.S. Supreme Court's Citizens United ruling, which rejected limits on independent expenditures favoring a particular political candidate. Because Republicans tend to have more money to spend on election advertising, Redfield expects Democratic election messages to be overshadowed and diluted.

Bayer says he has seen the effects of the decision already in congressional campaigns.

"There's no way the labor movement can raise anywhere near the amount of money they have," he says, referring to business interests.

Meanwhile, both Bayer at AFSCME and Paul Kersey at IPI recognize the importance of this moment in political history.

Kersey sees the circumstances as an awakening of people concerned with government waste.

"The Wisconsin reforms, the passage of right-to-work in Indiana, and Michigan's labor reforms over the past few years have woken up people in the Midwest," he says. "Government unions having a monopoly over public services is becoming an antiquated way of living, and that's why Illinoisans are pushing back."

Bayer, on the other hand, sees it as part of a nationwide battle between business interests and workers.

"There are strong forces out to destroy the unions," he says. "They want to weaken the labor movement so they can have their way politically. We're prepared to do battle. We think this assault on the middle class, if successful, is going to change this country."

Contact Patrick Yeagle at pyeagle@illinoistimes.com.