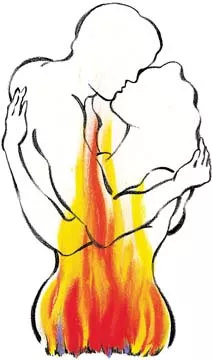 If Romeo were alive today, he would be a sex offender.
That's the situation with Illinois sex offender laws, say reformers calling for changes to laws they say unfairly stigmatize low-risk teenage offenders.
Illinois law criminalizes so-called "Romeo and Juliet" relationships, in which two consenting teens have sexual contact but one is under the age of 17, the legal age of consent. The term refers to William Shakespeare's play by the same name, in which Romeo, believed to be 16 years old, and Juliet, believed to be 13 years old, consummate a secret marriage. Illinois Voices for Reform, based in Fairview Heights, says that approach wastes resources on monitoring teens who are not dangerous while putting a "scarlet letter" on high school sweethearts.
"The majority of these guys are no threat to anyone," says Tonia Maloney, president of Illinois Voices for Reform. "The risk of reoffending for these consensual teen relationships is virtually zero, yet they have all these restrictions, exactly the same as a child molester or a rapist."
Illinois teens who commit what is commonly called "statutory rape" – sex in which one party can't legally consent because of age – are generally charged with criminal sexual abuse, but aggravating factors, such as taking nude pictures, can increase the charges. A statutory rape conviction can result in prison time, as well as the offender being listed on the state sex offender registry for 10 years or longer.
To address that situation, Illinois Rep. Bob Pritchard, a Republican from Hinckley, introduced House Bill 1139, which would relax penalties on teens who have consensual sex with other teens and allow certain offenders to ask a court to remove them from the state's sex offender registry. Under Pritchard's bill, an offender must not be more than four years older than the victim, and the victim must have been 14 years of age or older at the time of the offense. Cases involving violence or a threat of violence are not eligible, nor are cases in which the victim was unable to understand or consent to the act. Those requirements are meant to weed out child molesters, sexual predators and cases involving mental disability.
"We're all disgusted with older people who prey on young children, but that's not what we're talking about," Pritchard says. He spoke with young people in his district who were prosecuted for similar situations, and to him, "the punishment does not fit the crime.
"These young people, their lives are shattered," he says. "They're having difficulty getting jobs. Some of them are now married and they can't go with their kids to the park or the zoo on a school trip. They can't even visit the school without appointments. It's just so pervasive that it doesn't make sense."
Pritchard says changing the law is also a budgetary consideration.
"We've got to focus our limited dollars on violent crimes," Pritchard says. "The type of people we're talking about in this bill are not violent individuals. I think we've got to look at better solutions, and as we look at our budget problems, we've got to look at our whole penal system and think differently about how we treat people who don't comply with normal types of activities."
Maloney says between 730 and 2,000 teens are listed in the registry because of similar situations, including her own son, who would not be affected by Pritchard's bill. Maloney also laments other recently introduced bills that would further tighten restrictions on sex offenders, including one bill to ban sex offenders from local fairs and another to prevent them from living within 500 feet of a child counseling center. A separate bill would even force people who committed sex crimes before the sex offender registry was created to retroactively register.
"There are more than 24,000 people on the registry in Illinois, but not all of them are threats," Maloney says. "There are so many things that can land a person on the registry, not just rape or child molestation. It takes people who are affected by this to make a change, because all these guys on the registry just want to shut up and make it go away."
Contact Patrick Yeagle at pyeagle@illinoistimes.com.