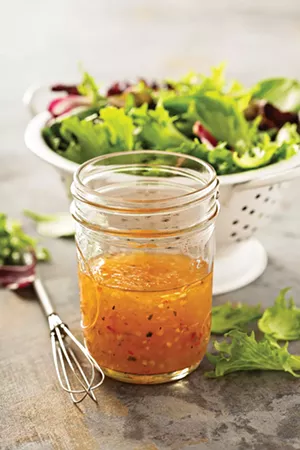 For those who have resolved to nourish their bodies better this year and perhaps trim off a few of those holiday cookies, salads seem to be a logical meal choice. Dark leafy greens are universally accepted as being good for nearly every facet of our physical health, and when you're looking to downsize the amount of starch in your life, a big bowl of roughage is a fine place to start.


Unfortunately, restaurant salads can often end up being just as caloric and fatty as a quarter-pound cheeseburger. Even attempts to make a healthful salad at home are sabotaged as soon as the bottled dressing hits the greens. Many store-bought dressings contain ingredients that offer very little nourishment and are actually detrimental to our health, like high-fructose corn syrup, highly processed oils, preservatives and an unholy amount of sodium.


Luckily, making salad dressing at home is simple and it allows you to control the quality of the ingredients. These homemade dressings are packed with good-for-you fats like olive and avocado oil and sweetened with natural sugars like honey and juice. While they are not necessarily lower in calories than their store-bought counterparts (though definitely lower in sodium), these dressings are so bright and flavorful that you often don't need to use as much.


Salad dressings can generally be divided into two types: vinaigrette dressings and creamy dressings. Both are based on a general framework that, once learned, can be infinitely adapted and easily be halved or doubled. In addition to brightening up bowls of greens, these dressings can provide an excellent finishing touch to all sorts of dishes, from a crispy fillet of buttery fish to grilled vegetables.


Vinaigrette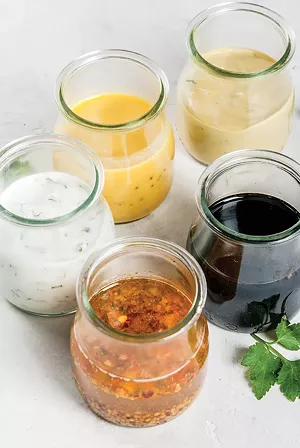 In its most basic form, a vinaigrette is an emulsification of acid and oil, usually in a ratio of one part acid to three parts oil. Some acids are more intense, like sherry vinegar, and the ratio may need to be adjusted to taste. Often I will use half olive oil and half neutral oil, such as avocado, as the flavor of the olive oil can sometimes be overpowering.


Begin by whisking together the vinegar and all the other ingredients except the oil in a bowl (you can also do this in a blender). Whisking continuously, slowly drizzle the oil into the vinegar mixture. After adding about 2/3 of the oil, stop to taste the dressing by dipping a lettuce leaf into it. You may want to add a tablespoon of water to mellow the dressing, and find that it doesn't require extra oil.


Ingredients frequently added to vinaigrettes include minced garlic, shallot, herbs, miso, mustard (Dijon is a classic), honey, maple syrup and reduced cider. Wilted salads made by drizzling hot vinaigrette made with sizzling fat and punchy vinegar are a personal favorite of mine. Spinach salad with hot bacon dressing is a regional classic, and I've taken to making it with shaved Brussels sprouts in the winter. Classic French bistro menus have their own spin on a wilted salad, featuring a vinaigrette made from the pan juices of a roasted chicken (see https://www.illinoistimes.com/springfield/when-you-wilt-have-a-wilted-salad).


Cider vinaigrette


This is my go-to dressing recipe. I use it when making hearty grain and vegetable salads as well as leafy ones.


¼ cup cider vinegar
1 clove garlic, minced
1-2 tablespoons reduced cider, honey, agave, maple syrup or sugar
1 tablespoon mustard (whole-grain works well)
A generous pinch of salt
1/4 cup neutral oil, like avocado
½ cup extra virgin olive oil
1-2 tablespoons minced parsley


Combine the vinegar, garlic, honey, mustard and salt and whisk to combine. Whisking continuously (you can also use a blender), slowly drizzle in the oil. After adding two-thirds of the oil, stop to taste it with a lettuce leaf. You may not feel you need to use all the oil. Season and balance the flavors with additional salt, sugar and perhaps a splash of water.


This dressing should be kept in the fridge, however the oils will firm up when cold. Just set it out for about 10 minutes to warm up, then shake vigorously to combine.


Creamy dressing


Ranch dressing is unquestionably the most popular salad dressing in the United States, making its way onto more than just lettuce. From hot wings to pizza crust and sandwiches, folks put it on everything. This mayonnaise-based dressing is quick and easy to make, and serves as a base recipe for hundreds of variations. Most creamy dressings contain a mixture of mayonnaise and sour cream, sometimes thinned out with vinegar or milk. For best results it's important to use full fat dairy and good quality mayonnaise, like Dukes, or make your own (see https://www.illinoistimes.com/springfield/aioli-or-eughhh/).


Yogurt Ranch


Change out the herbs as you please and customize this recipe with ingredients like canned chipotles, blue cheese or sriracha.


¼ cup mayonnaise
½ cup plain full-fat yogurt (use Greek yogurt for a more dip-like consistency)
¼ teaspoon garlic powder
½ teaspoon onion powder
2 tablespoons each minced parsley and scallion
Salt and pepper to taste.


Combine all the ingredients and mix well. Store in the fridge for up to 10 days.


Ashley Meyer is a Springfield-based cook, writer and mom. She's itching to get the garden going, and will soon be starting vegetable and flower seeds for spring planting.