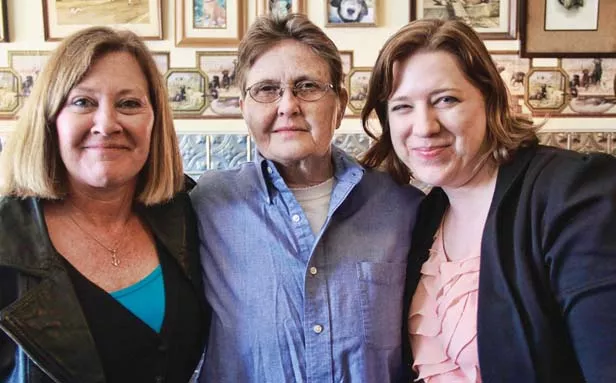 When the Springfield-based Illinois Innocence Project hosts its annual fundraising banquet this weekend, they'll have a fresh victory to celebrate. Peggy Jo Jackson of Shelbyville was released from prison in Lincoln last week after serving nearly 26 years for a murder her brother admitted to committing.

Gov. Pat Quinn approved Jackson's clemency petition on March 29, commuting Jackson's life sentence. Jackson turns 58 this month, and she has spent nearly half of her life in prison. The day of her release, Jackson prepared to leave Illinois for her parole in South Carolina, where her family lives.

"She told me she wanted to sit on the couch and hug her mother until there's no tomorrow," said Margaret Byrne, Jackson's attorney from the Chicago-based Illinois Clemency Project for Battered Women.

During the early morning hours of Dec. 3, 1986, Jackson's older brother, Richard Harshbarger, drove from his home in Pana to Jackson's home in Mt. Vernon. Jackson says her husband, William Jackson, abused her physically and sexually, and when she tried to leave him, the abuse only intensified. Harshbarger brought a .38-caliber revolver and a club that December morning, intent on confronting William.

During the scuffle that followed in the Jacksons' bedroom, either Harshbarger or his sister-in-law, Debra Gatons, shot and killed William Jackson. Harshbarger and Gatons gave conflicting accounts of William's death, but both made clear that Peggy Jo Jackson wasn't even in the house when William was killed. Still, she was convicted at trial, along with Harshbarger, of murdering her husband. Harshbarger died in prison in 2006.

Jackson's conviction was based on the prosecution's theory that she had recruited Harshbarger to kill her husband, and that she had helped in an attempt to conceal his murder. According to court files and Jackson's clemency petition submitted to Quinn's office, the prosecution attempted to show Jackson wasn't upset about the murder based on a deputy's observation of her unemotional demeanor. But Jackson's petition says that was actually caused by the powerful anti-depressant drugs given to Jackson at a hospital after the murder. The petition also says Jackson initially lied to police because Harshbarger threatened to kill her four children if she told anyone about his hand in William's death.

Margaret Byrne, Jackson's attorney, called Jackson's life sentence "extremely unjust." She says no one testified at trial that Jackson had asked Harshbarger to kill her husband. Still, the prosecution claimed the house's unlocked front door was proof that Jackson assisted Harshbarger.

The abuse Jackson endured at the hands of her husband – as well as his subsequent murder – left Jackson traumatized, according to reports from her psychiatrists. She suffered from post-traumatic stress disorder and major depression, though the reports still paint Jackson as friendly and warm. While in prison, Jackson found a measure of peace by training service dogs.

Erica Nichols Cook, an attorney with the Illinois Innocence Project at the University of Illinois Springfield, said Jackson wasn't ready to speak to media about her experiences.

"We're just beyond thrilled that Governor Quinn did the right thing," Cook said. "Twenty-five years is a long time for something we don't think she did."

Although Byrne believes Jackson played no part in her husband's murder, she says state lawmakers are considering legislation to allow courts more discretion when battered women are accused of a crime.

"There are other battered women still in prison, where abuse played a critical role in a woman's state of mind," Byrne said. "That needs to be taken into account when abuse plays a role."

The Illinois Innocence Project at UIS hosts its Sixth Annual Defenders of the Innocent banquet 6 p.m. on April 6 at the Artisans Building on the Illinois State Fairgrounds, featuring Chicago Tribune columnist Eric Zorn and recent exonerees Juan Rivera and Anthony Murray. For more information, visit www.uis.edu/innocenceproject.

Contact Patrick Yeagle at pyeagle@illinoistimes.com.
Previous story: http://www.illinoistimes.com/Springfield/article-10968-she-may-be-innocent.html