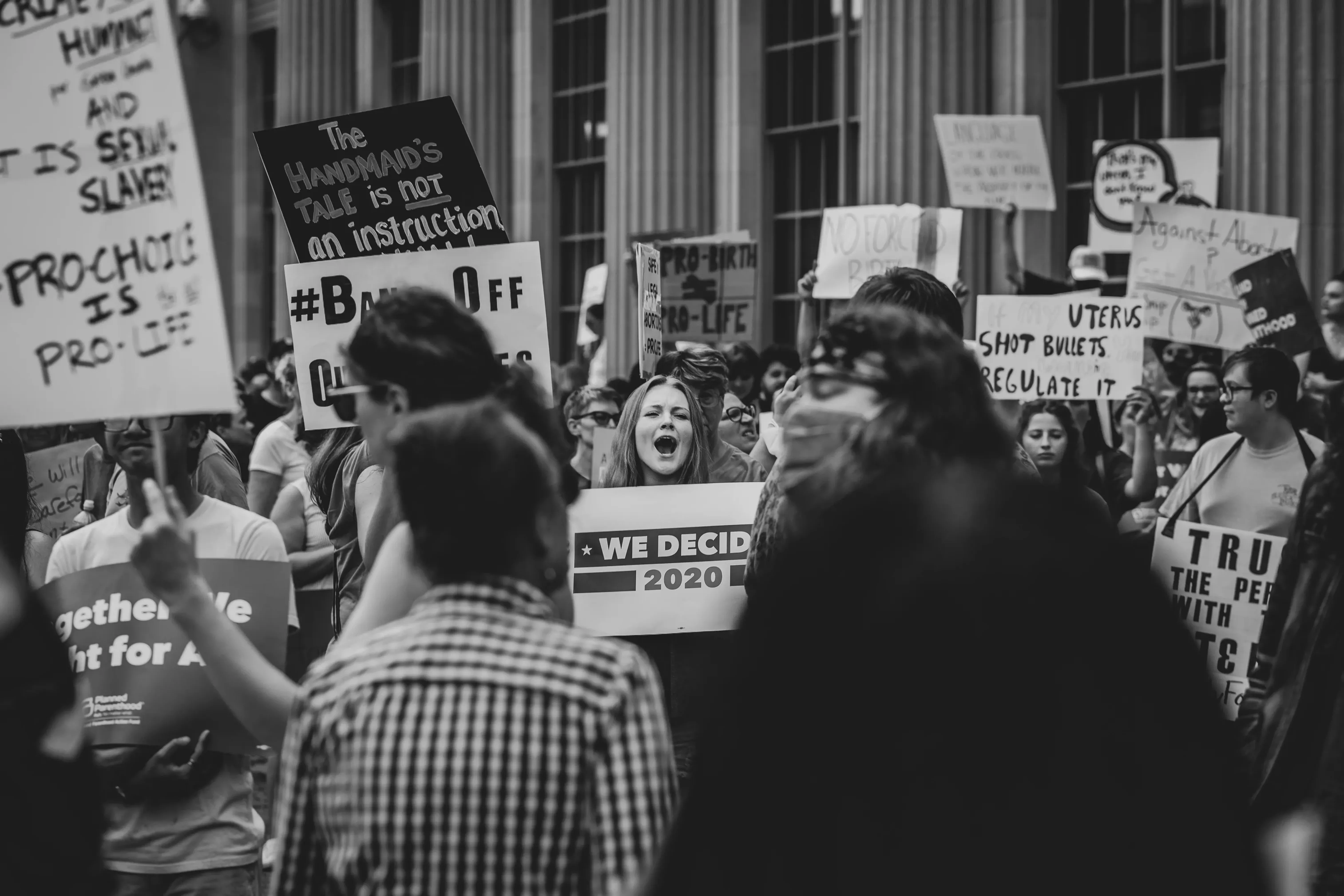 More than 200 pro-choice supporters turned out for a June 24 rally in Springfield to chant, "Abortion is health care," a few hours after the U.S. Supreme Court struck down the landmark 1973 Roe v. Wade ruling that legalized abortion nationwide.
Holding signs that said, "Trust the Person With the Uterus" and "Keep Abortion Safe and Legal," the mostly white group of abortion-rights supporters – women, men and children of different ages and genders – cheered instructions from Brigid Leahy, vice president of public policy for Planned Parenthood of Illinois.
"This is the beginning of a chapter," Leahy shouted into a megaphone in front of the crowd, which spilled over the curb along the 600 block of East Monroe Street in front of the Paul Findley Federal Building and U.S. Courthouse.
She said she has advocated for abortion rights for 30 years, "and I am not going anywhere."
Leahy thanked "our elected champions in the state of Illinois," including Democratic Gov. JB Pritzker and pro-choice members of the General Assembly, who made sure there are virtually no restrictions on abortion in Illinois.
She commended lawmakers for passing, and Pritzker for signing into law, the Reproductive Health Act in 2019 – which established abortion and other forms of reproductive health care as a fundamental right.
Leahy said pro-choice advocates also appreciated that lawmakers repealed a state law June 1 that had required parents of minors seeking an abortion to be notified ahead of time.
"You still have the right to access reproductive health care, including abortion, in the state of Illinois," Leahy told the crowd during the 30-minute rally.
"And now we need to get ready, because Illinois needs to be that haven, that sanctuary, for the people in the states where their rights have been taken away."
Pritzker has said he will call the General Assembly back to Springfield for a special session to consider legislation that would further expand access to abortion as Planned Parenthood and other medical providers prepare for an expected surge in patients from other states seeking both surgical and medication abortions.
Illinois is surrounded by states with many abortion restrictions, such as the point in a pregnancy when a patient is no longer eligible for an abortion. About 9,700 out-of-state patients got abortions in Illinois in 2020, according to the Illinois Department of Public Health. That number represented a tripling of such travelers since 2014.
Planned Parenthood officials have said the overturning of Roe v. Wade, the Supreme Court decision that legalized abortion nationwide, would result in more Midwestern states enacting more restrictions or all-but banning abortion.
They also predicted more women would carry unplanned pregnancies to term and more women would seek illegal, unsafe abortions.

Pro-choice officials said the burdens of abortion restrictions are most keenly felt by Black, Hispanic and low-income people dealing with unplanned pregnancies.
The rejection of Roe v. Wade is expected to result in 20,000 to 30,000 more people traveling to Illinois from other states for abortions each year – representing a doubling or tripling of out-of-state patients, according to Jennifer Welch, Planned Parenthood of Illinois president and chief executive officer.