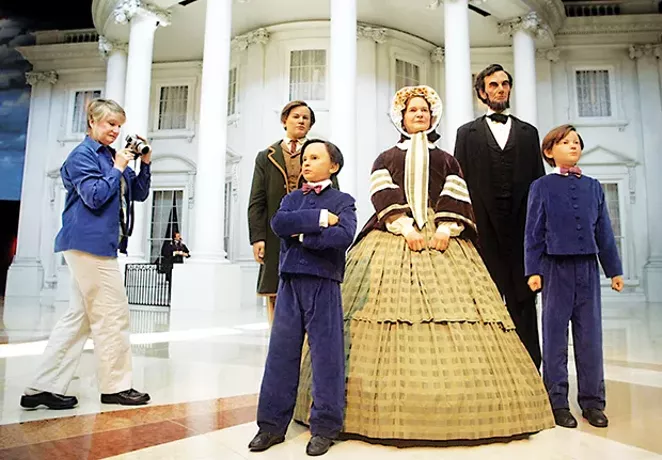 Two centuries after his birth, Springfield's best-known resident remains a revered icon, a leader who bore the weight of destiny to his untimely demise. Born in dire poverty and self-educated, Abraham Lincoln rose to lead our nation during its darkest time. His words inspired Americans during the Civil War, and they inspire us today.

Lincoln was born in Kentucky, grew up in Indiana and came into his own in Illinois. As a young man, he arrived in New Salem. A year later, he was elected captain of a militia company in the Black Hawk Indian wars. When the pioneer village helped elect Lincoln to the state legislature, he had to borrow money to purchase a suit. At the age of 28 he moved to Springfield without enough money to buy a bed. Through initiative, hard work and talent, he became an established and respected lawyer, was elected to the U.S. Congress, debated Stephen Douglas in an unsuccessful bid for the U.S. Senate, and in 1860 was elected the 16th president of the United States.
As Lincoln left for the nation's capital in 1861 and the Civil War appeared imminent, he prophetically told a crowd assembled at the train station in Springfield: "I now leave, not knowing when, or whether ever, I may return, with a task before me greater than that which rested on Washington."
After Lincoln's assassination, a grieving nation cast him as a mythic figure. Over the years Springfield has become a destination for many American pilgrimages. But in Lincoln's hometown you'll find not only the remnants of Honest Abe the rail-splitter, you'll also discover a more complex, shrewd and wondrous man than the one likely encountered in your high school textbooks.
Abraham Lincoln
Presidential Museum
212 N. Sixth St.
217-558-8948
presidentlincoln.illinois.gov
Admission
Whether you're a Lincoln researcher or just curious about the life of the Great Emancipator, you should begin your visit at the museum, on the northeast corner of Jefferson and Sixth streets. The Abraham Lincoln Presidential Library and Museum parking ramp is off Sixth Street between Madison and Mason streets.
All museum exhibits are located on the ground floor, and all facilities are in compliance with the Americans with Disabilities Act. On the entryway floor, a compass points visitors to the plaza where the historical tour begins. Visitors see a replica of Lincoln's boyhood home in Indiana and the front of the White House as it appeared in 1861. From that sunny atrium-like area, with its 70-foot ceiling, visitors may proceed to any of the display areas.
Many will be drawn naturally to the more rustic setting of the log cabin, where "The Journey" – the title of this odyssey through Lincoln's life – begins. Children who are not as fascinated with Lincoln lore as their elders are may enjoy a visit to Mrs. Lincoln's Attic, a supervised playroom where they may participate in a variety of hands-on activities, including dress-up, playing with giant Lincoln Logs and exploring a large dollhouse version of the Lincoln Home. "The Journey" begins with a visit to the circa-1820s replica of Lincoln's boyhood cabin. Lincoln's life story is depicted with the use of full-size replicas of a slave auction; life in New Salem; the future president's interest in Ann Rutledge and his courtship of Mary Todd; Lincoln's law office, with sons Willie and Tad playing on the furniture; the 1858 Senate debate at Galesburg and Lincoln's farewell to Springfield. One highlight: a simulated television director's studio where news stories and commercials for Lincoln's 1860 presidential campaign are continuously played on video monitors as though the election were being held in modern times.
Part two of "The Journey" begins in a replica of the White House's Blue Room, where Mary Lincoln appears to extend her arms in welcome. Most of this part of the tour is focused on the Civil War. In the Whispering Gallery, visitors hear the whispering voices of Lincoln's detractors and see editorial cartoons depicting Abe in ways that make modern editorial images seem tame. In another room, a gravely ill Willie is shown with his parents at his side as a White House ball goes on downstairs. Also included are replicas of the White House's basement kitchen and the Cabinet Room, where Lincoln discussed his forthcoming Emancipation Proclamation with a divided cabinet. In one room visitors see the president standing at his desk before signing the proclamation as a barrage of words and projected images depict the world that surrounded him when he put pen to paper. The journey ends with a reproduction of Lincoln's coffin as he was lying in state at what is now the Old State Capitol historic site.
In the 250-seat Union Theater, a 17-minute layered-projection show, Lincoln's Eyes, depicts the president as each side of the divided nation saw him. The seats tremble when cannons are "fired" into the audience and other special effects add dimension to the story. Although the show presents the entire picture, the message is intended to inspire viewers by revealing the obstacles Lincoln overcame in his effort to serve his country. The theater is also rented to organizations to use for various activities. A climate-controlled Treasures Gallery displays priceless artifacts from Lincoln's life. These displays change throughout the year, so what you see in April may be replaced with something else by September. The SBC Ghosts of the Library theater presentation features a live actor and holographic ghosts who touchingly answer the age-old question, "Why do we study this old stuff?" "Ask Mr. Lincoln" is a touch-and-learn display that allows visitors to make selections from a variety of questions about the man and his family. Answers from a historian or President Lincoln himself are spoken as related images appear on screen.
The Illinois Gallery hosts a changing variety of presentations about Illinois history and art. Upcoming exhibits:
JFK: American Visionary (Feb. 15-May 19, 2019) - Photographs ranging from the iconic to rarely seen which commemorate President John F. Kenney's private life and public trajectory.
In This Great Struggle: The Greatest Generation Remembers WWII (June 6, 2019-Jan. 12, 2020) - Those who experienced the war tell their stories through oral history, artifacts and original art.
All Aboard! (May 10-Dec. 31, 2019) - President Lincoln dreamed of a transcontinental railroad and the ALPLM celebrates the 150th anniversary of the driving of the Golden Spike. Features a working model railroad, in partnership with the Springfield Model Railroad Association.
Abraham Lincoln
Presidential Library
112 N. Sixth St.
800-610-2094
presidentlincoln.illinois.gov
Free
The Lincoln Presidential Library (formerly the Illinois State Historical Library) is just across Jefferson Street from the museum and is home to nearly 13 million items pertaining to Illinois history. Genealogists, scholars and students make use of the library's county histories, photographs, manuscripts and newspapers. The Lincoln Collection is also housed in the library, as is the Papers of Abraham Lincoln research project. The library is also home to a rotating display of paintings, sculptures and other creations from local arts organizations.
Union Square Park
Union Square Park, also located across the street from the Abraham Lincoln Presidential Library and Museum, is home to two Abraham Lincoln statue. The park is the site of occasional concerts and special events hosted by the Abraham Lincoln Presidential Library and Museum. Events of 15 or more people are required to secure a park permit. To obtain a permit, email sabrina.manci@illinois.gov
or call 217-558-9014.
Lincoln Home National
Historic Site
426 S. 7th St.
217-391-3221
nps.gov/liho
Free (free ticket required for home tour)
The National Park Service invites you to walk in the footsteps of Abraham Lincoln at Lincoln Home National Historic Site. Conveniently located in downtown Springfield, the four-square-block historic site is within easy walking distance of several other historic sites, hotels and restaurants.
At the center of the historic site is the two-story home where Abraham and Mary Lincoln lived for 17 years. A free ticket is required for a tour of the home and can be picked up in person at the historic site's visitor center, located at 426 S. Seventh Street.
In addition to the Lincoln home, visitors are invited to tour two other neighboring homes that feature exhibits on the Lincoln family and Springfield. Several outdoor exhibits can also be found throughout the Lincoln neighborhood, including a new digital "augmented reality app" featuring the story of Lincoln's neighbor Jameson Jenkins and the Underground Railroad.
A complete tour of the historic site takes approximately two hours. Onsite parking is $2 per hour, and admission to the Lincoln Home, exhibits and movies are free.
Old State Capitol
1 Old State Capitol Plaza
217-785-7960
Facebook.com/StateHistoricSitesOfSpringfieldIL
Donations accepted
Before his days as president of the United States, Abraham Lincoln spent countless hours at the building we now call the Old State Capitol. It is also the place where Lincoln served his final term (1840-1841) as an Illinois state legislator.
As an attorney, Lincoln tried several hundred cases before the Illinois Supreme Court housed here. It is also the site where Lincoln delivered his famous House Divided speech. During the 1860 presidential campaign, Lincoln used the Old State Capitol's governor's room as his headquarters.
On May 3 and 4, 1865, following Lincoln's assassination, 75,000 mourners convened at the Old State Capitol to bid farewell as Lincoln's body was lying in state in the building's Representatives Hall.
In the 1960s, the Greek Revival-styled building was reconstructed. Today, the first floor features a central hall flanked by rooms interpreting government offices, two libraries and the Supreme Court room. The second-floor rooms were recreated to include a magnificent rotunda, legislative chambers and smaller offices and meeting rooms.
Visitors can take a 30-minute interpreter-conducted tour or view the rooms on their own. Each year, the Old State Capitol hosts a number of special events, including the Abraham Lincoln Symposium (February), Holocaust Remembrance Day (April) and the Old Capitol Art Fair (May).
Lincoln-Herndon Law Offices
1 S. Old State Capitol Plaza
217-785-7960
Facebook.com/StateHistoricSitesOfSpringfieldIL
Free
The first floor has recently reopened as the Springfield Visitor's Center, operated by the Springfield Convention and Visitors Bureau. Visitors can also see a re-creation of a post office that was in the building during Lincoln's time. The two upper floors are currently closed for reconstruction.
Though Lincoln practiced law at a variety of locations, Springfield's Lincoln-Herndon Law Office is the only such structure still in existence today. Originally designed as a commercial structure, Lincoln and law partner William H. Herndon rented space in the building to practice law from 1843 to about 1852.
Edwards Place Historic Home
700 N. Fourth St.
217-523-2631
edwardsplace.org
Admission
This antebellum mansion has recently undergone a full-scale restoration to its 1850s appearance. Visitors will see the house as it appeared when it was owned by Benjamin S. Edwards and his family, who were relatives of Abraham Lincoln through marriage. The Lincolns were frequent guests in the home. Another Lincoln connection is the "courting couch" and "wedding piano" now displayed in the front parlor of Edwards Place. Both originally belonged to Mary Lincoln's sister, Elizabeth, with whom Mary lived before her marriage.
Lincoln Tomb
1500 Monument Ave.
Oak Ridge Cemetery
217-782-2717
Facebook.com/StateHistoricSitesOfSpringfieldIL
Free
A 117-foot granite tomb in Oak Ridge Cemetery houses the remains of Abraham Lincoln, his wife and three of their four sons.
Lincoln's body rests in a concrete vault 10 feet below the marble floor of the burial chamber. The gravesite is marked with a granite cenotaph flanked by the presidential flag and flags of the states in which the Lincoln family resided. Crypts in the chamber's south wall contain the bodies of Lincoln's wife and children.
The tomb also features an interior room finished in polished marble trimmed with bronze; an entrance opening into a rotunda with corridors leading into the burial chamber; reproductions of various Lincoln statues; a heroic bronze statue of Lincoln; and plaques with excerpts from Lincoln's Springfield farewell speech, the Gettysburg Address and his second inaugural address.
The cemetery also contains a public receiving vault, which was constructed in 1860 and served as the scene of President Lincoln's funeral, which was reenacted 150 years later in 2015.
While at the cemetery, you can visit the gravesites of a number of other prominent Illinoisans, including governors, poet Vachel Lindsay and United Mine Workers leader John L. Lewis.
Each year the Lincoln Tomb cohosts a number of special events, such as the American Legion Lincoln's birthday pilgrimage, the Veterans of Foreign Wars annual pilgrimage, the Sons of Union Veterans Lincoln's Death Anniversary Services, Mary Lincoln Coterie, Boy Scout Sunday and weekly summer Civil War reenactments from the 114th Illinois Infantry.
Lincoln's New Salem
State Historic Site
15588 History Lane, Petersburg (about 20 miles NW of Springfield on Route 97)
217-632-4000
lincolnsnewsalem.com
Donations accepted
A visit to Lincoln's New Salem State Historic Site will transport you to a century long gone, while giving you a better understanding of life as a pioneer. Though we often think of Lincoln as the hardworking, rail-splitting pioneer, historians maintain he lived in the village from 1831 to 1837 to get away from the manual labor of his younger days.
While many of the structures were rebuilt over the original sites in the early 1930s, the town adheres to an impressive and painstaking attention to 1830s authentic detail. Interpreters in period dress effectively explain and demonstrate life in the 1800s.
Lincoln's New Salem has a visitor center where guests can view the film Turning Point - an introduction to Abraham Lincoln's New Salem experience. The visitor center also contains a museum exhibit, highlighting artifacts used by original New Salem residents. A souvenir shop and restaurant are also available on site. Theatre in the Park presents musicals and plays in the outdoor theater during the summer. The site hosts a variety of special events throughout the year, such as the Candlelight Walk and Pioneer Life Summer Day Camp. Lincoln's New Salem is also home to a well-equipped campground. You can easily spend at least a day here, if not a weekend, depending on when you're visiting.
Lincoln Family Pew
First Presbyterian Church
321 S. Seventh
217-528-4311
lincolnschurch.org
Free
For 12 years, Abraham and Mary Todd Lincoln paid a fee to rent pew 20 at the First Presbyterian Church when they attended services at the church's former location at Washington and Third streets. Despite the pew rental, Abraham Lincoln never joined this – or any – church. Since then, the church has moved to South Seventh Street, which also served as the location for funeral services for Mary Todd Lincoln.
Between 1890 and 1922, seven memorial windows by the world-famous glassmaker and artist Louis Comfort Tiffany were installed. Until air conditioning proliferated beyond movie houses and taverns, their bottom portions swung open to permit better air circulation during sweltering summer Sunday services. Sealed and protected against the elements since the mid-1960s, they are a historical testament to a unique art form – symphonies of sunlight for Springfield citizens and tourists.
Lincoln ledger
Chase Bank lobby
1 East Old State Capitol Plaza
217-527-3860
Free
While Lincoln is often referred to as The Great Emancipator, a glimpse at Lincoln's banking ledger shows that his life was not much different than that of the average citizen. The exhibit features bank statements for expenditures for everyday necessities, such as groceries and monthly mortgage payments. What did he buy? Visit and see for yourself!
Lincoln Depot
930 East Monroe St.
217-544-8695
lincolndepot.org
Free
When Lincoln left Springfield by train from the Great Western Depot on the morning of Feb. 11, 1861, he was headed for Washington, D.C., to assume the presidency.
"To this place and the kindness of these people, I owe everything," Lincoln said, addressing the crowd which gathered to bid him farewell. His assassination in 1865 ensured he would never return alive, making that train station the last place he ever set foot in Springfield.
Now called the Lincoln Depot, the station still stands at the intersection of the 10th Street rail corridor and Monroe Street. Although the depot has been remodeled several times – once due to a suspicious fire in 1968 – its appearance remains largely true to how it appeared the day of Lincoln's departure from Springfield. The first floor is open to visitors for self-guided tours, while the second floor, added around 1900, serves as a private law office, befitting Lincoln's profession. As fate would have it, Springfield attorney Jon Noll, husband of depot owner Pinky Noll, is a descendant of Lincoln's law partner, William Herndon. The depot was added to the National Register of Historic Places in 2014. A short film entitled "Abraham Lincoln's Inaugural Journey" is on continuous display in the lobby.
Looking for Lincoln Story Trail
To learn more about people and places with connections to Abraham Lincoln, keep your eyes open for the Looking for Lincoln storyboard signs. These attractive wayside exhibits tell stories that reveal interesting facts about Lincoln, individuals with whom he interacted, and the surroundings Lincoln would have experienced. There are nearly 50 Looking for Lincoln signs in Springfield alone. The signs include historical information about the specific location, a timeline, and a unique medallion to make a souvenir rubbing. Examples include locations of the office of Lincoln's dentist where he had a painful tooth extracted, the store where Lincoln bought Mary's wedding ring, and a haberdashery shop where one of Lincoln's stovepipe hats was made.
Lincoln-related stories extend far beyond Springfield in the 42 counties of the Abraham Lincoln National Heritage Area. The Looking for Lincoln Story Trail includes 265 wayside exhibits in more than 55 communities throughout central Illinois. The displays tell the Lincoln stories that are unique to each community and were developed by local historians and Lincoln enthusiasts. From Ottawa to Vandalia, Danville to Nauvoo, and communities throughout central Illinois, there are Lincoln stories to explore. For a complete description of the Looking for Lincoln Story Trail, complete with GPS listings for each location, and to download a template to make your own rubbing, go to www.lookingforlincoln.com.