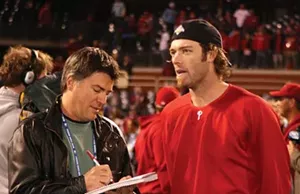 The Werth family doesn't mind if you call them stupid, as long as it's the right brand of stupid. "We're baseball stupid," dad Dennis Werth says. "That was the only thing I thought you could do in life."

The mindset paid off last week when former Glenwood High School baseball star Jayson Werth provided a crucial base hit to help his teammates on the Philadelphia Phillies win the World Series on Oct. 29. Jayson's mom Kim Werth, contacted in Philadelphia on Thursday night, called the ensuing celebration "the most amazing thing I've ever seen."

The Phillies beat the Tampa Bay Rays in the fifth game of the series, at Citzens' Bank Park in Philadelphia.
"I can't even explain to you how cool it was," Kim says.
Yet, in another way, it's almost business as usual for the Werth family. Kim's father and brother — Dick "Ducky" Schofield and Dick Schofield — each have World Series rings. The elder was on the 1960 championship Pittsburgh Pirates team; Kim's brother was on the 1993 championship Toronto Blue Jays team. Jayson's stepfather, Dennis, who raised Jayson from the age of five, was a member of the 1981 American League champion New York Yankees.
"All the men in his life have World Series experience," Kim says. "I wouldn't say it's normal, but it's kinda what we do. I just grew up going to ballparks and I just thought that's what you do. You're supposed to be good. It's what you see, it's what you get used to, and it's your mental approach."

The females in the family don't exactly sit on the sidelines. Kim was a track star at Southeast High School, winning state titles in the long jump and two sprinting events, and competing in the 1976 Olympic Trials. Kim and Dennis' older daughter, Hillary, received a track scholarship from University of California at Los Angeles, where she competes in the heptathlon. Little sister Hannah, known as the best volleyball player in the Central State Eight Conference, graduates in December from Chatham's Glenwood High and will begin playing for the University of Nebraska where she has a scholarship.
In fact, Dennis left Philadelphia after Game 4 to fly home so that Hannah could play volleyball with her team as scheduled. They watched the end of the World Series in their living room with a few friends.
In some ways, being home instead of in the ballpark provided Dennis — who coached Jayson's traveling club teams for 10 years — with an outlet for his nerves. "When I go to a game, I'm actually managing it in my head. It probably drives Jayson's wife and my wife crazy," he says. "Sometimes I have to walk. I'm not real good at sitting, and I had to sit at most of the Series."

The Phillies sold standing-room-only tickets for $700 apiece, turning every trip to or from a seat into a friendly combat mission. "You had to kind of push and muscle your way just to get back to your seat," he says. "It was chaos."

Kim encountered more chaos after the final game. Leaving the stadium, she says, fans were clinging to the hood of the car. "People were climbing on poles, falling off of lampposts . . . . I've never seen a city so behind their team," she says.
When she went out to breakfast the next morning with Jayson and his wife and kids, patrons at the corner diner where he's a regular customer gave him a standing and chanting ovation. The family then got to enjoy a quiet meal, while fans who wanted autographs waited politely outside.
Kim says she had a hunch Jayson could be a great athlete when he started walking at nine months of age. She soon began pitching tennis balls to him by the bucketful, and he would swing at them with a toy bat. She knew he was good, but it was too early to predict success. "Here's what I didn't know: I didn't know if that's what he was going to like," she says.
Dennis says he saw Jayson's potential the summer after ninth grade, when he blossomed from a scrawny kid the family called "Stick" into a six-foot-tall muscular man with a graceful stride.
"I was coaching third base at a game in Wichita, and I looked at him across the field and thought, man, he grew a lot. Then that kind of klutzy, clumsy stride he had when he was young developed into a stronger-looking pattern when he ran, and I thought wow! Look at him! He glides. He's like a gazelle."

Still, Dennis knew it would take more than the family's gene pool for Jayson to realize his potential.
"There's a lot more things that just the natural abilities," he says. "There's mental abilities, how much of it you can handle, what kind of work ethic, and whether he's going to be pulled away by other things that may or may not be important."

Jayson's mental toughness and work ethic were tested when he was severely injured during spring training in 2005. He was hit in the wrist by a 96-mile-per-hour fastball, breaking a bone and two tendons, requiring two surgeries and months of rehabilitation.
"I don't think people realize how hard he's worked to get where he's at," Kim says.
The Werths say their family of phenomenal athletes is a product of a little nature, a little nurture and a lot of hard labor.
"If you've got to hold [your children's] hands and make them do things, you're wasting your time," Kim says. "I always told the kids: 'If this is what you want to do, I'll drive you to practice. I'll get you there, but the rest is up to you.' "

Contact Dusty Rhodes at drhodes@illinoistimes.com