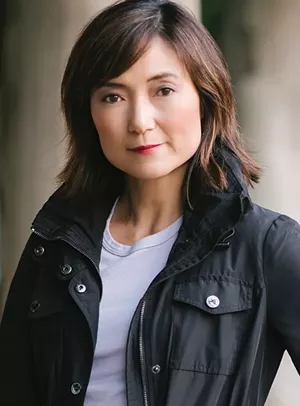 What promises to be an exciting, transitional season for the Illinois Symphony Orchestra got underway Friday at the UIS Performing Arts Center with Maestro Rei Hotoda presiding over an exciting and ambitious evening of music, crowned by a towering performance from guest soloist Itamar Zorman. Hotoda is the first of several guest conductors this season, each taking the place of former ISO music director Ken Lam, who has accepted a position as director of orchestral studies as well as resident conductor at the Juilliard School in Binhai, Tianjin, China. There will be a search for a new permanent music director during the 2023-2024 season.
"We're going to have dessert first," Hotoda announced gleefully, referring to the decision to switch up the announced running order and open the concert, and the season, with a lilting and lovely rendition of Johann Strauss II's Voices of Spring. It was a perfect choice to ease the enthusiastic, if typically sparse, audience into a program of music that would contain both crowd-pleasing and challenging moments.
Next, Zorman took the stage – and the central focus – for an epic take on Dmitri Shostakovich's Violin Concerto No. 1, written for violinist David Ostraikh and premiered in 1955. Hotoda pointed out that this was over a decade after the piece had been written, the lag due to an ongoing ban on Shostakovich's music by Soviet leader Joseph Stalin, who died in 1953. "It is one of the most difficult pieces, not only for the soloist but for the orchestra," Hotoda said, pointing out that once the violinist starts playing, he rarely stops for the entire four movements. The internationally renowned Zorman proved more than up to the task, alternating passages of aching beauty and almost vicious aggression without seeming to break a sweat, eventually bringing an overjoyed opening night audience to its feet for a total of three curtain calls.
The second half of the evening found the orchestra switching gears with contemporary composer Hannah Kendall's The Spark Catchers, described by the conductor as "an important work by a Black woman composer... about women who were working in factories, whose job it was to catch sparks that would potentially cause fires, which were very dangerous conditions." The composition musically dramatizes the plight and eventual, history-making 1888 London strike of the female match factory workers, through an energtic, unconventional structure, based on a poem by Lemn Sissay. After exhorting the audience to "listen with an open mind and an open heart," Hotoda extended her culinary metaphor, comparing this more difficult piece to "the part of the meal where you try something new." The message: It can't all be dessert, but the unfamiliar can be good for you.
The final offering for the evening was Der Rosenkavalier Suite by Richard Strauss, an instrumental adaptation of one of his many operas. Hotoda likened the romantic, nearly melodramatic music of the suite to an episode of "'Days of Our Lives' or something scandalous," depicting the story of a love triangle involving an older woman who has an affair with a man in his early 20s, who is in turn already involved with a woman closer to his own age.
"This has been such an amazing week, working with the musicians of the ISO," said Hotoda, who will return to conduct a program of Mozart music in December. "You have a wonderful orchestra!"
Scott Faingold is Director of Student Media at University of Illinois Springfield as well as co-founder and editor-in-chief of Activator Magazine. He can be reached via scottfaingold@gmail.com.