While many couples still follow the time-honored traditions associated with weddings, an increasing number of people are choosing to personalize their ceremonies or receptions and mix it up a bit.

As the owner of HJS Photography, Hannah Jean Schafer sees a lot of weddings. "Weddings of burlap and lace are happening every weekend and people are doing what they think should be done at weddings. I love it when couples just go for it!"
Schafer suggests that couples find ways to spotlight their common interest and things they love. "If you love dogs and have a heart for rescuing animals, carry puppies instead of bouquets down the aisle. If you and your fiancé both love tattoos, take time out of your wedding day and go get matching tattoos. If you love camping and nature, get married at a campground around a fire.
My number one piece of advice to couples is 'You do you,' whatever that is. The happiest bride is the one who decides to make the day about her and her fiancé and what makes them happy."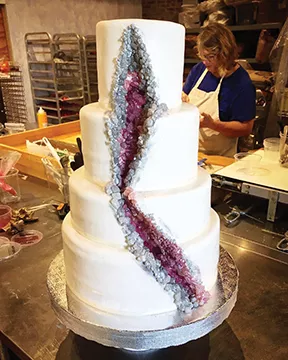 Putting the garter toss on ice
Photographer Matt DeBackere says about half of the couples he photographs no longer toss a garter or bouquet at the reception. "I think the tradition is becoming so old and expected that couples are looking for something different, or at least a twist," he explained. Graham and Keely Weber did just that at their reception held at Longbridge Golf Course in Springfield on May 25, 2019.
The drinking game known as "icing," which requires the participant to chug a bottle of Smirnoff Ice, even had its own website at one point. While the original concept was men icing other men, which often took place at wedding receptions, Graham and Keely put a twist on it.
Keely said, "I bartend at The Alamo on the side, and I've always iced Graham whenever he came in. So ever since we got engaged, I knew we would do it at our reception."
Keely used her garter to secure a bottle of Smirnoff Ice to her leg, explaining, "I had to waddle over to my chair. It was hanging off the garter and was really cold on my leg." Graham then removed the bottle and drank it, to the amusement of the wedding guests.
Something borrowed, something blue
Sarah and Michael Houran were married on June 9, 2018, at Life Foursquare Church in Decatur with a reception at Mt. Zion Convention Center. Sarah said, "I was having a really hard time coming up with something blue; none of my jewelry or accessories were blue. Then I found the emblem and thought it was a cute, dainty way to have something."
However, since her wedding dress was a ballgown-style, no one could see her feet. Photographer Chad Mitchell explained that while the bridal party was getting ready, he decided to improvise and take some creative shots while waiting, which included several of the bride's shoes.
Part of the family
Kaitlin Scherrer and Justin Dietrich were married on Oct. 12, 2018, in the backyard of their home in Springfield, although they also took photos on the grounds of Horace Mann for a change of scenery. Kaitlin said, "We knew we had to include our fur babies somehow," and so Mia and Stella ended up posing for photos with the bride and groom. Michelle O'Neal-Babicky, owner of Petals and Co. in Rochester, created the floral arrangements for the Newfoundland and Chihuahua and Kara Evans took the photos.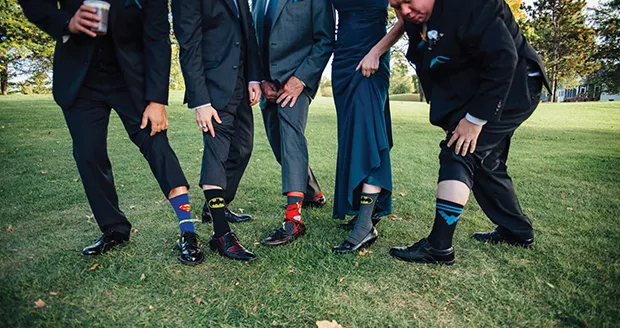 A super wedding
Jackie Beauchamp admits she didn't know much about superheroes when she began dating Tom Campbell, but she quickly grew to share his interest in Batman and Superman.
"Tom had worn a Batman ring since before I met him. When we were first dating, he asked me if I would enjoy some Batman cartoon movies with him. When we watched them, he told me about the comic books that the movies were based on. He seemed to know everything there was to know."
Once Tom learned that the Man of Steel movie was in production, he told Jackie he needed to catch her up on the Superman back story before the movie came out. "We spent the next two years watching everything Superman, reading comic books and going to a Superman museum. I was hooked," said Jackie.
When it came time for their wedding, they wanted to incorporate superhero elements into it. "We thought there had to be classy ways to bring Batman and the rest of that world into our special day. Pinterest was a lot of help," explained Jackie.
Their wedding and reception, held at The Rail Golf Course in Springfield, included Batman cufflinks for the groom, a Batman and Batgirl cake topper and members of the bridal party wearing their favorite superheroes on socks.
That takes the cake
Dori and Kirk Glod held their wedding reception at The Homestead in Tallula and chose a cake that fit the vintage, rustic vibe of the big day. Dori said, "I stumbled on this type of design on Pinterest, and as a geologist, it instantly spoke to me!"
Incredibly Delicious made the unique geode cake, using a watercolor design in which the buttercream is layered and a bit transparent in places to add color to the cake. Wedding cake designer Melanie Dineen explained that the shading can range from subtle texture to dramatic design impact.
"We wanted our cake to stand out and wow our guests, and I think Melanie did a great job at accomplishing just that and more," said Dori.