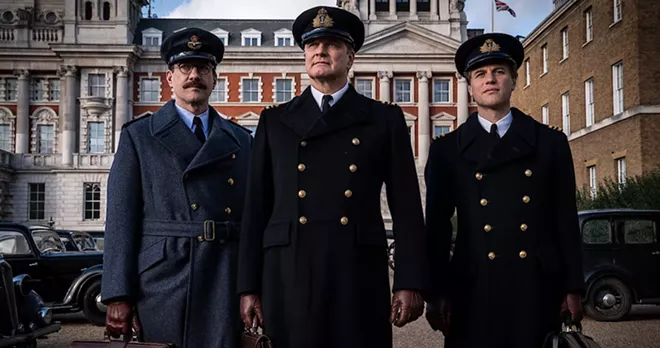 Mincemeat a fascinating WW II story
Gripping and fascinating, John Madden's Operation: Mincement recounts an unusual mission undertaken by the British during WW II, one that saved thousands of lives. Curiously, a corpse was the centerpiece of this outlandish scheme. The time is 1943 and the Nazis are expecting the Allied forces to invade Italy. A diversion is needed to convince them otherwise, so a plan is hatched to plant papers telling of a false invasion of Greece on a dead body, which is deposited by a submarine where it is sure to be found by the enemy.
The lengths officers Ewen Montagu and Charles Cholmondeley (Colin Firth and Matthew Macfadyen) go to create a backstory for their inert soldier, a homeless suicide named Glyndwr Michael, is remarkable, as is the planning they undertook to address any possibility the plan might go sideways. The film is at its best during these planning sessions and the recreation of Michael's journey. Mincemeat lags when a needless romance takes centerstage, but when it focuses on the mission, it's fascinating. Streaming on Netflix.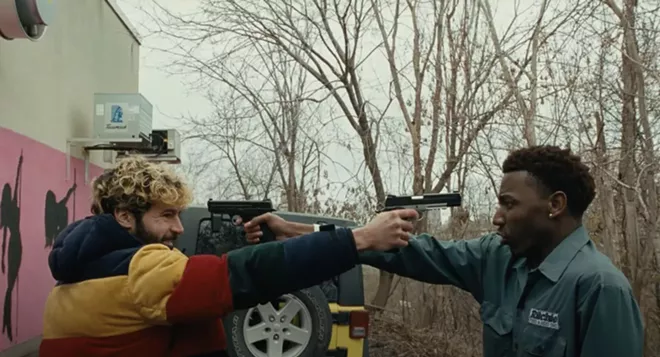 Bracing Three a cry for help
On the Count of Three starts with a jolt. Kevin (Christopher Abbott) and Val (Jarrod Carmichael) are seen pointing guns at each other's faces, ready to carry out a double suicide pact. The screen fades to black, and we hear a gunshot. However, before we see the result, the film rewinds to events from earlier that day.
Institutionalized after his latest suicide attempt, Kevin is desperate to be released. Meanwhile, Val has gotten a promotion at a job he hates and feels life is filled with nothing but dead ends. After his own failed suicide attempt, he springs Kevin and they agree to embark on one last carefree day before killing each other.
To be sure, this is thorny territory and credit Carmichael for not flinching from the concerns in Ari Katcher and Ryan Welch's script. Propelled by two dynamic lead performances, the spine of this timely film is its dark sense of humor, making the movie's more difficult moments a bit easier to take. Three is an incisive indictment of the callous system that neglect the poor and disenfranchised to tragic results. And while the film's devastating final image offers a glimmer of hope, it refuses to sugarcoat the fact that society has failed these two men and so many like them. Streaming via Amazon.
Barry overcomes awkward resumption
The COVID-shutdown certainly didn't do episodic television programs any favors. With a two-year gap between seasons, getting back into the groove can prove a challenge. Such is the case with Barry, the Bill Hader-driven character study of an assassin-turned-actor that barreled towards the conclusion of its second season with a full head of steam. However, it stumbles coming out of the gate for its third season as the complex plotlines the series contains are a bit difficult to grasp once more.
When last we left the titular killer, his acting teacher, Mr. Cousineau (an indispensable Henry Winkler), found out his pupil is responsible for the death of his one true love, Barry's girlfriend, Sally (Sarah Goldberg), is producing her own television show and Chechnyan mobster NoHo's (Anthony Carrigan) deceptions were catching up to him. By the end of the current season's second episode, I was sucked in once more, and by the end of the third, I remembered why I liked the show so much. With its dark humor and Barry's moral turmoil taking center stage, this is a show that constantly upsets our expectations. Streaming on HBO MAX.