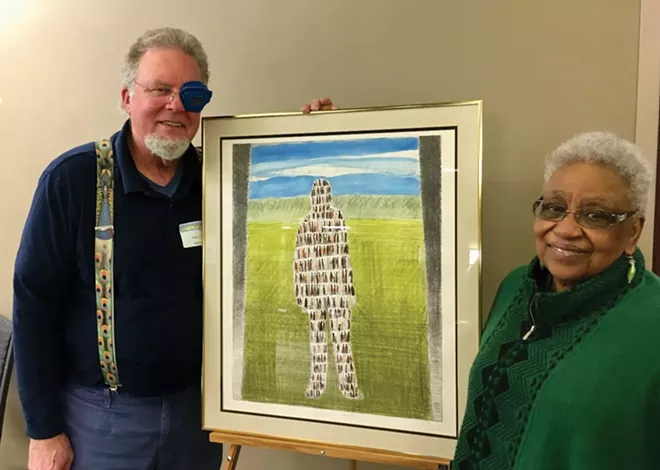 Several central Illinois Baha'i communities gathered with friends and co-collaborators in Springfield over Mother's Day weekend to mark the launch of an effort by Baha'is worldwide to engage with others in a spirit of service and unity. The ultimate aim of Baha'is is to foster humanity's spiritual and material growth and to work with others to promote justice and serve people in need. If past collaborations in the capital city are any indication, the coming years will bring positive results.
Baha'is, of course, are not alone in doing this type of good work. In central Illinois, Baha'is are very limited in their human and material resources. That's part of the reason we partner with other like-minded people and groups – collaboration with others brings better results.
The Building Vibrant Communities conference held at the BOS Center in downtown Springfield was one of 10,000 Baha'i conferences held worldwide over about six weeks.
The weekend events featured many inspiring moments. For me, a definite highlight was seeing Harriet Tubman, portrayed by Kathryn Harris, give dramatic testimony to the power of truthfulness, trustworthiness and faith in overcoming overwhelming obstacles.
The bulk of the three-day conference, sponsored by Baha'is from Springfield, Peoria and the Quad Cities, was spent reviewing and consulting on the Baha'i vision for humanity, and how that vision can materialize into action.
Baha'is have long championed racial unity and are committed to the material and spiritual prosperity of all, including the most marginalized in society.
Local Baha'is had been holding Race Unity events in Springfield for decades when, in 1991, the national Baha'i council released its still-relevant report, "Vision of Race Unity: America's Most Challenging Issue."
The Baha'i commitment to the oneness of humanity led to the hosting of annual Race Unity rallies that engaged the community at large, beginning in the mid-1990s, held every June for some 12 years in the Capitol rotunda.
The Springfield Baha'i center was the site of a significant grassroots community meeting, held in 2013, inspired by President Barack Obama's heartfelt remarks following the acquittal of George Zimmerman in the death of Trayvon Martin.
In his remarks, Obama talked of the need for training to reduce racial profiling, and for community leaders to do a better job helping young African American men feel they are full members of society with a viable path to success. The president also advocated for local discussions on race, which were launched in Springfield shortly thereafter.
Other notable programs that grew from the 2013 meeting included an expungement program – held multiple times in Springfield – that allows people with non-violent criminal records to have these records expunged, thereby opening wider pathways to jobs, housing and other opportunities; a Mix it Up at Lunch program that District 186 officials adopted to promote the integration of lunch tables frequently segregated; and bringing the movie Racial Taboo to Springfield, where it was viewed by hundreds at the BOS Center, including Mayor Jim Langfelder, who made it required viewing for all city employees. Screenings were also held at the Springfield Police Academy, where officers then engaged in conversations with community members
Baha'is played a role in initiating these and other programs, but much of the heavy lifting was done by other community groups and individuals, including the Springfield Urban League, Frontiers International; District 186 and the area's longtime beacon for anti-racism work, the Springfield Dominican sisters, to name a few.
The Building Vibrant Communities conference marks for Baha'is a time to start afresh with friends and neighbors committed to the ideals of peace, unity and justice – and to further commit to the actions such ideals demand.
Mike Lang is a longtime member of the Baha'i faith who lives in Sherman. In his spare time, he plays bass in the Blue Note Quintet jazz group.